30FT SHIPPING CONTAINER

The 30ft shipping container is hard to come by, because to conform to ISO standards enabling shipping containers to be stacked safely on top of one another for the voyage, the vast majority of shipping containers are either 20ft or 40ft long. However, having restricted sizes is not always convenient for buyers wanting to use a shipping container for storage. This is why
cut down shipping containers
have become so popular for storage - you can make virtually any size of container required by taking standard 20ft and 40ft shipping containers and slicing them up.
Making up 30ft containers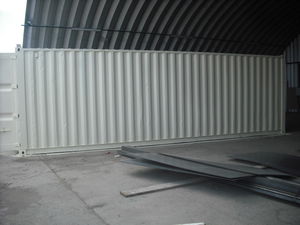 Containers Direct usually supply
30ft shipping container units
, that have been cut down from 40ft containers, to give the customer more choice. Made up from top quality shipping containers, the 30ft shipping container units we sell are unrivalled in terms of strength and resilience to theft and damage. We highly recommend them as an excellent site store for heavy materials, or large loads such as building materials and machinery because:


They have lock boxes added to protect the padlocks from being sheered off


They come with the original ISO shipping doors with rubber seals. For doors fabricated from a lighter grade of steel that are easier to use please enquire about the options


They are fully stackable with each other and other ISO shipping containers.



Side doors

For easier loading and loading, we can supply 30ft shipping containers with side doors and additional doors.











Regional depots to give you the best delivery rates
We have a 30ft shipping container located in our various supply depots across the country, which means we can offer delivery on these at a discounted charge.
30ft container office conversions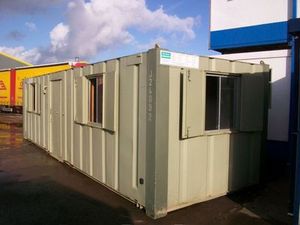 We also sell 30ft shipping containers that have been converted into
site offices
. Site offices combine the benefits of an anti vandal shipping container with the facilities provided by welfare units.
Testimonial
"Excellent customer service - kept up to date at every stage and when I had a problem Katrina resolved it."
From Gas Lane Motors Ltd, who bought a used 30ft container for their business.