10FT CONTAINERS SECOND HAND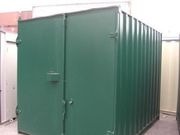 Shipping containers come as a standard 8ft wide, and either 20ft or 40ft in length, so 10ft containers are usually cut down from 40ft containers. A 40ft shipping container will therefore produce four 10ft containers, one of which will have the original container doors, and one the original container end (or front wall to the use the proper terminology!) For the remaining cut down pieces, we fabricate new doors, and a
new wall build
, to complete the containers.
This process of conversion enables clients to choose the type of doors most suitable for purpose. From most suppliers the choice will be between original container doors or flat panelled doors. We believe that the level of security offered between the two is very similar. In addition, Containers Direct offer an exclusive option, which combines the best features of both, and the option of a roller shutter door.
DOOR OPTIONS
S1 doors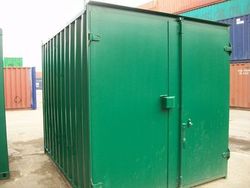 These flat panelled doors are much easier to open and close and are more aesthetically pleasing. They are often the preferred choice of schools, clubs and for use as garden sheds and personal storage. Take a look at our most popular
10ft S1 container
Price of container with S1 doors - £1145 plus VAT
S2 doors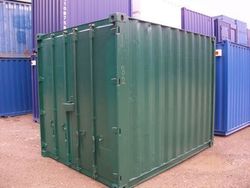 The original door is most popular on building sites and has the advantage of rubber door seals to seal the unit. The disadvantage is that you often have to be a burly builder to open and close them! See our standard
10ft S2 container
Price of container with S2 doors - £1145 plus VAT
S3 doors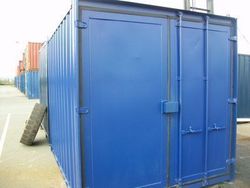 At Containers Direct we offer a unique third option which combines the advantages of both types of door. We are lucky to have manufacturing facilities on site and have designed and manufactured door which is both easy to use and has rubber door seals. See our
10ft S3 container
for more product details
Price of container with S3 doors - £1320 plus VAT
S4 doors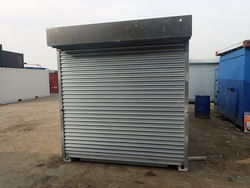 8ft wide
roller shutter doors
with a choice of manual or electric operation. Made from galvanised steel, they are frequently used for container conversions, and can be fitted as an additional door, or a replacement for the original.
Price of container with manual Roller Shutter door - £1595 plus VAT

(Please enquire for price of electric option)
Side doors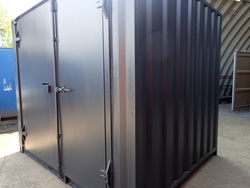 If you'd like doors in the side of the container, we also have options available. You can have a
side door
in addition to the existing end door, or as a replacement.
FREE WITH ALL 10FT CONTAINERS
Repainting
The price of all of our 10ft containers includes re-spraying with our specialist rubberised container paint, in your own choice of
colour
.
Please note, for very light or bright paint options (ie white, yellow, red, orange) there is a supplementary charge of £100
Lockbox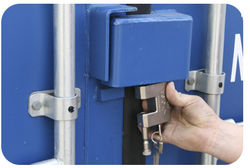 All our 10ft containers come with a steel
lockbox
, which protects the padlock from tampering (usual retail price £55)
OPTIONAL EXTRAS
Padlock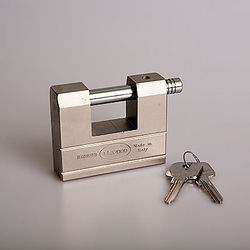 Add one of our specialist
Lock 2000 padlocks
, compatible for use with the lock box, for a discounted price of
£35 plus VAT
Compressed door seals
An option for S1 doors - these are attached to the inside of the container door and compress to form a
watertight seal
when the door is closed.
Cost - £65 plus VAT
Grafotherm
Reduce condensation in your container! All our containers can be treated with
Grafotherm
, a highly effective solution to keep condensation within containers at bay.
Cost to treat a 10ft container - £120 plus VAT
.
Personnel door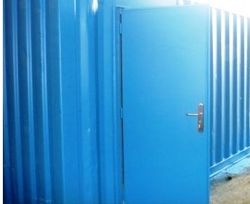 Steel
security door
for pedestrian use, incorporating multi deadlocks and offering high levels of security.
Cost per door
£565
Shelving Racks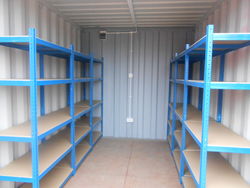 Maximise use of the ALL the space available within your container, including the height! Our multi-purpose
shelving racks
are ideal for creating organised and accessible storage.
Cost per bay (1m/3ft wide) - £60 plus VAT - fitted, OR £45 plus VAT - self fitting
Electrics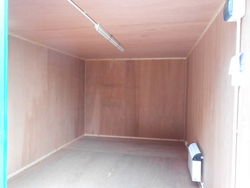 If you require lighting, heating, or sockets for your container, we've got the power! We offer two standard options of
electrical installations
:

Option 1: One external hook up, a consumer unit, a light switch, 5ft strip light with diffuser, a double socket - £305 plus VAT

Option 2: One external hook up, a consumer unit, a light switch, two 5ft strip lights with diffusers, two double sockets and wall heater - £395 plus VAT

Ply Lining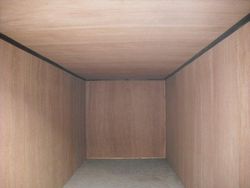 For containers requiring a more constant inside temperature, for instance when storing paperwork, textiles or household furniture, adding a plywood lining with insulating material will protect these items from moisture damage. For more details, read our page on
ply lined containers
Cost to supply and fit a 10ft ply lining - from £650 plus VAT
Wipe Clean Melamine Lining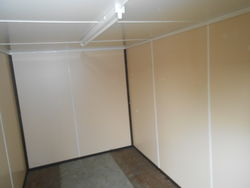 Recommended for containers used in food preparation -
melamine lining
is hygienic, wipe clean and bordered with plastic trim.
Cost - £906.25 plus VAT
Ramps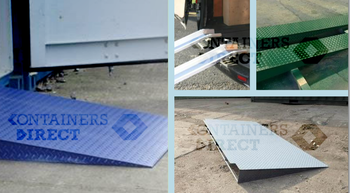 We offer a variety of
ramps for containers
- car ramps. heavy duty ramps, lightweight ramps, hinged ramps and bespoke builds. A range of sizes are also available.
Cost from £205 plus VAT
Absorpole
For a cheaper alternative to our standard anti condensation treatments, these can be purchased for
£35 plus VAT
per
Absorpole
.

10ft New Shipping Containers
from £1490*
*Limited time only, while stocks last. Usual price from £1700
TESTIMONIALS
Michael J Snell from Alva Glen Car Park was very happy with the 10ft storage container which fitted conveniently and neatly on the car park's premises.
"Just to say that we had our first workday today using the new container for storing our tools. Everyone is very impressed.

Thanks for you help.

Mike"
The Grange School in Manchester purchased a used 10ft container with S1 door, repainted in navy blue.
"My experience with your company was excellent" - from Stuart Lord, at the Grange School
Andrew Hobart purchased a 10ft container with S3 doors, to provide a clean and secure furniture store, while having work done on his house.
"Thanks for your help with this. Very happy with the unit.
Delivery driver helpful and extremely skilful. Kept me informed by phone of his arrival time.

Andrew"