New & Used Shipping Containers For Sale UK
The UK's Nationwide Retailer & Manufacturer of Shipping Containers, Storage Containers, Flat Pack Containers, Container Offices & Container Conversions
Looking for a great value shipping container,
flat pack container
,
container office
, or do you need a
container conversion
? For good value, great service and better outcomes, deal directly with the UK's most innovative manufacturer of shipping containers - no agents, no middlemen, go Direct!
Explore our unique virtual depot where you can browse our range of new and
used shipping containers for sale
, storage containers for sale, portable container site offices and converted shipping containers. If you can't see what you want, just ask! You'll be amazed at what we can do with the humble shipping container.
Popular Container Modifications & Applications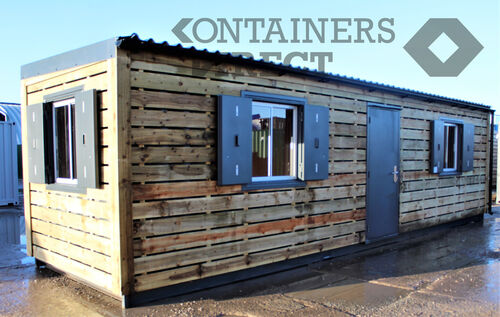 Case Study of the Month
18th Jan, 2023
30ft ModiBox® with cladding and sloping roof
One of our leading products is the ModiBox® portable office, suitable as place to work from home, in your own garden, or as additional on-site space for business and commerce. This example includes a few bespoke features beyond our standard office unit package. Wood cladding is always an appealing option to our clients as it gives an attractive appearance which "naked" shipping containers lack. The sloping roof with guttering chosen by our client for their office further enhances the aesthetic - who would guess this wood cabin style office started out as a shipping container!
Testimonials
As a long established and reputable company, we want to instill confidence in our customers that we can deliver on our promises, and provide high quality products and service. But don't just take our word for it, see for yourself what our past and present clients have to say about Containers Direct.