CarTainer® - 10ft Wide Garage Shipping Container
Containers Direct regularly get enquiries about the suitability of using a
shipping container
as a low cost and convenient alternative to a traditional garage.
Steel containers
are not only strong and offer great protection against theft and vandalism, but they can be delivered and ready to use within a short lead time, especially if you chose a standard sized
20ft shipping container
, or
40ft shipping container
. They are also portable which helps with planning issues and, of course, you can take it with you should you move house.
However, the one drawback with using a shipping container as a garage has always been its size; more specifically, the width. The majority of shipping containers come in a standard width of 8ft, which can make things difficult for storing for any vehicle from your average car size and upwards. You may be able to squeeze your vehicle into the container, but try opening the doors to exit the vehicle after you've parked it!
After putting our heads together at Containers Direct, we launched a brand new product that solves this problem; the 10ft wide CarTainer®. By adding an extra 2ft in width to the standard container measurements, we have come up with a container that combines the strength, security and convenience of using a shipping container as a vehicle store, with the additional space to manoeuvre inside! The CarTainer® is now the UK's best selling shipping container garage. The CarTainer® is available in three standard sizes: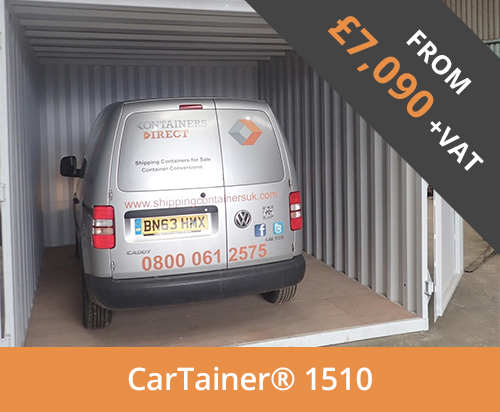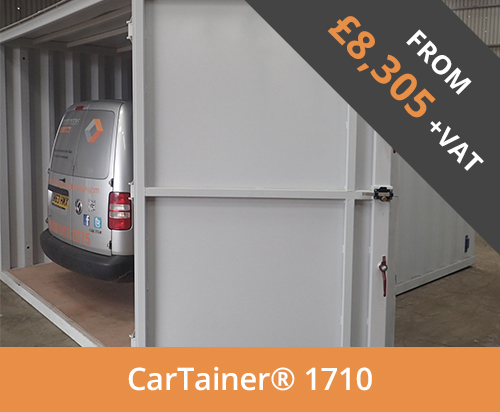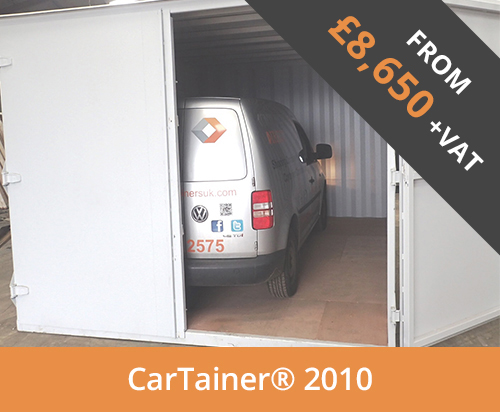 Features of the 10ft wide garage container
Sloping Roof



16 gauge corrugated box profile steel



25mm Ply floor over box section steel chassis
Full width 3mm steel doors with two marine ship handles and an industrial lock



8 x shipping vents



Painted to a choice of colour
Extra wide CarTainers®
Other garage containers are available offering more width than 10ft. Containers Direct specialise in
joining together shipping containers
to create larger spaces, and in building new containers to join together on site. This allows us to offer lengths of up to 24ft. We include a roller shutter door as standard with our extra wide CarTainers®.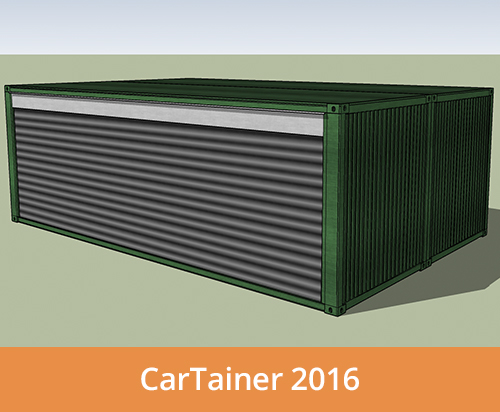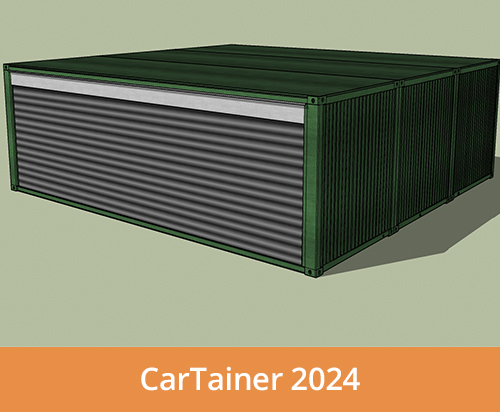 CarTainer® Upgrades
The CarTainer® can be customised with a whole host of useful optional extras including some of the features you may expect in a conventional garage including a personnel door for ease of access, an electrical installation and ply lining and insulation.




Example product - 20ft CarTainer® with ply lining
Testimonials
" From the first contact with Neil Clarke it was clear that you know your business and what is and isn't possible. No pushy sales talk, just an informed process, right down to site suitability, access for delivery, etc. Also the willingness to 'sharpen the pencil' to achieve fair balance of price and spec. Overall for me, having had not prior dealings with sea containers, it has been a positive and even pleasurable experience. It is clear that you take your customers seriously, and Cain's were great at the point of delivery."

From Peter Richard who ordered a bespoke Garage Conversion.