10FT SHIPPING CONTAINER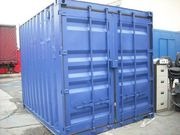 The 10ft shipping container is a very popular choice for storage in small organisations, clubs, schools and domestic premises. This container is small enough to be sited at most locations, low maintenance and easy to use. On top of this, it is a substantially built and dependable product that will give you many years of secure, dry storage.
The advantages of a shipping container AND the convenience of a smaller storage unit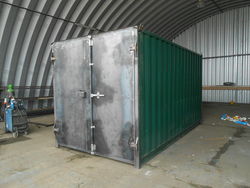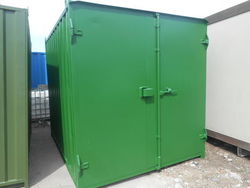 To give a bit of background to the 10ft shipping container, it's important to know this is a second hand modified product, as most new shipping containers are generally manufactured in standard lengths of 20ft and 40ft. Because shipping containers are so solidly built from thick steel, with properties to tackle rust damage (known as
corten steel
), they developed an alternative use to shipping as storage units that cannot be matched in terms of quality, watertightness and security. The only downside is the limited choice of sizes - 20ft or 40ft can be a rather large storage space to fill for many people! So the answer is to take these larger shipping containers and cut them down to make new smaller containers, the perfect size for many customers.
Modifications for the storage market
To make the 10ft container easier to use as a storage container, once it has been cut down to size, specially designed storage doors are then fabricated to complete the new container. We give our customers the choice of five door types on every 10ft shipping container we produce:-





Finishing off with a repaint

After the modification process is complete, we offer an exterrior repainting option for your 10ft shipping container. This not only improves its appearance, a coating of rubberised paintwork serves as a protective layer to extend the life of your container. We have a wide range of colours to chose from.
Other optional extras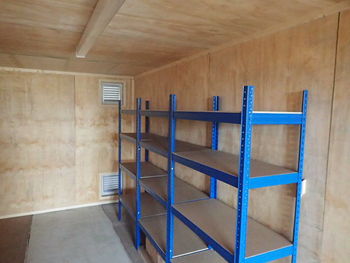 We offer a comprehensive service in upgrades for your container, that can enhance use and extend its life. Depending upon the use for the container, we cover lining and insulation (plywood or melamine), simple anti condensation treatments, electrical installations, shelving, and security. For more information and pricing, see
10ft shipping containers second hand
Testimonial
As well as quality products, we take pride in our quality service too, and like to share our positive feedback. Our customer, Growing Communities, purchased a container with S3 doors and shelving bays, and gave us this commendation:
"Mandy and the rest of the sales team were always amazingly helpful."
The Land Rover Experience, based at Eastnor Castle in the Cotswolds, purchased a 10ft container with S1 storage doors from us. They left us with this very positive feedback:
"Very efficient and customer focused purchasing experience, more advice than I knew I needed was offered and communications were first class- great purchasing experience- the only way to improve would be to not charge anything!!"