15ft Shipping Containers
15ft shipping containers are the perfect mid range size for secure site storage. Not too big, and not too small, they are a very popular choice with our clients, not only for storage use, but also as a starting point for many
conversion projects
, such as offices and catering units. Used shipping containers provide great value for money, and can be cut down to any required size, so we make our 15ft containers by taking a good condition 40ft container and cutting down to size.
One of the benefits of cutting down a
used shipping container
is that it allows the customer a choice of door types. If you can imagine, once we cut up a 40ft into two 15fts and a 10ft container we are left with only one set of original doors, and one end wall. To complete the other sections of the container we fabricate our own doors, and a
new wall
, where appropriate. To this end we have developed three types of storage container, each with a different style of door.
Please note cut down containers are not suitable for shipping, stacking or lifting when loaded. They can be modified upon request if these conditions are required.
CHOOSE YOUR DOOR TYPE
S1 Containers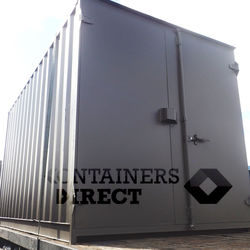 The
S1 container
is fabricated in such a way that it is easier to use than the original shipping container door; it is lighter in construction and has one locking arm. It is designed, however, to ensure that security is not compromised. The S1 door is popular with schools, clubs and for personal storage.
Price of container with S1 doors - £1450 plus VAT
Recommended Product!
Why not add compressed door seals* to your S1 container for only
£65.00 plus VAT
S2 Containers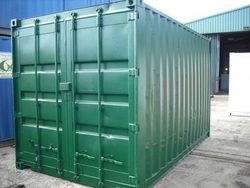 The
S2 container
has the original shipping container door and is commonplace on building sites. It has the advantage of rubber door seals.
Price of container with S2 doors - £1450 plus VAT
S3 Containers
At Containers Direct we offer a unique third option,
S3 doors
, which combine the advantages of both types of door. We are lucky to have manufacturing facilities on site and have designed and manufactured a door which is both easy to use and is superior in quality. Although the appearance of S3 doors may differ slightly from container to container, they all share these characteristics: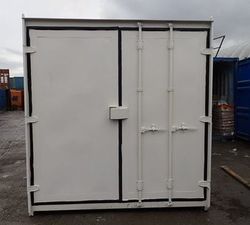 New/once-used doors


External rubber door seals


Waist high handles


Two locking arms on the right hand door only


Shoot bolts on the left hand door
Price of used container with S3 doors - £1625 plus VAT

Please note there is a surcharge on the price of our S3 doors on high cube containers. Ask our Sales team for a price.
S4 Containers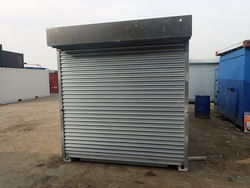 Galvanised steel, padlockable on both ends, 8ft wide
roller shutter doors
make a great alternative, or addition, to standard storage doors. They come in either manual or electrical options.
Price of container with manual Roller Shutter door - £1950 plus VAT

(Please enquire for cost of electric option)
S5 Containers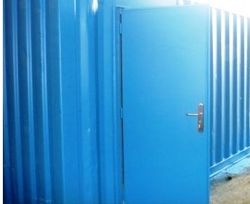 These are steel
personnel doors
, suitable for frequent pedestrian use in out of the container, incorporating multi deadlocks and offering high levels of security. Personnel doors are the preferred door type for our
portable site office units
, and other conversions, such as offices, classrooms, workshops and equipment stores.
Price per personnel door - £565 plus VAT
Side doors
Doors can also be positioned in the side of the container. Choose from S1, S3, S4 (roller shutter) and S5 (personnel door). We also supply
extra wide side doors
, and
multiple sets
where size allows. You can have a
side door
to replace the end door, or in addition to.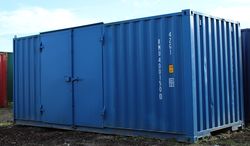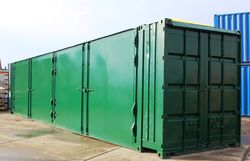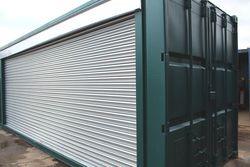 FREE WITH ALL 15FT CONTAINERS
Repainting
We include in the price exterior repainting to your choice of
colour
in rubberised container paint. Not only does this significantly improve the cosmetic appearance of the unit but the extra layer of protection will extend the useful life of the container.
Please note, for very light or bright paint options (e.g. white, yellow, red, orange) there is a charge of £100
Lockbox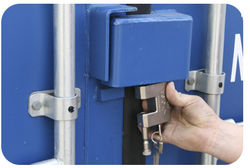 All of our 15ft shipping containers come complete with a
lockbox
underneath which you can attach a padlock. The lockbox (usual retail price £55) protects the padlock from tampering and provides a very high level of security.
OPTIONAL EXTRAS
Padlock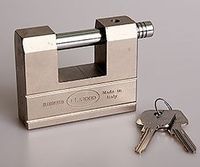 Add one of our specialist
Lock 2000 padlocks
, compatible for use with the lock box, for a discounted price of
£35 plus VAT
*Compressed door seals
An option for S1 doors - these are attached to the inside of the container door and compress to form a
watertight seal
when the door is closed.
Cost - £65 plus VAT
Interior repainting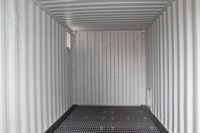 An
interior repaint
can instantly improve the appearance of used containers.
Cost - £170 plus VAT
Ply Lining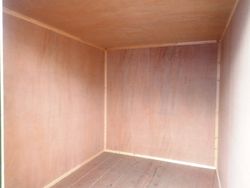 For the ultimate protection against the damaging effects of condensation to delicate items, such as paperwork, textiles or household furniture, we can add a plywood lining with insulating material to keep your container at a more constant internal temperature. For more details, read our page on
ply lined containers
Cost to supply and fit a 15ft ply lining - from £950 plus VAT
Cladding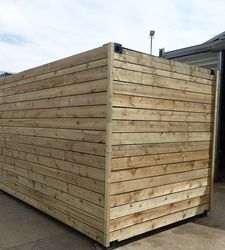 "Disguise" your container with wood cladding. It protects, looks good, and can help with planning permission. Choose from three standard types of wood, or enquire about bespoke finishes. For more details read our page
Cladded Shipping Containers
Cost to clad a 15ft container start from £980 plus VAT
Shelving Racks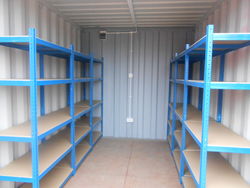 Make use of the height available in your container, not just the floor space! Our multi-purpose
shelving racks
are perfect for organised and accessible storage.
Cost per bay (1m/3ft wide) - £60 plus VAT - fitted, OR £45 plus VAT - self fitting
Electrics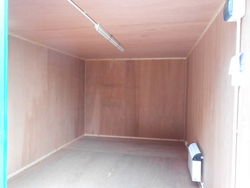 Installing power
to your container is simple with our hook up kits. We offer two standard options:

Option 1: One external hook up, a consumer unit, light switch, two 5ft strip lights with diffuser, a double socket - from £330 plus VAT

Option 2: One external hook up, a consumer unit, light switch, two 5ft strip lights with diffuser, two double sockets and wall heater - from £430 plus VAT

Grafotherm
Condensation in metal containers can be a nuisance if your stored goods are susceptible to moisture damage. Get your container treated with
Grafotherm
, a highly effective solution to keep condensation within containers at bay.
Cost to treat a 15ft container - £155 plus VAT
.
Ramps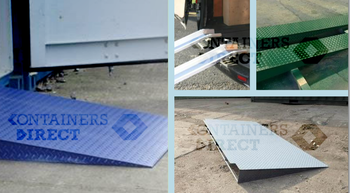 We offer a variety of
ramps for containers
- car ramps. heavy duty ramps, lightweight ramps, hinged ramps and bespoke builds. A range of sizes are also available.
Cost from £205 plus VAT

15ft New Shipping Containers
from £2195.00 plus VAT
TESTIMONIALS
We supplied a 15ft container with S3 doors, to be used as a classroom in a forest! Our client was very happy with our product and service, and has asked us to supply another one.
"Thanks for the delivery of the Container, it is making a great classroom for our forest school! Can we order another please? We could do with a 15ft S3 container in green, to go alongside the one that you delivered, to use as a tool store.

Thanks"

Angus Hunter
Community Forestry Development Officer / Ecologist,
Trees and Woodlands / Ecology Unit,
Sheffield City Council
A 15ft container with S1 doors was purchased by Preserva Css Ltd. Michelle and Simon Donnelly found that our customer service and sales team took the hard work out the transaction:
"We found it a very easy process with the help of Mandy in the decision of which container to order and she also helped out with all the queries we had which followed. She has a brilliant customer service manner so thank you."