40FT CONTAINERS SECOND HAND
The 40ft shipping container is the largest of standard sized containers for sale. Containers Direct sell quality second hand 40ft containers that are ideal for either storage or overseas removals. For shipping containers intended for export the container must be unmodified and certified with a CSC plate. For more on containers for export see our article on
containers for export
.
40FT CONTAINERS FOR STORAGE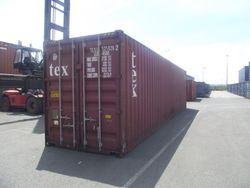 If you require the container for storage, the rigorous shipping criteria do not apply, and we offer a number of modification options on the basic 40ft container, to tailor it to your specific needs. All 40ft containers come with the original shipping container doors intact, complete with rubber seals, and all the corner castings in tact. This means that unlike cut down containers, the container retains all it's strength, which is essential for crane lifting.
Cost of second hand 40ft container with original doors - £1450
Add side doors for convenience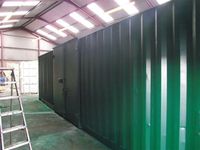 Additional doors can be fitted into the side of our 40ft containers. Doors in the side are particularly handy on larger containers, making access easier. Find out more on our
Side Door Containers
page.
OPTIONAL EXTRAS
Lockbox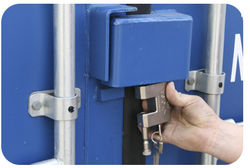 Enhance the security of your container with a steel
lockbox
- this prevents unauthorised access to the container padlock, and can be purchased at a cost of
£50 plus VAT
Padlock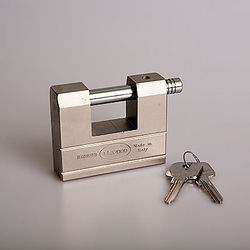 For a padlock compatible with the lock box, and unbeatable quality for securing your container, purchase a
Lock 2000 padlocks
, at a discounted price of
£35 plus VAT
Anti condensation treatment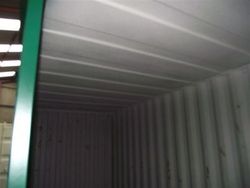 Using
Grafotherm
spray coating on the ceiling of the container - this product prevents damage caused by condensation build up that can drip onto the contents of the container.
Cost of treating 40ft container - £350
Personnel door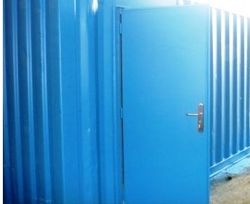 Steel
security door
for pedestrian use, incorporating multi deadlocks and offering high levels of security.
Cost per door
£565
Repainting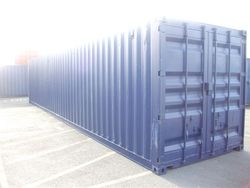 A new exterior coat of rubberised container paint will not only enhance the cosmetic appearance of your container, but also protects from wear and tear and can extend the life of the container. Select from a wide range of
colour
.
Cost of repainting 40ft container - £350
Please note for very light or bright paint options (ie white, yellow, red, orange) there is a supplementary charge of 75% over standard repainting rates
Shelving Racks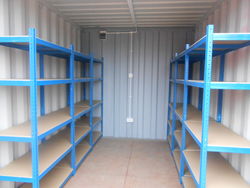 Fit your container out with
shelving
to make your stored goods more accessible and better organised.
Cost per bay (1m/3ft wide) - £60 plus VAT fitted, OR £45 plus VAT self fitted
Electrics
Choices of
electrical installations
: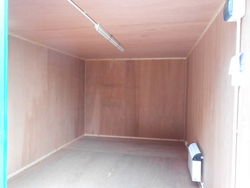 Option 1:
One external hook up, a consumer unit, light switch, four 5ft strip lights with diffuser, a double socket -
£495 plus VAT
Option 2:
One external hook up, a consumer unit, light switch, four 5ft strip lights with diffuser, two double sockets and wall heater -
£600 plus VAT
Ply Lining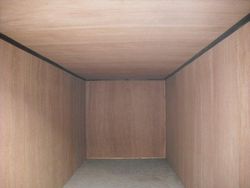 Lining and insulating containers with plywood and rockwall insulating material will give complete protection against the adverse effects of condensation. Read more on our page on
ply lined containers
Cost to supply and fit a 40ft ply lining -from £1700 plus VAT
Wipe Clean Melamine Lining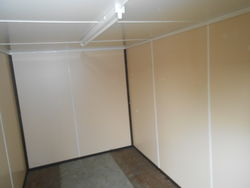 If you are using your container for catering, serving, preparing or storing food, it's essential the interior walls and ceiling can be hygienically maintained. Choose a wipe clean, plastic trimmed
melamine lining
for cleanliness.
Cost for 40ft container - £2218.75 plus VAT
Ramps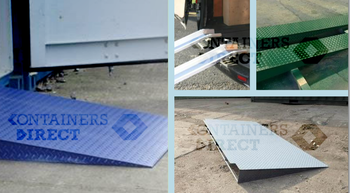 We offer a variety of
ramps for containers
- car ramps. heavy duty ramps, lightweight ramps, hinged ramps and bespoke builds. A range of sizes are also available.
Cost from £205 plus VAT

40ft New Shipping Containers
from £3900
Testimonial
"A good buying experience. Plenty of choices and costs and this was all dealt with in a friendly way and efficiently backed up by emails. Mandy was brilliant! The delivery driver was friendly and had to take his drag trailer off to get up the road in the dark. Plenty of difficult manoeuvring which he did expertly. He placed it perfectly. I'm very pleased with the overall service and I'd definitely recommend Containers Direct. One of the good companies out there! Keep up the good work!

Thanks for your excellent and friendly service from the initial phone call to delivery. It has been a joy dealing with you guys."

Andrew Jenkins (Managing Director)
FRONTIER FORESTRY LTD