8FT CONTAINERS SECOND HAND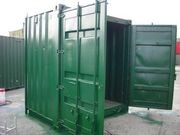 *********Special offer - limited time only!*********
Small sized containers are always in demand, for storing smaller loads, or using in areas where space is limited. We make this neatly sized container at Containers Direct, by cutting down from used, larger shipping containers. For example, a 20ft shipping container can be divided into an 8ft and a 12ft piece - the basis for two new containers. And a 40ft container can yield five new 8ft containers!
Once the 8ft sections have been cut, we need to make complete the process with either new doors, or a new end wall, or both, depending upon where the cut has been made. Containers Direct specialise in manufacturing new doors for cut down containers, offering a choice of four distinct styles.
Door styles for 8ft containers
S1 doors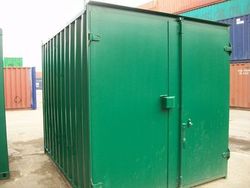 These are flat panelled steel doors, are much easier to open and close than standard shipping container doors, as well as being more aesthetically pleasing. Often the preferred choice of schools and clubs, for use as garden sheds, a bike store, or general storage. Take a look at an example of an
8ft S1 container
Price of 8ft container with S1 doors - £1095 plus VAT
****Special offer price £975 plus VAT****
S2 doors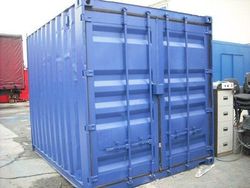 The original shipping container door is most popular on building sites and has the advantage of retaining the rubber door seals, for complete watertightness. The disadvantage is that you may have to struggle to open and close them, unless you are used to working in manual labour! See our standard
8ft S2 container
Price of 8ft container with S2 doors - £1095 plus VAT
****Special offer price £975 plus VAT****
S3 doors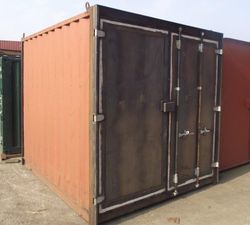 Containers Direct offer a unique third option which combines the advantages of both types of door. This door which is both easy to use, secure, and has rubber door seals. See our
8ft S3 container
for more product details
Price of 8ft container with S3 doors - £1270 plus VAT
S4 doors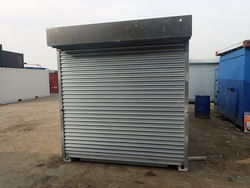 8ft wide
roller shutter doors
with a choice of manual or electric operation. Made from galvanised steel, they are frequently used for container conversions, and can be fitted as an additional door, or a replacement for the original.
Price of 8ft container with manual Roller Shutter door - £1550 plus VAT

(Please enquire for price of electric option)
FREE WITH ALL 8FT CONTAINERS
Repainting
Included in the price of all our 8ft second hand containers, is an exterior re-spray with our specialist rubberised container paint, in your own choice of
colour
.
Please note, for very light or bright paint options (ie white, yellow, red, orange) there is a supplementary charge of £100
Lockbox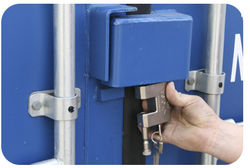 All our 8ft containers come with a steel
lockbox
, protecting the padlock from tampering (usual retail price £55)
OPTIONAL EXTRAS
Padlock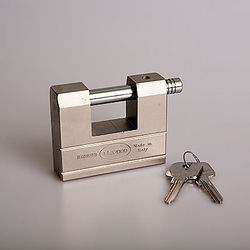 Add one of our specialist
Lock 2000 padlocks
, compatible for use with the lock box, for a discounted price of
£35 plus VAT
Compressed door seals
An option for S1 doors - these are attached to the inside of the container door and compress to form a watertight seal when the door is closed.
Cost - £65 plus VAT
Grafotherm
Reduce condensation in your container! All our containers can be treated with
Grafotherm
, a low cost solution to control condensation in steel containers.
Cost to treat an 8ft container - £120 plus VAT
.
Personnel door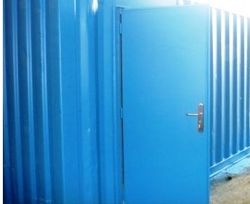 Steel
security door
for pedestrian use, incorporating multi deadlocks and offering high levels of security.
Cost per door
£565
Shelving Racks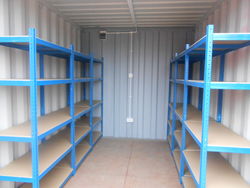 Our multi-purpose
shelving racks
are ideal for creating organised and accessible storage. With a steel framework, this interconnectable shelving is designed for heavy weight bearing.
Cost per bay (1m/3ft wide) - £60 plus VAT - fitted, OR £45 plus VAT - self fitting
Electrics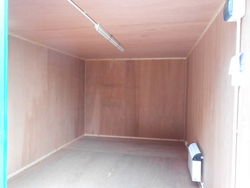 Get connected with one of our electrical packages. Even in an 8ft container, you can have power. We offer two standard options of
electrical installations
:

Option 1: One external hook up, a consumer unit, light switch, 5ft strip light with diffuser, a double socket - £315 plus VAT

Option 2: One external hook up, a consumer unit, light switch, 5ft strip lights with diffuser, two double sockets and wall heater - £405 plus VAT

Ply Lining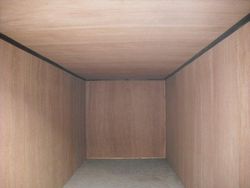 Ply lining and insulation will maintain a steady temperature inside the container, and therefore prevent condensation problems and damage to stored items, such as paperwork, textiles or household furniture. For more details, read our page on
ply lined containers
Cost to supply and fit an 8ft ply lining -£650 plus VAT
Wipe Clean Melamine Lining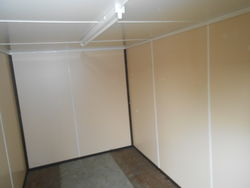 Recommended for containers used in food preparation -
melamine lining
is hygienic, wipe clean and bordered with plastic trim.
Cost - £906.25 plus VAT
Ramps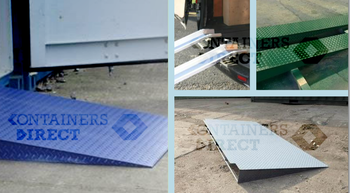 We offer a variety of
ramps for containers
- car ramps. heavy duty ramps, lightweight ramps, hinged ramps and bespoke builds. A range of sizes are also available.
Cost from £205 plus VAT