Cladded Shipping Containers
How to make a shipping container not look like a shipping container - choose wood cladding! Containers Direct are the industry leading experts in providing high quality, visually appealing cladded shipping containers. We use a variety of wood types, to best help blend your container into its surroundings, and fulfill any planning permission requirements in rural locations. We can clad any container, whether it's a simple
storage unit
, a
container office
or a unique
container conversion
. Cladding can be used to disguise your container, if a metal box is not in keeping with the overall aesthetic of your site. Schools, playing fields, gardens,
allotments
, rural and Greenfield sites are key candidates for cladded containers. Take a look at our standard cladding types below: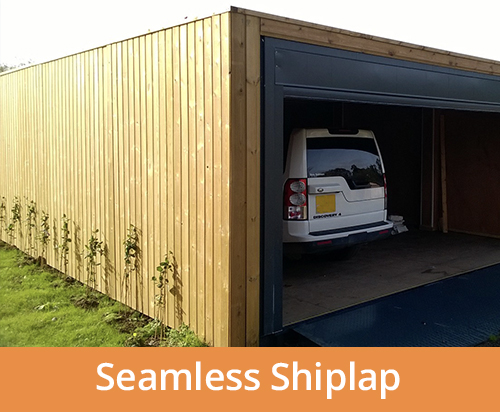 The 'Shiplap' cladding is slotted together meaning no corrugation is visible, completely disguising the fact that there's a shipping container underneath! This gives a seamless appearance to your container, recommended for bespoke, high end conversions.
Our cladding comes from natural woods, which will produce natural variations of half an inch to an inch and a half in between each section. This replicates the organic appearance found in nature and adds to the charm of a cladded container.
Our Premium Cladding Options
Although we offer three standard types of cladding, we understand that sometimes it's a bespoke and unique finish that our customers are looking for. We also offer the below types of cladding for our shipping containers as premium finishes, and are happy to assist in sourcing any other bespoke requirements.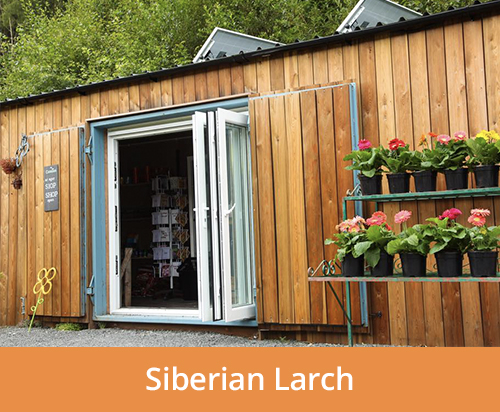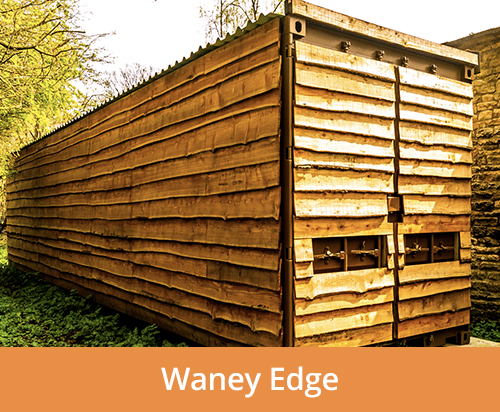 NB. There will be a supplementary charge applied to cladding around apertures (e.g. for additional doors, windows, vents etc.), and for extra wide containers. Please speak to our sales team for more details on our pricing.
Cladded Shipping Container Case Studies
Cladded shipping containers are rising in popularity alongside the growth of the "pop up" industry. This trend has seen
shipping containers
converted for use in retail and catering industries especially, and the better your container looks, the more of a talking point it becomes, which of course is good for business! Wood cladding gives that little bit extra and as you can see from our conversion work on display, it can transform a container from a basic metal box into a unique unit, whatever its purpose! We can clad any size container, whether it's a standard
used 20ft shipping container
, a
used 40ft shipping container
, new, or cut down to a specific size, as we do with our
10ft shipping containers
.
Request a Quick Quote!
Contact our sales team for your no obligation quote, including delivery!
Planning Permission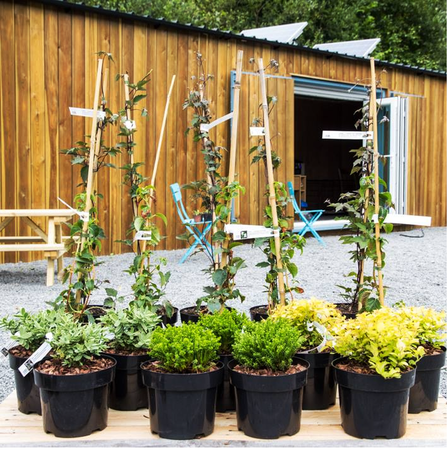 Wood cladded shipping containers give an aesthetic that blends in with the natural beauty of rural surroundings, and can satisfy most planning permission conditions that may arise from planting a metal box in a the countryside. We have clad boxes for a garden centre shop in Snowdonia National Park, and a large double garage in the beautiful rural village of Beckington Mill, Somerset. We also offer a bespoke matching and sourcing service if you have specific planning permission requirements. For instance, we sourced Siberian Larch for cladding the garden centre shop, in order to satisfy the rigorous planning permission conditions. However, we would always recommend checking your council's specific planning permissions before purchasing your container, just in case.
How We Clad Shipping Containers
The Cladding Process
We attach batons to the steel walls of the container, and then attach the timber in vertical sections. The pictures below show the process of cladding undertaken with Siberian Larch which we specially sourced for the
Camlan Coffi Garden Centre shop
.
Please note that once cladded, container doors will open to a maximim of 180 degrees.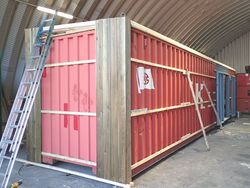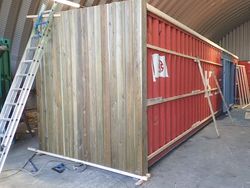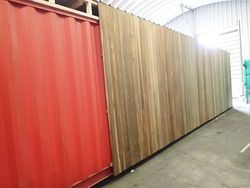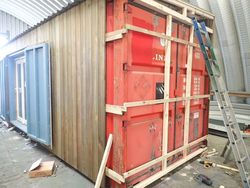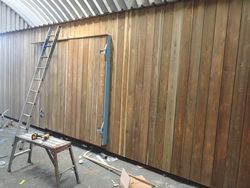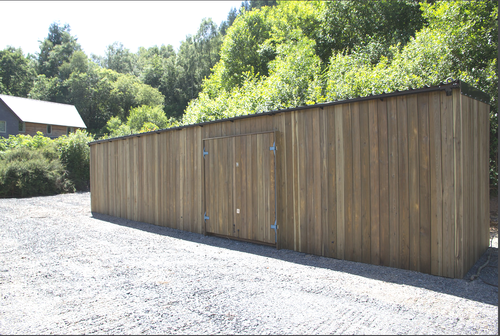 Optional Extras
We offer a range of optional extras for our cladded shipping containers to help ensure your container is perfect for you.




Testimonials
From Keith Cuss who ordered a used 15ft shipping container with cladding
"From start to finish. Kept up to date after purchase, to delivery time, then confirmation of delivery date. And transport company drive contact to deliver to site. 1st class all round."
From Susie Monnington - 15ft used S1 container with ply lining.
"I just wanted to thank you all at Containers Direct for the excellent service you have provided, keeping me up to date with progress and to say how pleased I am with my container that arrived this morning. The cladding out inside is top class and the delivery driver was extremely helpful and cheerful too! I would have every confidence in recommending your company to any interested customers."