Cladded Shipping Containers
How to make a shipping container not look like a shipping container - choose wood cladding! Containers Direct are the industry leading experts in cladding shipping containers in a variety of wood types, to best help blend your container into its surroundings, and fulfill any planning permission requirements in rural locations.
We can clad any container, whether it's a simple storage unit, or a complete conversion. Cladding can be used to disguise your container, if a metal box is not in keeping with the overall aesthetic of your site. Schools, playing fields, rural and Greenfield sites are key candidates for cladded containers.
Planning permission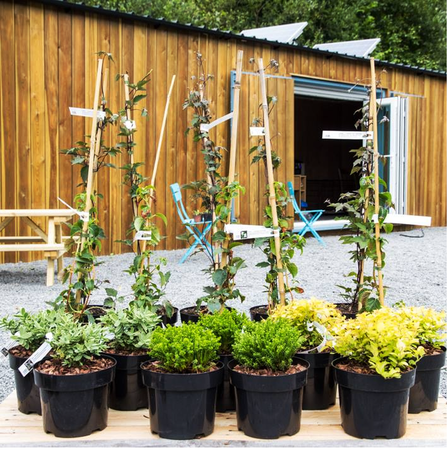 Wood cladding on containers gives an aesthetic that blends in with the natural beauty of rural surroundings, and can satisfy most planning permission conditions
*
that may arise from planting a metal box in a the countryside. We have clad boxes for a garden centre shop in Snowdonia National Park, and a large double garage in the beautiful rural village of Beckington Mill, Somerset. We also offer a bespoke matching and sourcing service if you have specific planning permission requirements. For instance, we sourced Siberian Larch for cladding the garden centre shop, in order to satisfy the rigorous planning permission conditions.
Choose from three standard cladding options
Cladding Prices
| Type of Cladding | 10ft | 12ft | 15ft | 20ft | 25ft | 30ft | 40ft |
| --- | --- | --- | --- | --- | --- | --- | --- |
| Rustic Cladding | £890 | £940 | £1025 | £1495 | £1785 | £2060 | £2630 |
| Clean Cut Cladding | £980 | £1030 | £1115 | £1685 | £2000 | £2310 | £2950 |
| Shiplap Cladding | £1320 | £1420 | £1500 | £2170 | £2595 | £2995 | £3790 |
Please add VAT to all prices listed above. There will be a supplementary charge. Surcharge also applies to cladding around apertures (e.g. for additional doors, windows, vents etc.), and for extra wide containers.
How we clad containers
We attach batons to the steel walls of the container, and then attach the timber in vertical sections. The pictures below show the process of cladding undertaken with Siberian Larch which we specially sourced for the
Camlan Coffi Garden Centre shop
.
Please note that once cladded, container doors will open to a maximim of 180 degrees.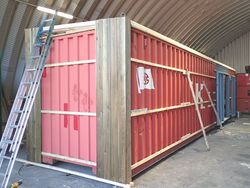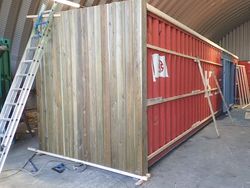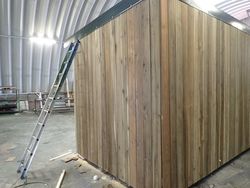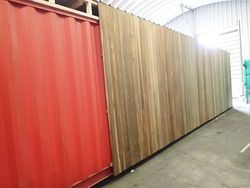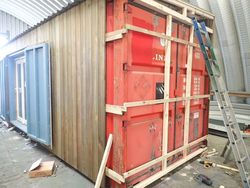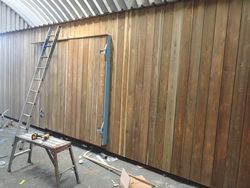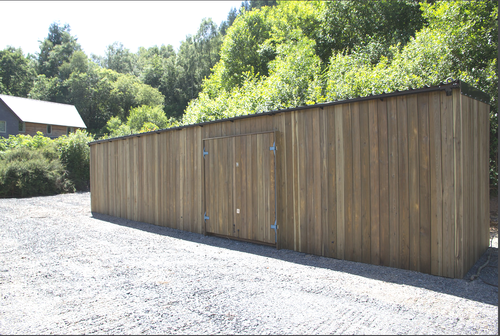 Door options for cladded containers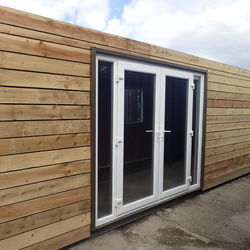 Although our standard door options work well with cladded containers, many of our clients chose alternative door styles that lend themselves well to the function and aesthetic of cladding, such as
glazed patio style doors, sliding doors and bi folding doors
. Cost for each 8ft wide patio and sliding door is
£1750 plus VAT
Optional extra - sloping roof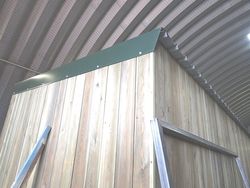 A sloping roof gives the container a more aesthetically pleasing appearance, and when complete with cladding, the finished product resembles a woodland cabin rather than a shipping container. We make sloping roof by fitting a timber frame to the container roof, which we fill out using corrugated steel panels, powder coated in green, and then clad along with the rest of the container.
Guttering can be added for a neater appearance and water dispersal, at additional cost - please enquire.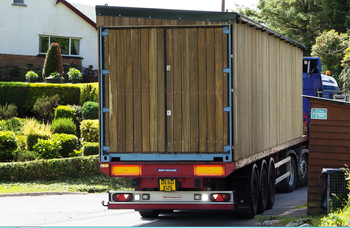 Price excluding VAT:
10ft - £650


15ft - £890


20ft - £1220


25ft - £1360


30ft - £1600


40ft - £2220
Our cladded shipping containers gallery
See for yourself some of our quality cladding work.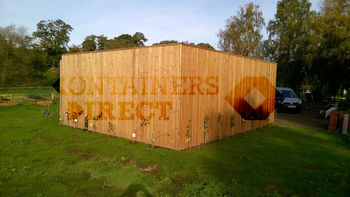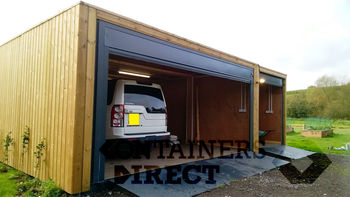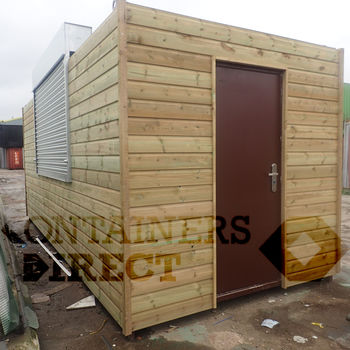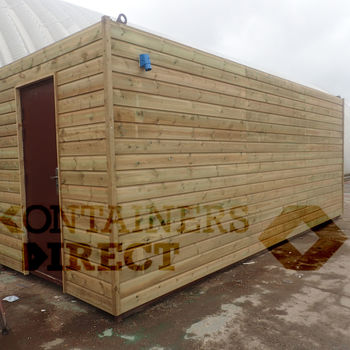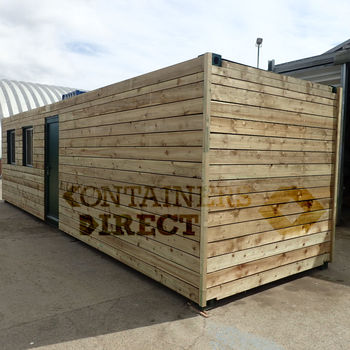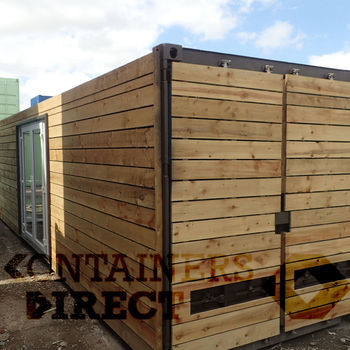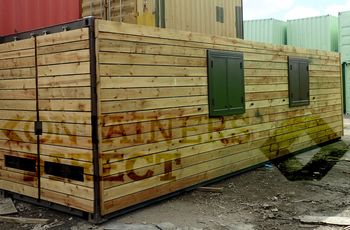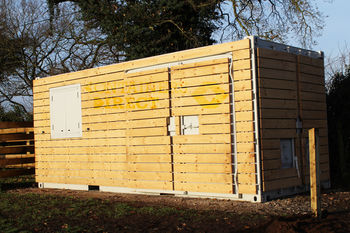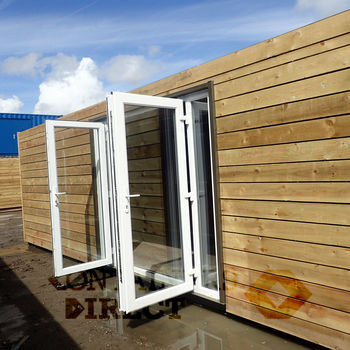 Cladding around patio doors
Cladding prices
Prices starting from (exc VAT):
10ft container
15ft container
20ft container
25ft container
30ft container
40ft container
For other cladding options e.g.
Clean Cut
,
Shiplap
and bespoke options such as Siberian Larch, please speak to our Sales Advisors for prices and guidance.
Additional costs apply to the following:
Painting


Slopping roof


Cladding around doors and windows


High cube containers


Attaching cladding using welded box section frame instead of nails and batons
*
We would always recommend checking your council's specific planning permissions before purchasing.