COLLAPSIBLE CONTAINER FOR SALE

Containers Direct have a collapsible container for sale to fit whatever space you have. Because these containers are fully collapsible and therefore transported with ease, there are virtually no limits to where they can be delivered and assembled.
Fits virtually any location!
This is a flat pack product, so it will arrive in kit form consisting of a frame, six flat panels (4 walls, a roof and a floor) and a door, and each component is light enough to be carried off the delivery truck and onto site by hand. This makes it unique from all other containers, which require lifting tackle for loading and unloading, which is not only more costly, but also requires the space to do so. This is why we recommend a collapsible container for personal storage (can you imagine having a large lorry with a hoist turning up in your back garden!) and any premises where large loads may prove tricky to reach.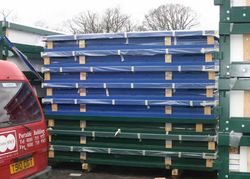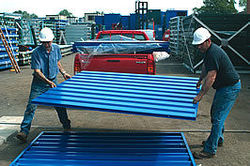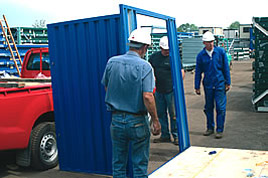 Ideal for storage on the go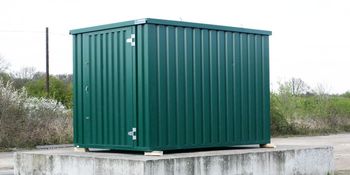 You may also want to consider selecting a collapsible container for sale if your storage needs are changeable and you have to move your container around frequently. Ideal for instance if you are moving house, or your business has more than one site. The collapsible container allows you the freedom to move it around with minimum fuss, and expense to you. This small
2m collapsible container for sale
can be kept almost anywhere.
A Choice of three widths and door repositioning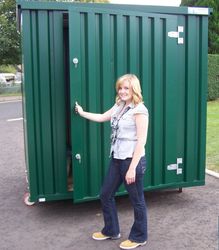 Every collapsible container for sale has a width and height of 2.1m, with three lengths to pick from - 2m, 3m and 4m.
Doors
are outward opening and situated on the front end of the container, but if you would find the door in the long side more convenient, as seen on this converted collapsible chemical
storage container
, Containers Direct has a refitting workshop for repairs and modifications, and also repainting. Any collapsible container for sale can be repainted to your specification. Standard colours without repainting are blue and green.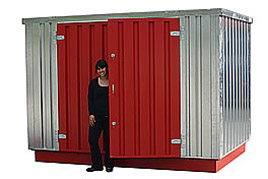 Testimonial
From Notre Dame School in Surrey after purchasing a 4m model:
"Well made container and goes together very well. Would highly recommend"