Container Conversion Workshops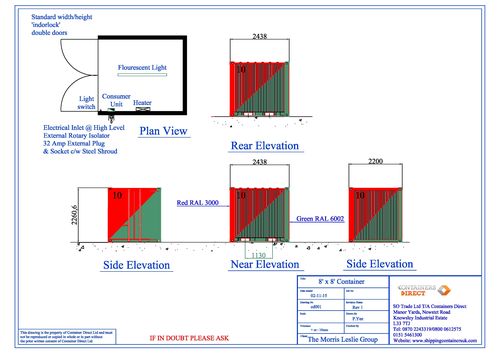 Shipping containers are an ideal base for a conversion project. They are robust, portable and weatherproof, with lower costs than traditional building structures. In addition, they can be cut to any size and modified with a whole range of features, at a moderate cost. Containers Direct carry out container conversions on a daily basis, in our own workshops, overseen by a team of highly skilled and experienced designers and tradesmen.
Workshop conversions are one of our most frequent projects. We can produce anything from a one off individual container conversion to large scale jobs involving multiple containers for large companies. When converting containers to workshops, we start by using a Computer Aided Design to map out detailed plans in conjunction with our client, to ensure precise results. Once we have the size and structure of the container sorted, we can fit a wide range of features suited to workshop conversions, ranging from a ply lining to benches.
Example CAD
View our recent workshop container conversions
Many of our workshop conversions are displayed on our website, detailing the design and special features. These examples can be used as a starting point for your own conversion idea.
Pick and mix
Workshop conversions typically have the following features, which our clients can chose from.
We can also incorporate specialist equipment and design features into the build, upon request











Anti slip Durbar floor plate


Workbench


Extractor fan


Tool rack


Steel hooks


Choose whatever combination best fits your requirements, or let us know if you have any specific requests not listed here. For instance, we can create any sized aperture in the container, ready for self fitting of any specialist equipment you may need (we have created apertures for air conditioning units, access hatches, steel brackets - to name but a few).
View all our Workshop Conversions on display