CONTAINER CONVERSIONS FOR CATERING
Robust, portable and quick to install, shipping containers provide an ideal foundation for catering units where mobility and security are essential. Although normal shipping containers are 20ft and 40ft in length, at Containers Direct we specialise in cutting these units down to size so they're fit for a variety of purposes. All our conversion work is carried out in our own workshops, by a team professional and skilled tradesmen.
Catering units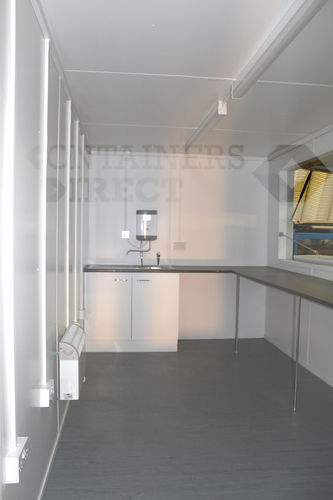 Our catering conversions can be divided into two categories:
1. 'Pop up' units for specific events and seasonal markets (to both cook and serve food from). The trend for pop up shops isn't going anywhere anytime soon, and we've quickly become specialists in this type of conversion work. Between BBQ and burger stalls for the festival circuit, to ice cream parlours in Devon, we're able to fabricate and deliver the ideal pop up unit to suit any requirements.
2. Static units for small businesses or in-house catering (our most 'famous' is being used on set of the TV soap Emmerdale!). Our other favourite catering conversion project was The Hangar Bar, residing in Manchester Airport. This new build container was built extra wide and fitted with canopy hatches and roller shutters for security.
The fit out
Catering conversions typically need a standard fit out which we have perfected over the years.
Hatches: we offer a full range of hatch types to suit any catering conversion project; roller shutters, barn door style and canopy hatches on gas struts.


Melamine lining and insulation: this material is wipe clean for hygiene reasons. Other options are available upon request such as fire resistant lining or stainless steel.


Non-slip vinyl flooring: essential for any catering conversion to avoid mishap and easily clean up any spills


Personnel doors: although some of our clients like to retain the existing container doors to keep the quirky look of the shipping container, most clients will also have a personnel door for easy access.


Patio and bi-folding doors: we offer a variety of domestic style doors to enhance the aesthetics of your container, let in extra light and allow for easy access to customers, especially in catering and retail units


Windows: we have a variety of window sizes available, although our most popular for site catering units include anti-vandal shutters for extra security at night.


Electrics: our standard electrical installation covers a variety of electrical fittings and fixtures, however we can install bespoke electrics upon request.


Vents: a common request for any catering conversion to let heat and steam out.


Extractor fans: for when basic air circulation isn't enough, we are able to fit and install extractor fans in a variety of sizes.


Worktops and cabinets: because what kitchen is complete without them? Our standard installation includes black slate effect worktops and crisp white cupboards.
Featured products
All the examples below have been converted in our own in-house depot over the past couple of years. Although each conversion project is bespoke, hopefully these models will give you some ideas! Or you may have your own unique specifications, in which case please call our sales and design team.
Featured below is the design for this particular conversion, which is always the starting point before work commences. We use CAD to liaise with our clients and ensure all their requirements are accurately and satisfactorily met.
For this conversion project, the client required a new build 40ft x 10ft, designed with corrugated panels to retain the aesthetics of a shipping container, but with added width to allow for a larger work space inside. This container was fitted with two roller shutter hatches in the side for security, personnel doors to the end for staff entry, external canopies, stainless steel cladding in the kitchen area, PolySafe flooring and fitted with electrics. The kitchen fit out on this unit was done once the container was on site, and we have to say, we couldn't have done it better ourselves!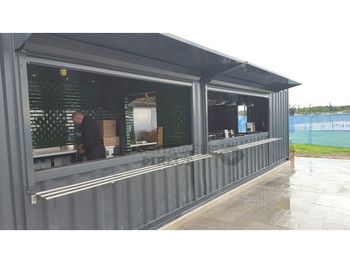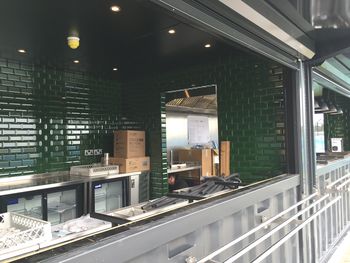 A project which was a joy from start to finish. Due to its location, the container was externally clad to provide a softer aesthetic compared to the bare steel of a shipping container. Fitted with a barn-style hatch (which doubles up as menu boards), electrics, a personnel door, basic extractor vent and melamine lined and insulated, this container was ready for its debut as an Ice Cream Parlour in no time!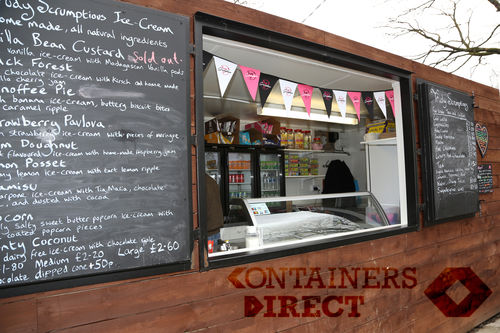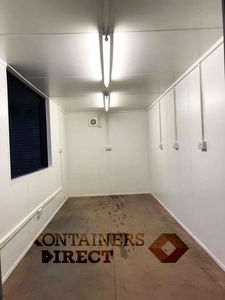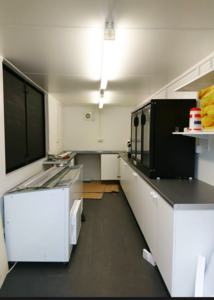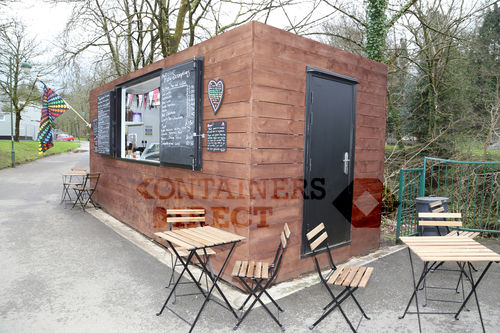 This 15ft container was repurposed as a fish and chip pop up shop on Hayling Island. We fitted a hatch lifted on gas struts to the centre of the container with a drop down serving table, a personnel door, non-slip vinyl flooring, melamine lining with additional fire resistant plasterboard on the rear wall and two apertures for the customer to fit their own ventilation. Once on site, the customer applied their own graphics for a stunning finish.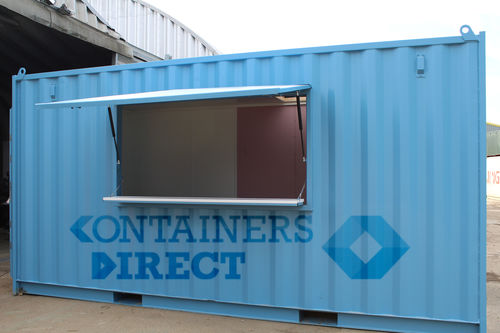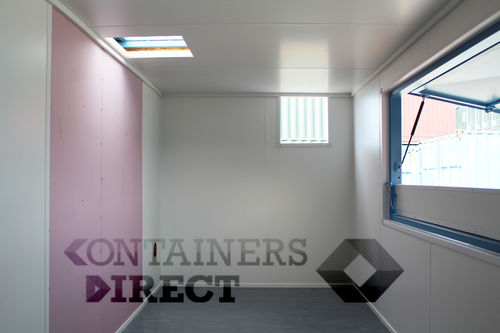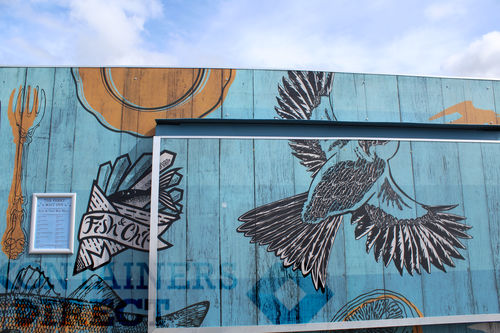 Small but mighty! This 10ft container was modified into a BBQ stall for the festival circuit. With three hatches on gas struts to form canopies underneath, a basic electrical package, stainless steel lining to the back wall, and an access hatch with lifting arm to eliminate the need for a personnel door, this container proves that size doesn't always matter when it comes to conversion projects.