Containers for Gardens
Anyone with a garden will know how much space is needed to store away safely all those garden essentials and importantly, keep them stored with the highest levels of security possible.
. For example lawnmowers, tools, and outdoor furniture during the winter months. And to add to the list for anyone without garage space -
bicycles
. Garden owners are increasingly turning to heavy duty
metal containers
as an alternative to the traditional garden shed, as metal garden sheds offer unbeatable levels of security and a long lasting solution to garden storage. Designed to industrial strength and standards these garden stores will still be standing long after a timber shed has rotted away. A traditional timber shed can be cheaper but has a much shorter lifespan and doesn't offer much in the way of security. We offer
shipping containers
, in all sizes, including
20ft containers
, to fit the space you have available, and also
flat pack container options
. Choose from either small shipping containers, including
SlimLine®
containers with narrow widths, flat pack containers, or purpose built prefab metal sheds.
Not in my back yard? Well yes, you can with one of these!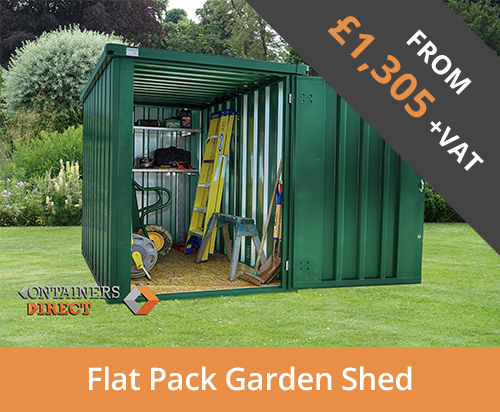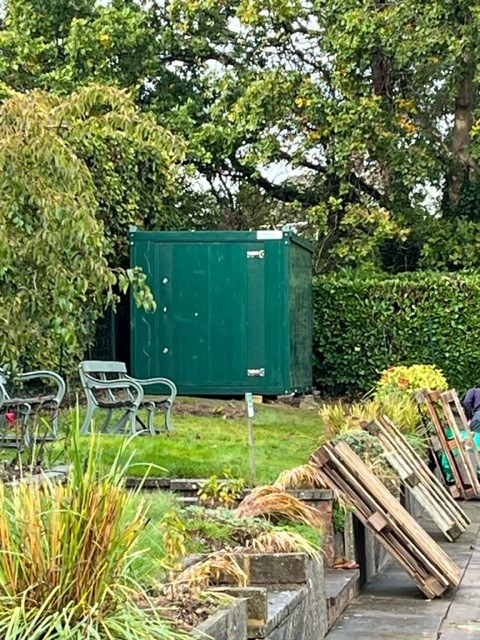 Containers Direct have containers for gardens specifically designed for garden storage that will to fit almost any outdoor space. However small or difficult access to your garden is, this neat little 2.5m x 1.5m garden container will fit your space. It comes flat packed, ready for self assembly, and every component is man portable, so even a terraced house without side access is not a barrier to owning a shipping container shed. Their robust design also makes them hard wearing, leak-proof and long lasting. Suitable to secure all your garden equipment like lawn mowers, garden furniture or bikes, it comes with a range of
optional extras
, including shelving to help organise your garden storage.
Containers for gardens are delivered as flat panels which are light enough to be unloaded and carried by hand to any location. They are sturdy and will last you many years without rotting or rusting. Assembly is simple and can be done with a standard socket set and they are easy put back down again if you need to relocate your garden container. This metal tool shed is made from galvanised steel panels and has a double locking system, making forced entry very difficult.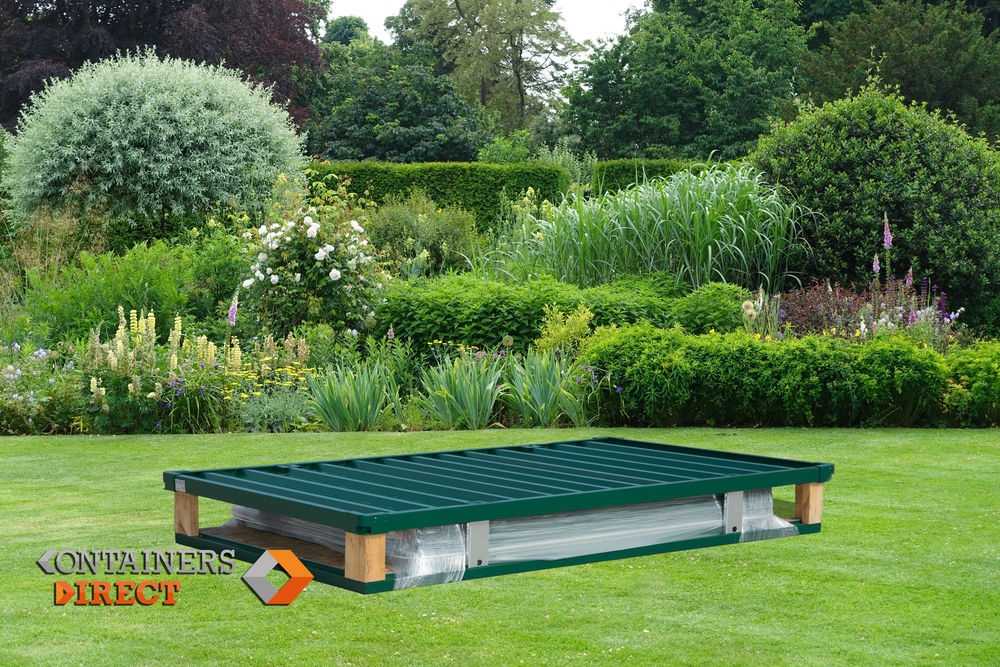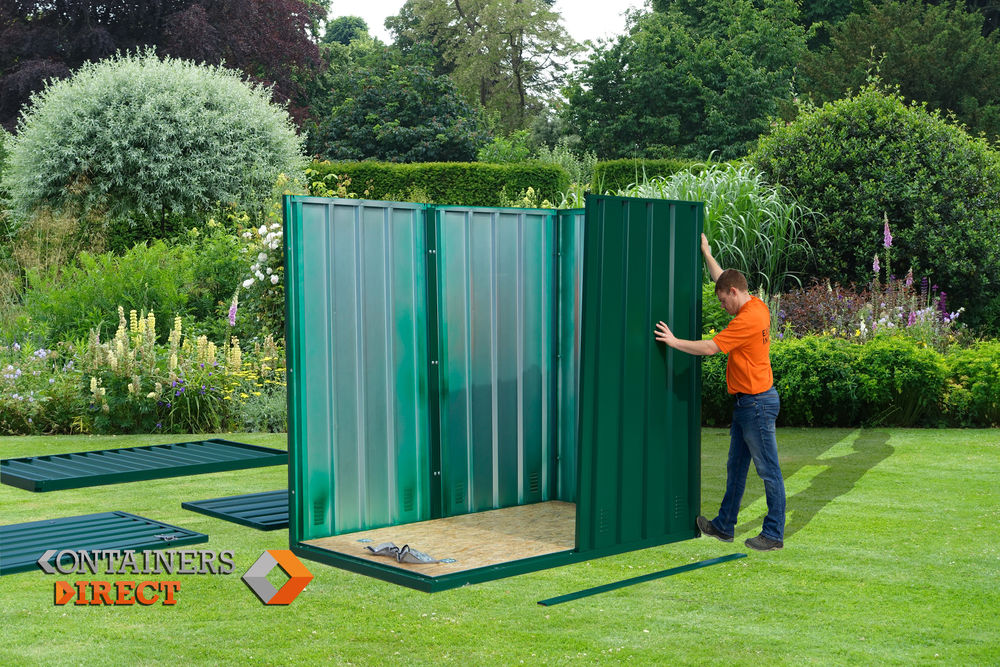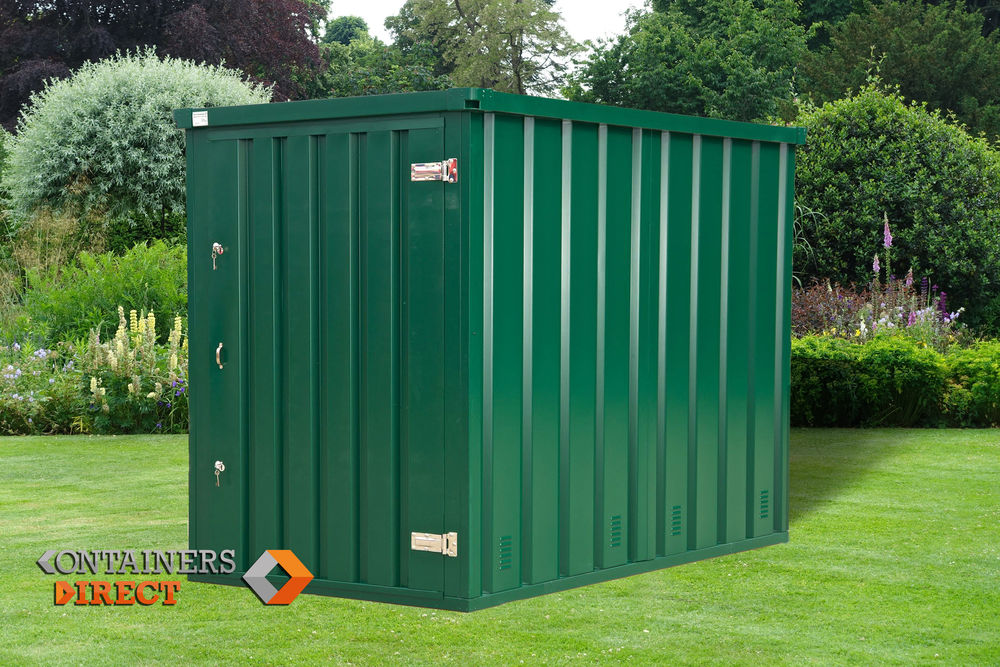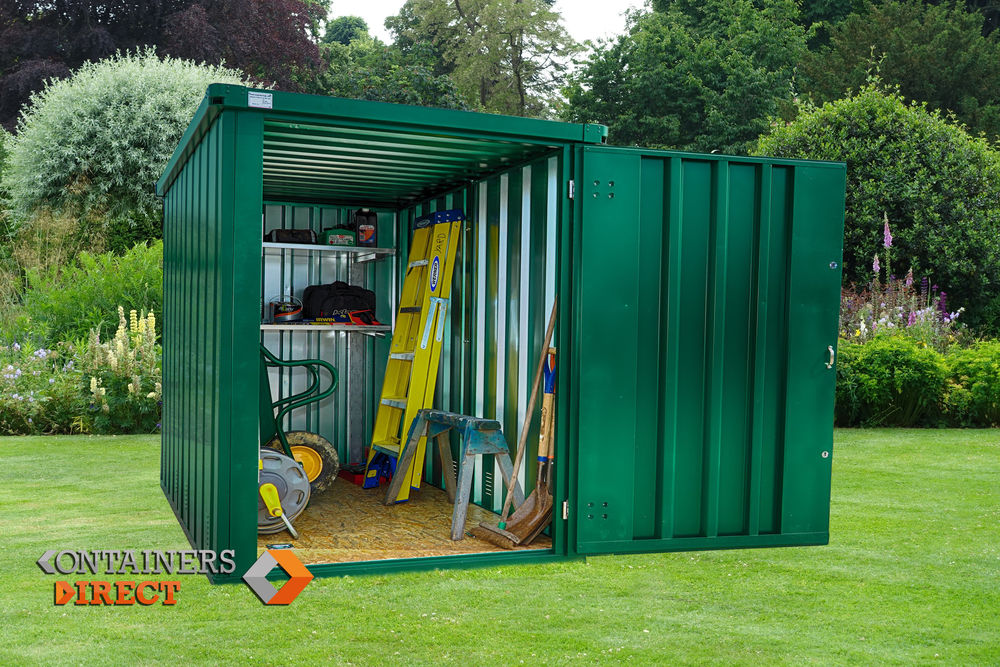 Larger Flat Pack Steel Sheds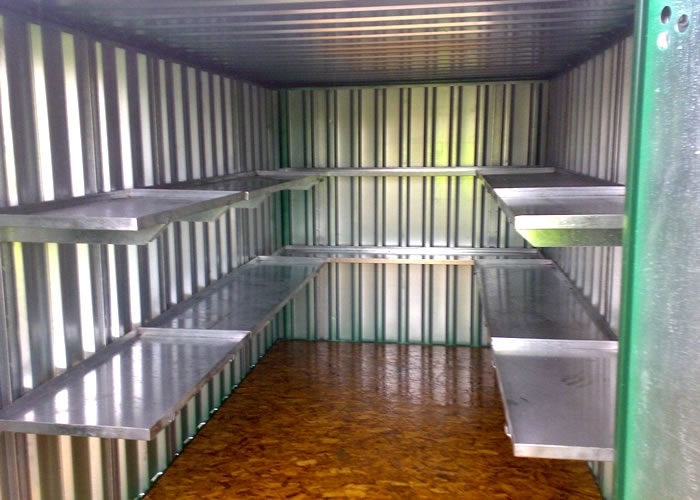 We offer a range of flat pack containers for gardens. These are also suitable for
allotments
. If you have more space, we offer a traditional flat pack store in three sizes, which are very quick and easy to assemble, making repositioning at anytime a viable option. Flat pack stores designed for
bike storage
are also an option for your garden. To give you some idea of how quick and easy it is to put together one of these containers, see our
guide to self assembly
of flat pack containers, although a comprehensive set of full instruction and fittings is provided with every purchase.
Our containers for gardens start at
2m x 2.1m
, so even the smallest of gardens can accommodate one! Our medium container is
3m x 2.1m
, and our largest for bigger gardens or larger storage loads is
4m x 2.1m
. Because our garden stores are made from galvanised steel, they give high levels of protection against theft that other garden stores cannot compete with. A range of steel, snap in shelving is available as an optional extra for easier access to smaller storage items. Other extras include a linking kit, so you can join units together for larger areas of storage space, the option to have the doors located in the side, and double doors.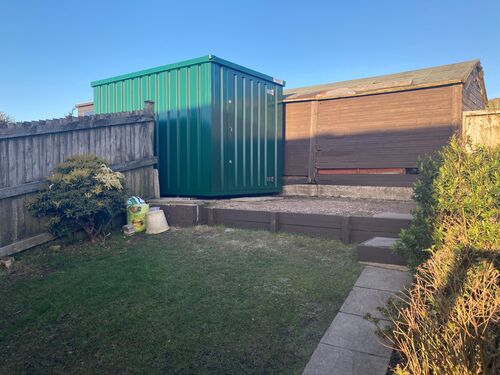 Why choose flat pack containers?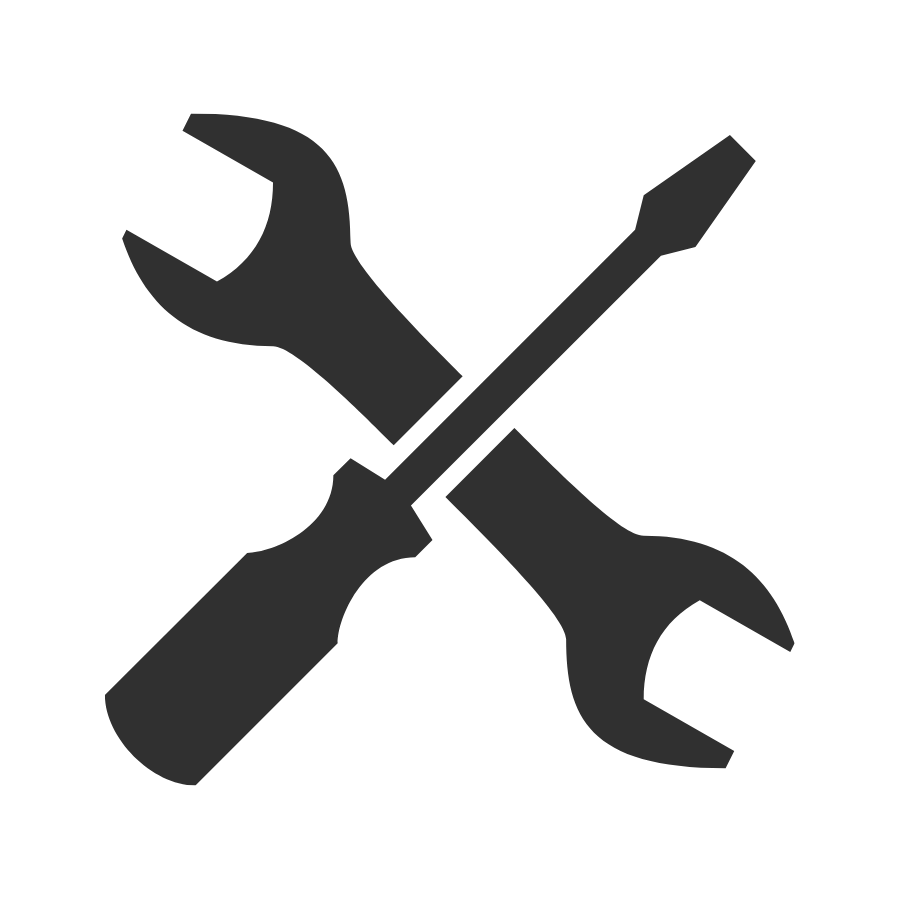 Quick and easy assembly
Our flat pack range is quick and easy to assemble with no specialist tools required.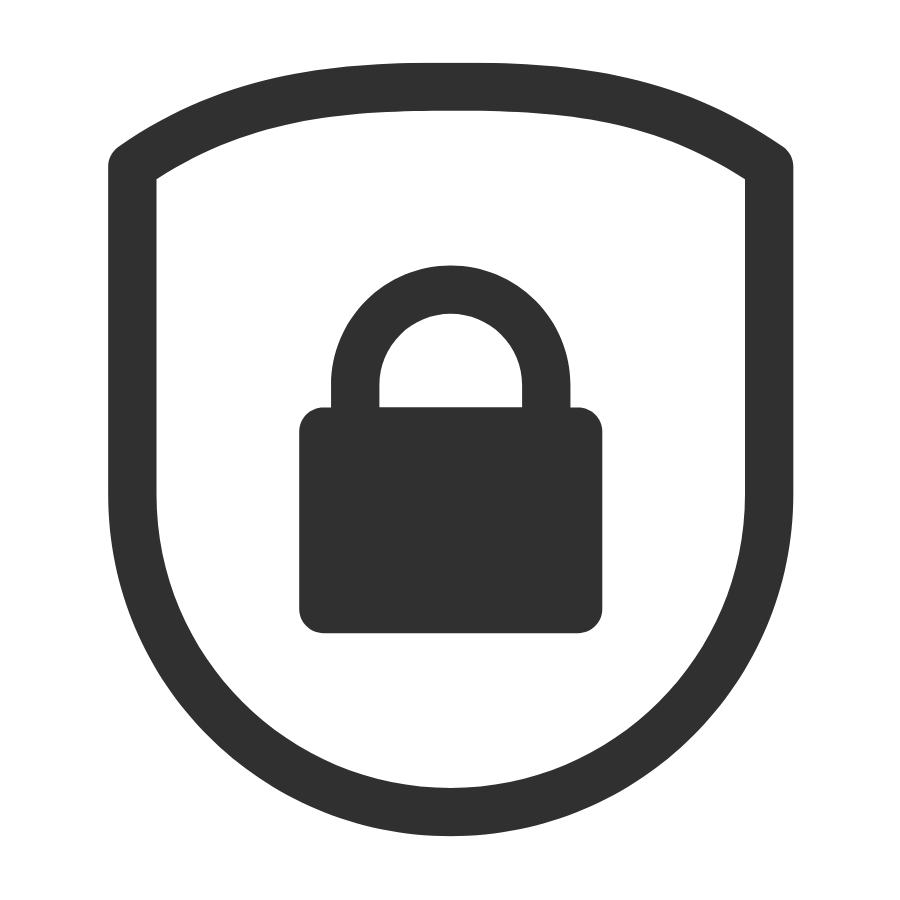 Secure and
anti-vandal
Made from galvanised steel with inbuilt double locking system, flat pack containers offer great security.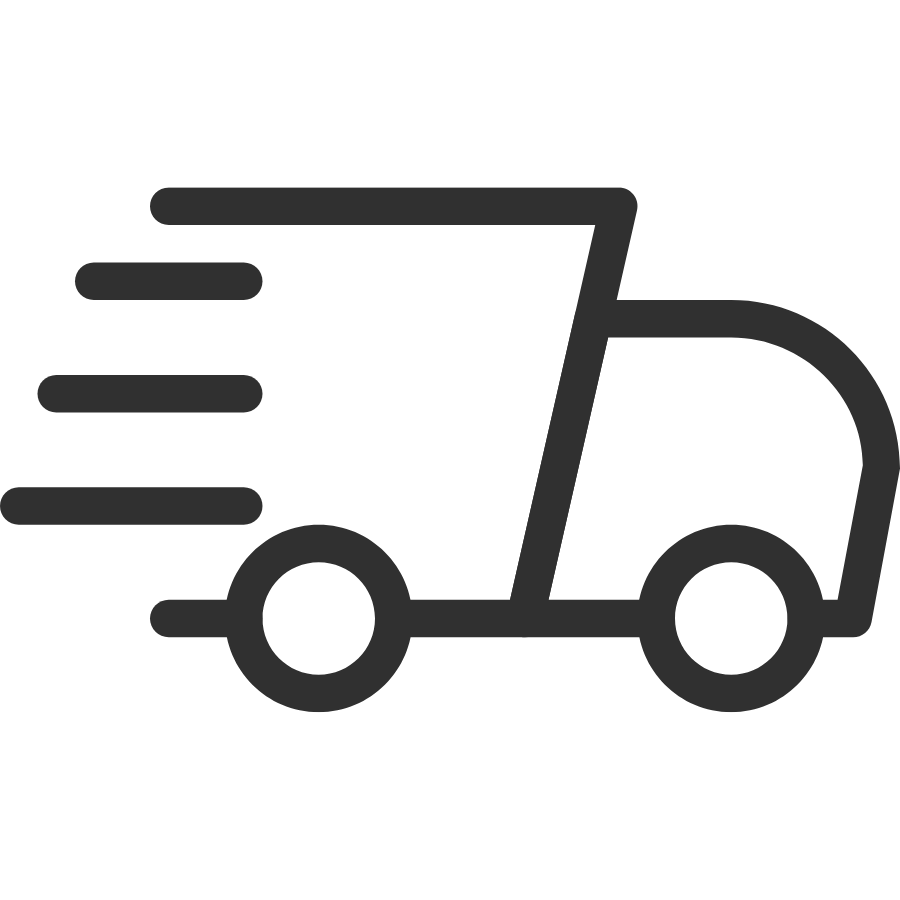 Delivered
flat packed
These units are delivered in flat pack form and are completely man portable making them a perfect option for difficult to reach areas.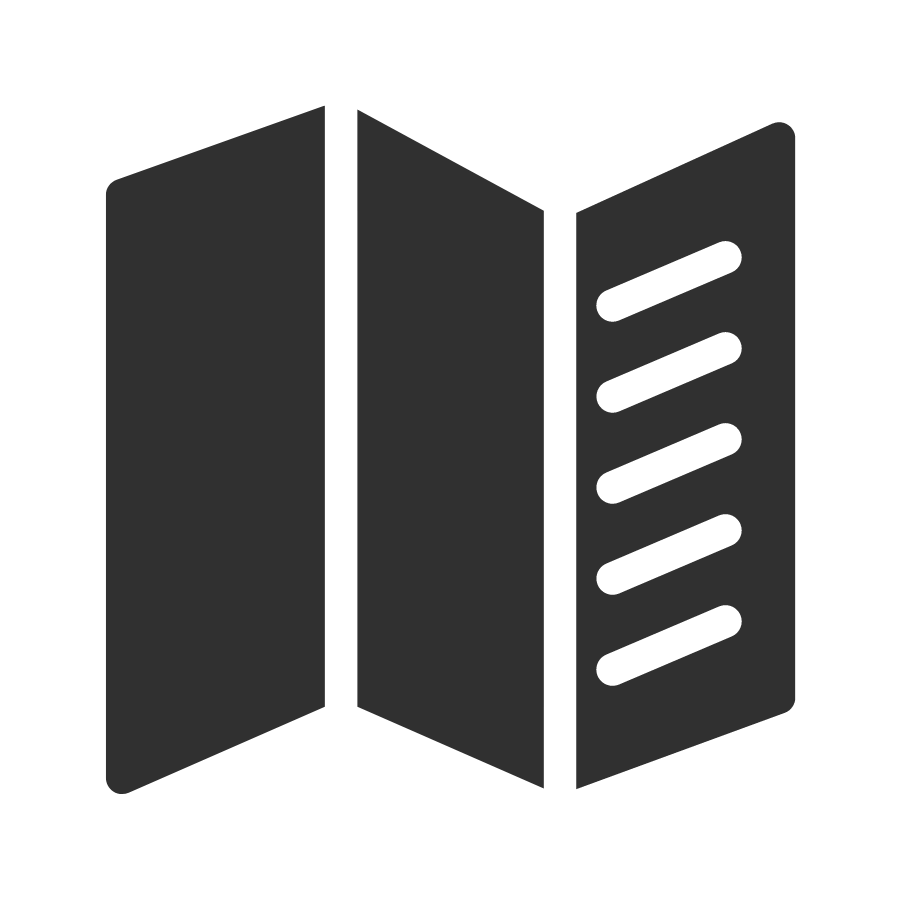 Demountable and portable
Flat pack containers are demountable meaning they can be relocated and re-assembled multiple times.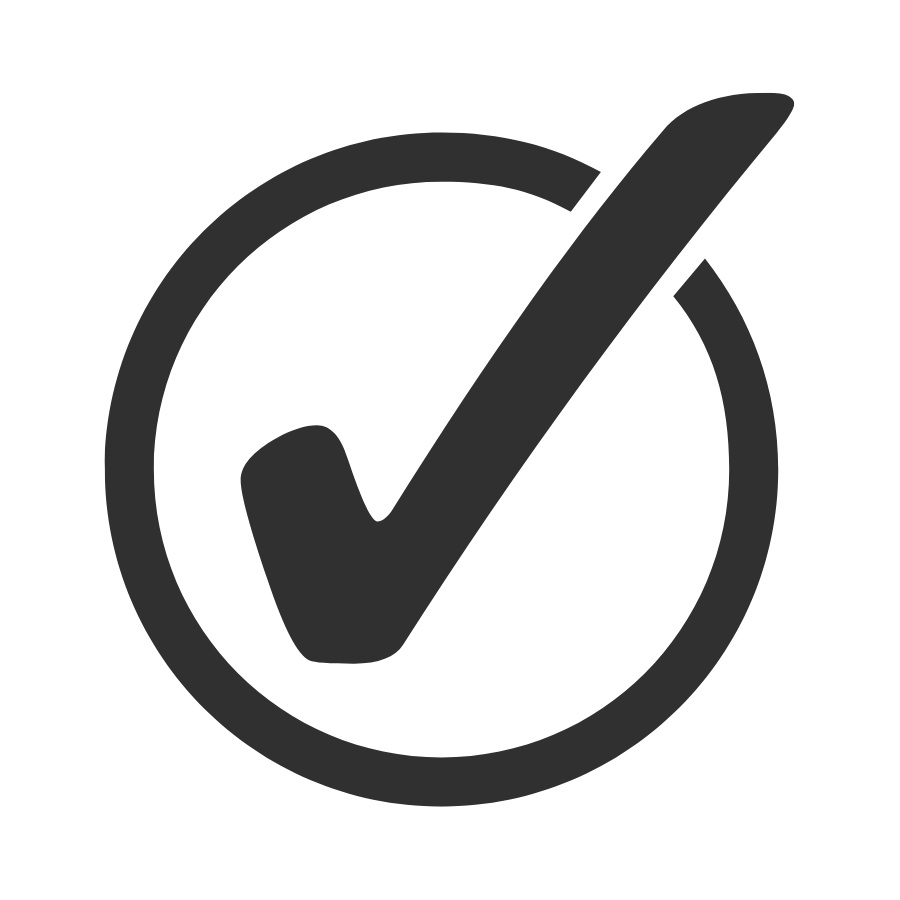 12 Month
Guarantee
We offer all of our flat pack units with a 12 month fair wear and tear guarantee for additional peace of mind.
Insulated flat pack containers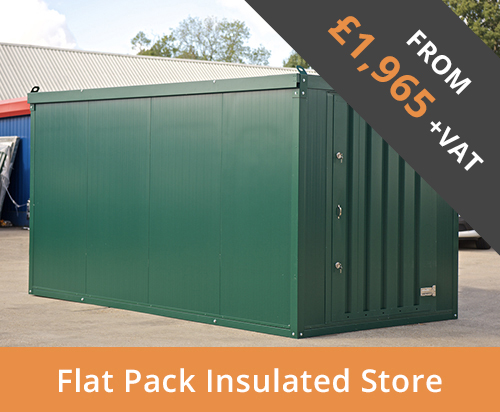 Insulated containers are recommended for the storage of items susceptible to damage from cold and condensation. With all the features of our standard flat pack stores they also have in-built insulation, which includes an inner and outer skin with 40mm Polyurethane insulation in between and glass wool inside the door panel. This keeps your store condensation free.
Other shipping containers for gardens
If you are looking for something different to a flat pack, see our wide range of shipping container sizes and designs that are suitable as cheap metal sheds. Shipping containers are unbeatable in terms of strength and security and can make an excellent metal tool shed, bike shed or general garden storage container. Starting at sizes from just 5ft long, we can add a range of optional extras including easy to use S1 doors which are convenient for regular use,
ply lining
to elimate condensation and
shelving
,
uVPC doors and windows
, a
sloping roof
and
wood cladding
can add a touch of luxury to your outdoor container. For our full range of optional extras see our page
Customising Your Container
. Our most popular shipping container for gardens is the
10ft S1 container
.
Need a space to work from home in the garden? Then see our
flat pack offices
. They are designed to fit hard to reach areas like your garden and can be used for work space, as a studio, gym, or hang out.
The CarTainer®
is a specially designed garage container, at 10ft wide to accommodate spacious and highly secure car storage.
Request a Quick Quote!
Contact our sales team for your no obligation quote, including delivery!
Testimonials
One of our clients purchased a flat pack container to use as a shed:
"Great for personal use as sheds as they don't need re-felting! More likely to cope with adverse weather. We were happy with the service all round, very informative and there was no pressure to make our decision. Good product and service thank you."
Read all testimonials here!