CONTAINERS WITH GRAFOTHERM
Containers Direct have long offered
Grafotherm
as a staple product to ease condensation nightmares. Grafotherm is a budget friendly way to protect the contents of your container from the worst effects of condensation, acting like a sponge to absorb any moisture as it forms before it drips down onto the contents of your container. Grafotherm is not just used in shipping containers, but is also frequently used in aircraft hangars, sports facilities and warehouses.
What causes condensation in containers?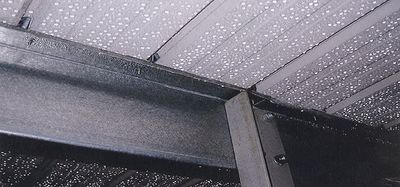 Because containers are made from steel, the internal temperature can vary enormously overnight and during winter months, causing moisture to form on the ceiling and run down the walls, which then drips down onto the contents of the containers as it builds up. This is can cause a big problem and a lot of damage to paper, cardboard and textiles, which can become mouldy over time. So if you are planning to use your container as a store for furniture and household goods, or as an
archive document store
, we highly recommend choosing containers with grafotherm to reduce condensation problems. We can treat all sizes of containers, including
20ft shipping containers
.
What is grafotherm and how does it work?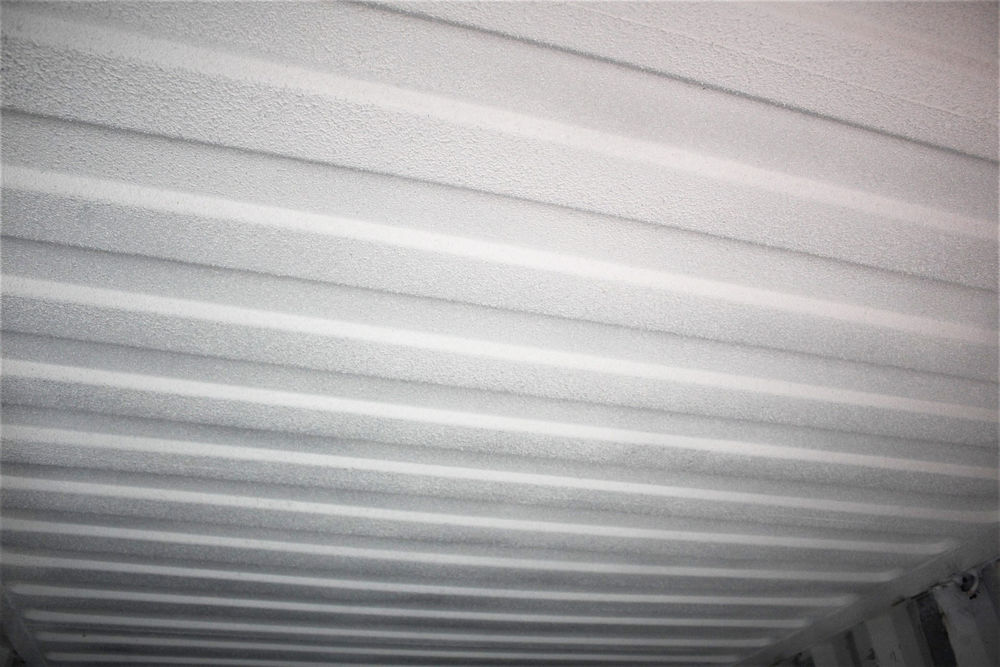 Containers with grafotherm are effective at reducing moisture damage and slowing down the progression of corrosion on the inside of the container, so grafotherm will help protect your container as well as its contents. Grafotherm is a textured coating that is simply sprayed onto the ceiling of the container and works in three ways:


It prevents heat loss to maintain a more constant internal temperature, therefore preventing the formation of condensation.


Its capillary action is absorbs moisture as it forms.


Its textured surface speeds up the process of evaporation to help dry the container out.

The picture gives you a close up view of the ceiling of a container that has been sprayed with Grafotherm.

Please be aware, as Grafotherm is a water based product, it may draw out existing rust patches to the surface. While this patching may be evident, the effectiveness of the product is in no way compromised. Grafotherm can also take up to three weeks to fully dry, especially in cold weather, therefore the container roof may be wet during this period.

For more information on Grafotherm visit their website http://www.grafoproducts.co.uk/contain.htm
Alternative condensation solutions - ply lining and insulation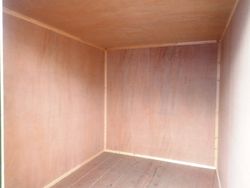 For a 'belt and braces' protection against condensation caused by extremes of temperature, ply lining and insulation is our preferred, and most resilient, optional extra. See our article on
ply lined containers
for more information.
Testimonials
We supplied APA Concrete Repairs with 4 x 20ft containers, all units were treated with Grafotherm. We were happy to hear back from APA, telling us they were "100% satisfied with the service provided"