CUT DOWN CONTAINERS
Made to order cut down containers are one of our biggest sellers, created from standard 20ft and 40ft quality shipping containers. New shipping containers are mainly manufactured with standard lengths of 20ft and 40ft length (width 8ft), which is perfect if you need 20ft or 40ft of storage space, but why pay more for this size if you don't want that much storage space? Cut down containers give you the freedom to choose the container YOU want.
10fts and beyond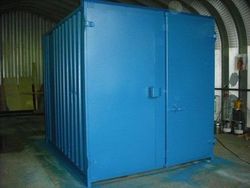 Cut down containers from Containers Direct work in two ways. The most common process is to cut up and convert a 40ft into four
10ft containers
, to ensure a constant stock of our most requested size. These are a favourite with smaller organisations and for personal use. However, Containers Direct understand every customer's needs are unique and aim to cater for this. This means we will make up a container of any length. The choice is yours - just ask, and a member of our sales team who will be happy to give you a quote.
Please note cut down containers are not suitable for shipping, stacking or lifting when loaded. Fork pockets and shipping vents are not guaranteed. Our cut downs can be modified upon request if these conditions are required.
Which door and where?
The next step in making cut down containers is adding doors to the newly created individual units. This gives you the opportunity to request which type of door you want fitted, and where you want it positioned. We can reposition the door anywhere along the length of the container, which is great news if you have limited space in which to keep your container. Doors on standard manufactured 20 and 40fts will be on the narrow end of the container - if you wish to keep this original door your container will be made up from this section of the cut down, which means we have to make a
new end wall
.
Alternatively you may want to have one of our specially made flat panelled doors fitted.
Flat panel doors
are lighter and easier to open and can be secured with a lock box and padlock from our depot. In this case we use the other section of the cut down, so you will keep the original end wall, but have a new door.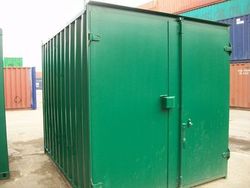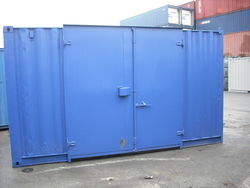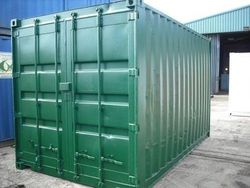 Repainting - looking good and long lasting!

A coat of customer chosen colour paint can be added for perfect individual finish to our cut down containers, although green and blue units are always in stock.
For our full range of colour options, browse through our
RAL colour chart
.
Testimonial
"I was impressed by the fact the company was able to provide the length of container we wanted and painted in the colour of my choice too.

Continual correspondence was maintained through out our transaction, very well done to all the staff and I would most certainly recommend this firm. The delivery person who brought the container to site was fantastic also. Well done to you all."
From J. Olausen, PPM Co Ltd, after purchasing a 14ft container with S3 doors, repainted brown (RAL 3009)
Hippodrome Tyre Services requested a 33ft container, cut down from a 40ft;
"An excellent job, would use again and recommend."