Flat Pack Offices
Where space is limited or access is restricted, flat pack offices make an excellent alternative to a ready assembled structure. Flat pack offices are ideal for the small business, or personal use, as they can be delivered and assembled in virtually any location, including the garden!
We also have larger flat pack offices for sale and all flat pack products are modular, so once delivered they can be joined together with no size restrictions. The portable nature of flat pack products will not only save you precious space, but substantial amounts on delivery costs too. Containers Direct have three types of flat pack offices for sale, ranging from the smallest 2m office up to 30ft and beyond (when joined together).
ExpandaKabins - the UK's best-selling portable offices
Self assembly
These are the smallest offices in our flat pack range. The ExpandKabin requires self assembly. Even with basic DIY skills, a flat pack office can be put together quickly on site using simple household tools. The 2m flat pack office can take less than 60 minutes for two people to erect. For the 3m and 4m sizes, assembly is still relatively quick and easy but, as a guide, add an extra hour and an extra pair of hands per additional metre. All instructions on how to construct your own office are provided.
Construction
Made from steel, with thick walls and double locking system, security is a key feature of the ExpandaKabin. With a glazed window and full insulation, the inside is light and comfortable. Optional extras are available which includes an electrical pack and full height glazed window and door panels. Remember these offices are modular and with a simple linking kit can be joined together to create larger areas of portable office space.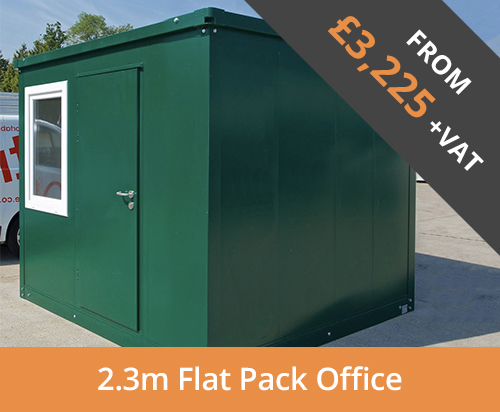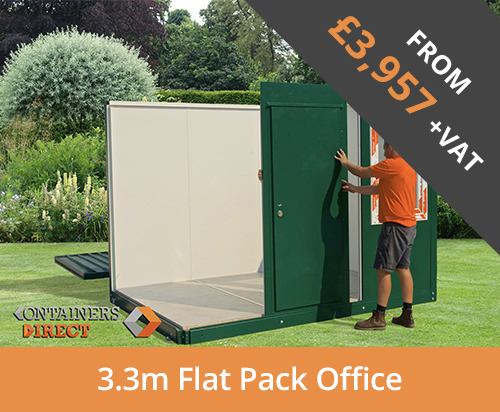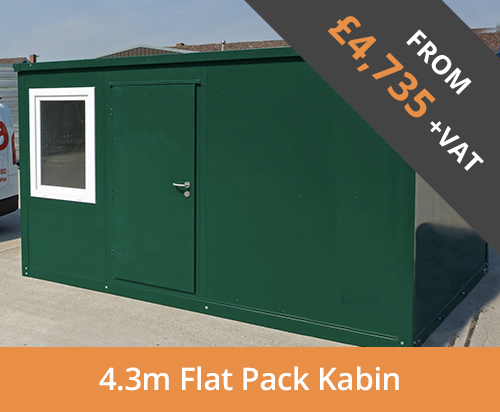 ExpandaKabin Dimensions
| CabinType | Length | Width | Weight |
| --- | --- | --- | --- |
| 2m | 2.255m | 2.305m | 625kg |
| 3m | 3.299m | 2.305m | 860kg |
| 4m | 4.369m | 2.305m | 1,110kg |
ExpandaCom- the 20ft man portable site office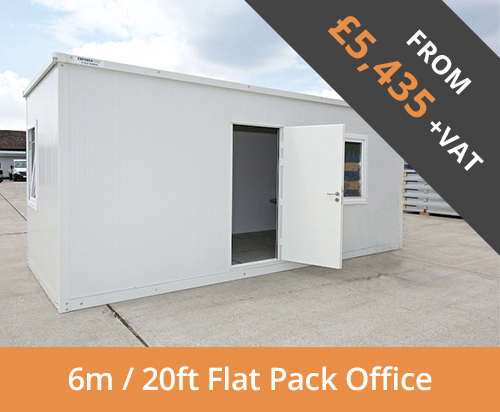 The ExpandaCom is a unique product as the only 20ft cabin on the market that is completely man portable. This makes it ideal for areas inaccessible to large vehicles, as each component is man portable, and a crane isn't required. Assembly is simple, and only manpower is needed to mount the panels and components into the steel frame and chassis - no specialist tools or equipment required!

ConstructionGalavised steel construction, robust and lightweight, fully insulated and stackable. Standard components include one door panel and two glazed window panels, which can be placed anywhere within the frame in order to design different configurations. Additional windows/doors can be placed within the structure, including full height glazed panels.


Why choose flat pack containers?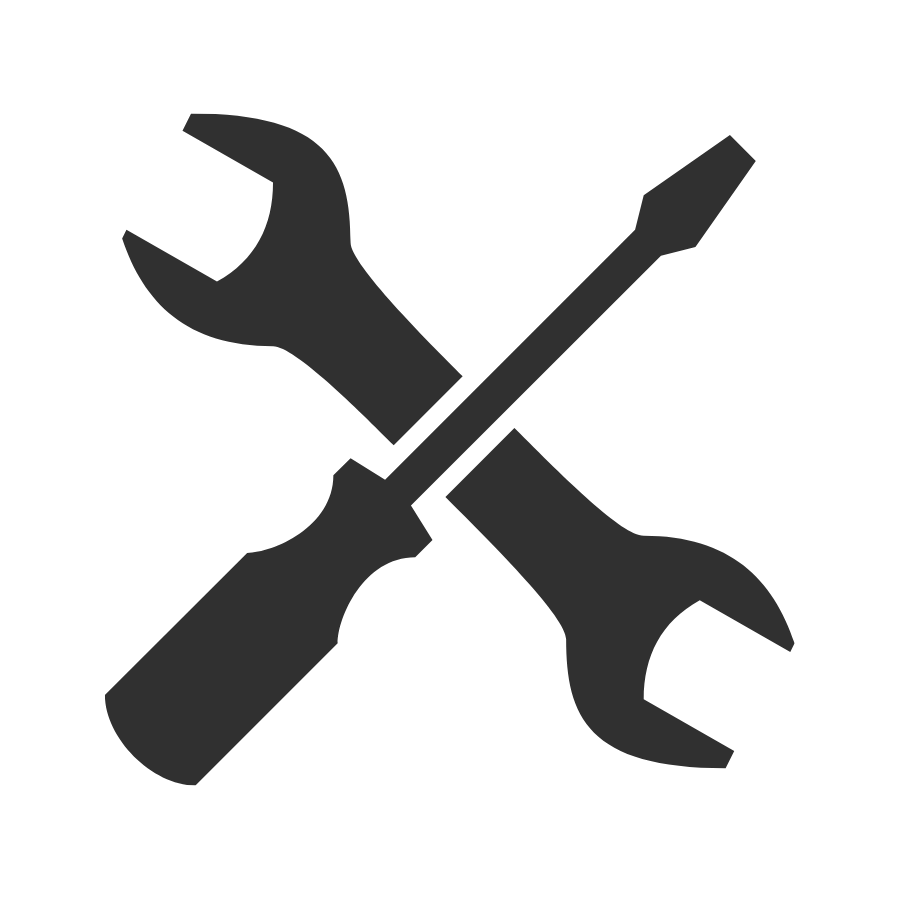 Quick and easy assembly
Our flat pack range is quick and easy to assemble with no specialist tools required.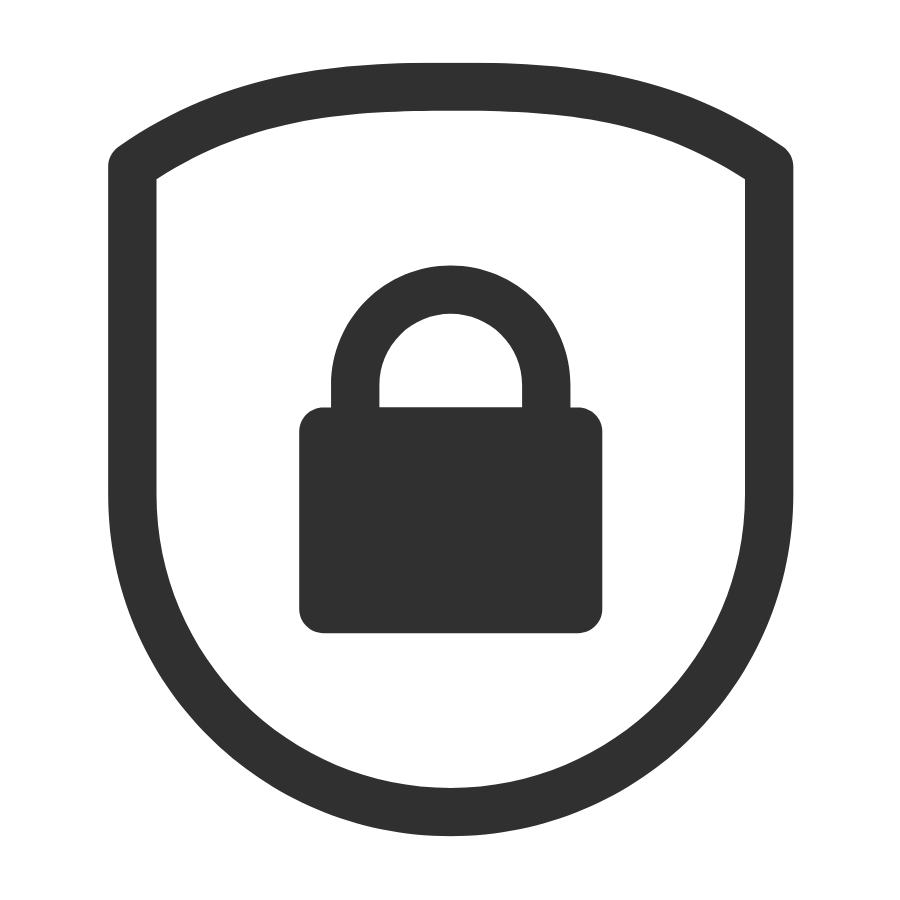 Secure and
anti-vandal
Made from galvanised steel with inbuilt double locking system, flat pack containers offer great security.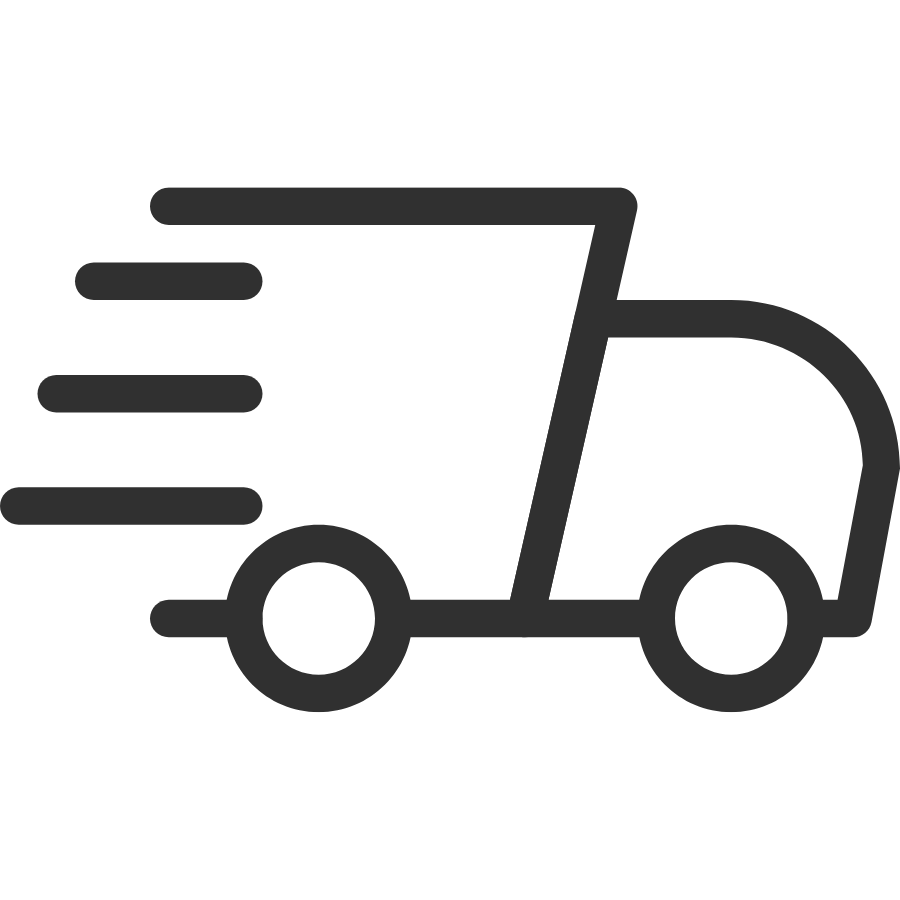 Delivered
flat packed
These units are delivered in flat pack form and are completely man portable making them a perfect option for difficult to reach areas.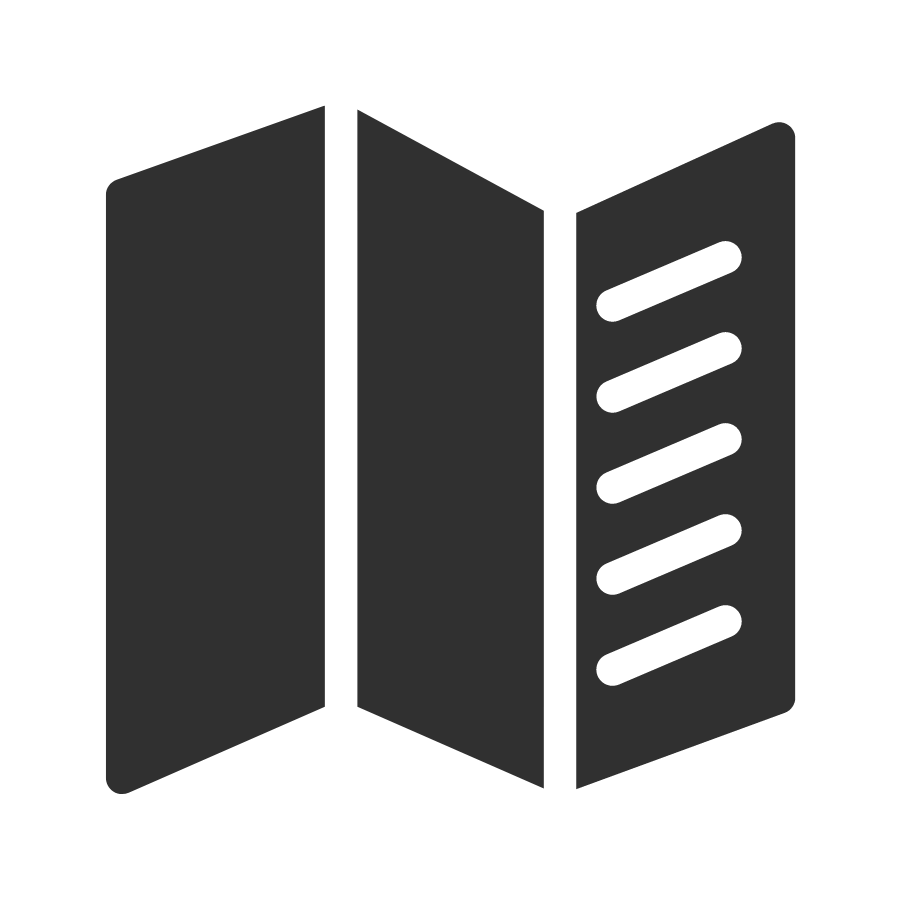 Demountable and portable
Flat pack containers are demountable meaning they can be relocated and re-assembled multiple times.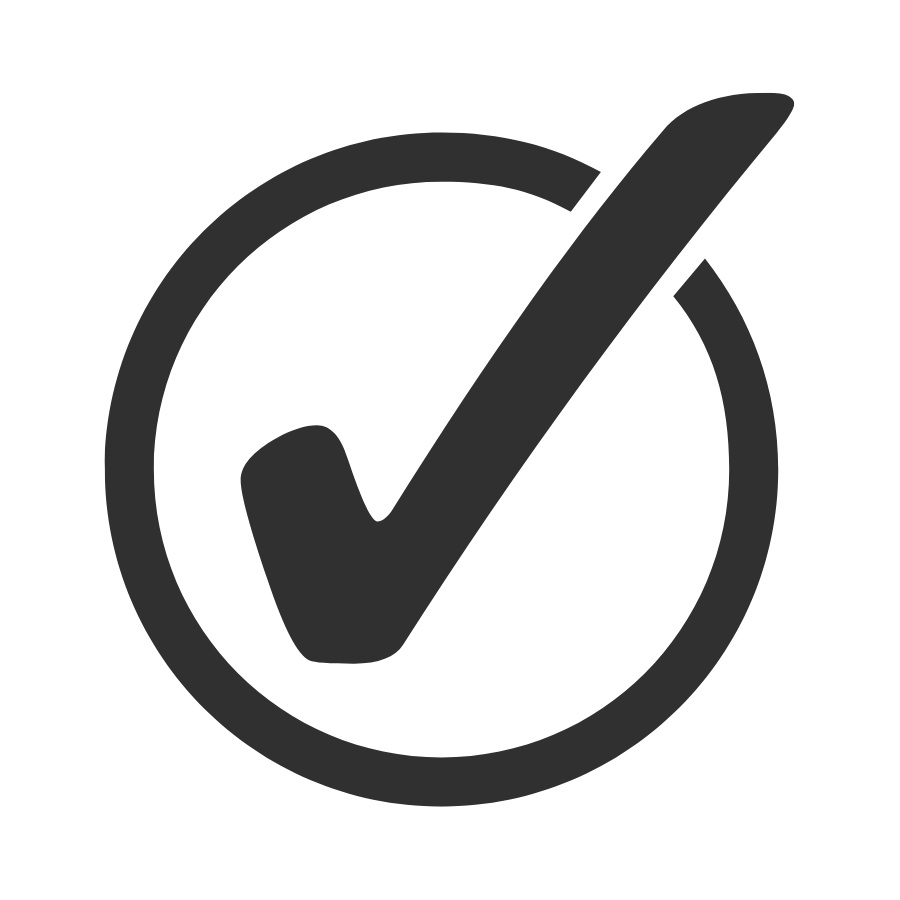 12 Month
Guarantee
We offer all of our flat pack units with a 12 month fair wear and tear guarantee for additional peace of mind.
Need a gate house or security cabin?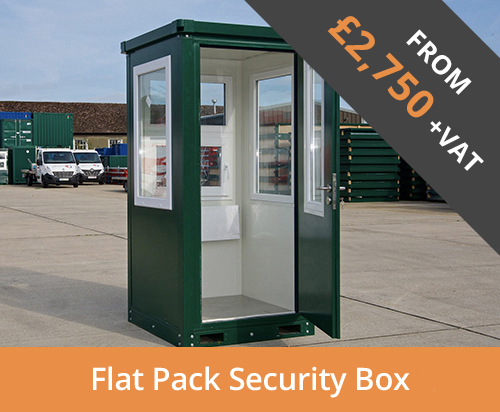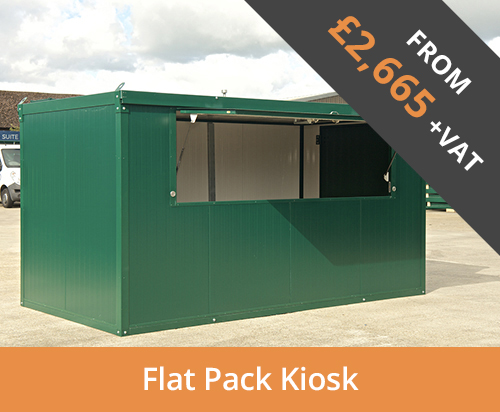 Take a look at the Security Booth and the ExpandKiosk! Providing a durable, comfortable and safe working space for personnel, these sturdy steel portable kiosks are suitable for a wide range of applications, including site security. Use as a permanent fixture or to disassemble and transport across various locations and venues for temporary use. The Security Booth even fits comfortably in a transit van!
CXO Offices
CXO offices
are high quality office units, available from 10ft long up to 30ft long. They can be either purchased individually, or in quantities to join together and create larger working spaces - build outwards or upwards! They are expandable at any time, giving the flexibility to grow alongside your changing needs. They can be delivered flat packed to reduce deliver costs, but require a crane and a crew to assemble.
Construction
Solid steel frame, corner castings and forklift pockets, insulation, and glazed window with integrated roller shutters.
Choose from a range of features and optional extras to customise your portable office, including internal partition walls, and interchangeable door and window panels. This modular system lets you build the office you need!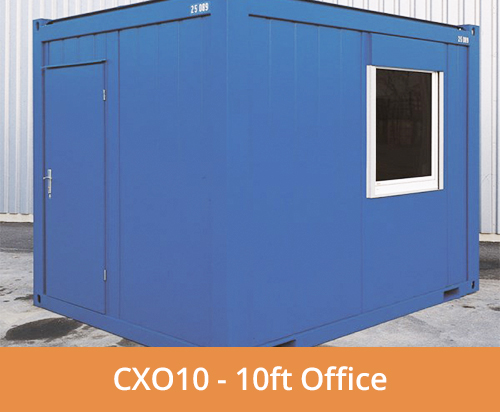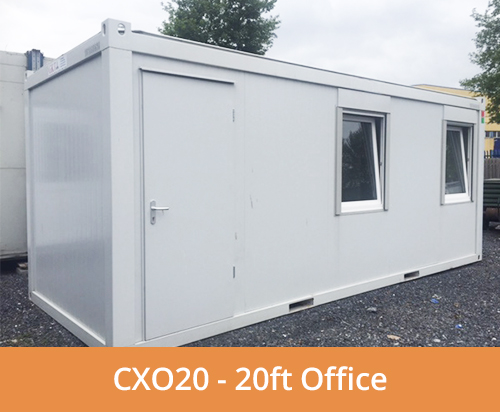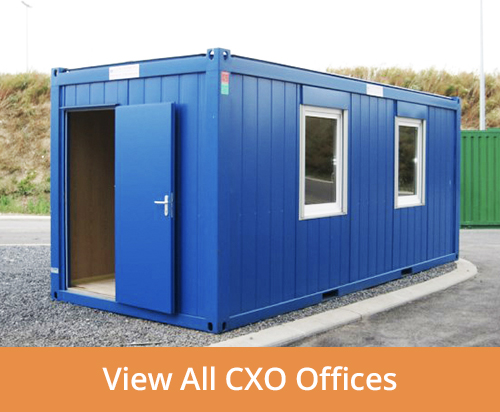 Request a Quick Quote!
Contact our sales team for your no obligation quote, including delivery!
Testimonials
"I absolutely love the product."
From Susan Simpson, who purchased a 3.3m x 2.3m Flat Pack Kabin Office.
"We are very pleased with the product, your service & the delivery company, its a great addition to our property and solves the home working requirement."
From Warren Fisher, who purchased a Flat Pack Kabin office.
"Thank you. Flat pack container was up quicker than expected. Amy was delightful to deal with in every step and was able to get delivery arranged within a week, This was a massive relief so thank you."
From Archbishop High School who purchased a 4m Blue Flat Pack container.
---
Read all testimonials here!