Living Roofs - Eco-friendly Containers
What is a living roof?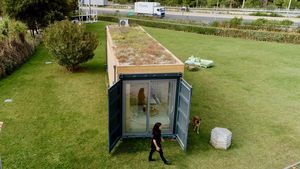 Also known as a green roof, this is basically a container roof that is designed especially for growing plants and flowers. Green roofs provide many benefits when installed correctly - including water storage, decreasing flood risk, aesthetic impact and habitat creation. These are popular in conversions for schools, where they have the added benefit of teaching children about nature and habitat, and also containers installed in conservation areas, where a living roof helps blend the container in with the natural surroundings.
How we create a living roof
We can install a green roof on any container. It's a simple procedure whereby we overlay the roof of a standard container with 18mm ply boards, for strength, and add tanalised timber around the edges to create a box which can then be filled with soil and planted with flowers. Over time this attract birds and bees and creates a mini ecosystem! Living roofs are popular addition to
wood cladding
, as together they create a beautiful aesthetic.