Ply Lined Shipping Containers
Ply lined containers are the only way to guarantee complete elimination of condensation inside shipping containers and to protect your stored goods from its ravages.
We can ply line any size, from
8ft shipping containers
,
10ft shipping containers
,
20ft shipping containers
, right up to
40ft shipping containers
. Ply lining is also a popular option for
shipping container conversions
, not only preventing condensation but also providing sound insulation and giving a neat and professional appearance.
How does condensation form?
Moisture is formed inside
shipping containers
by the fluctuations in temperature that occur within the steel body of the container. Steel gets very warm in the sun, and very cold at night! This moisture can't escape the shipping container when it is shut and so condensation forms. This can cause problems for any materials stored inside such as textiles, paper and leather, electrical items and general household furniture. Even cardboard boxes used to box up your items can be reduced to a soggy mess. If steps are not taken to minimize condensation, then upon opening your container you may find the contents have become wet and mouldy. On top of this, if liquids are stored in the container there is a risk of freezing them during very cold periods. To stop condensation forming by evening out temperatures inside containers we recommend choosing ply lined containers.
Four steps to ply lining and insulating our containers
A timber frame is inserted inside the steel structure of the container. We don't drill so there won't be any leaking holes left.



A mineral based insulating substance, known as Rockwool, is used to pack the walls of the container. Rockwool is highly efficient at trapping heat and is made of naturally occurring substances, so it poses no health risk.



Timber ply boards are nailed to the frame over the insulating material.



The edges are finished off with beading to ensure no gaps are left.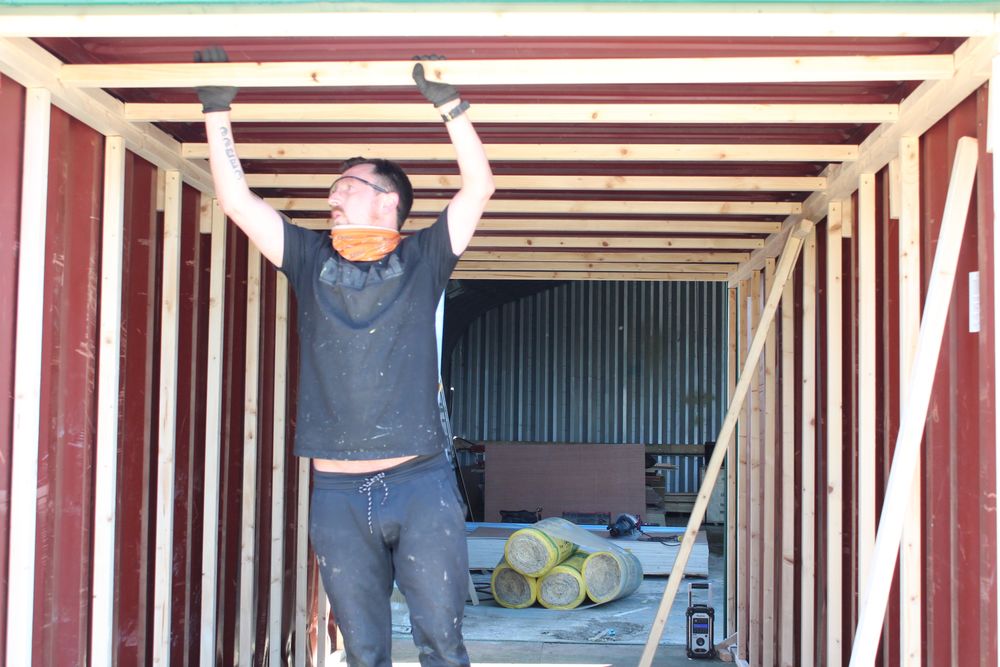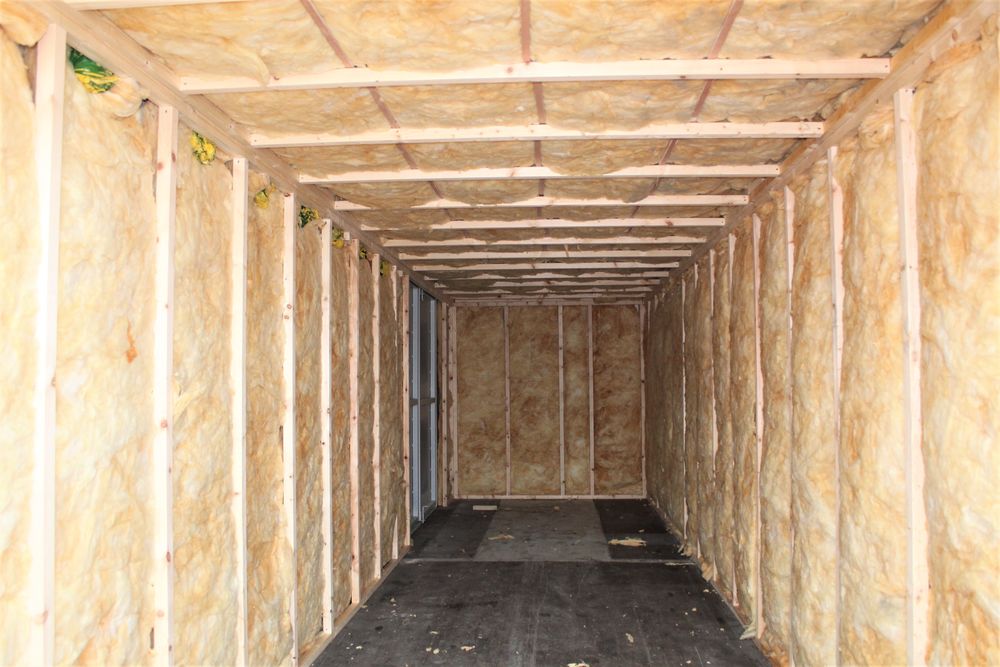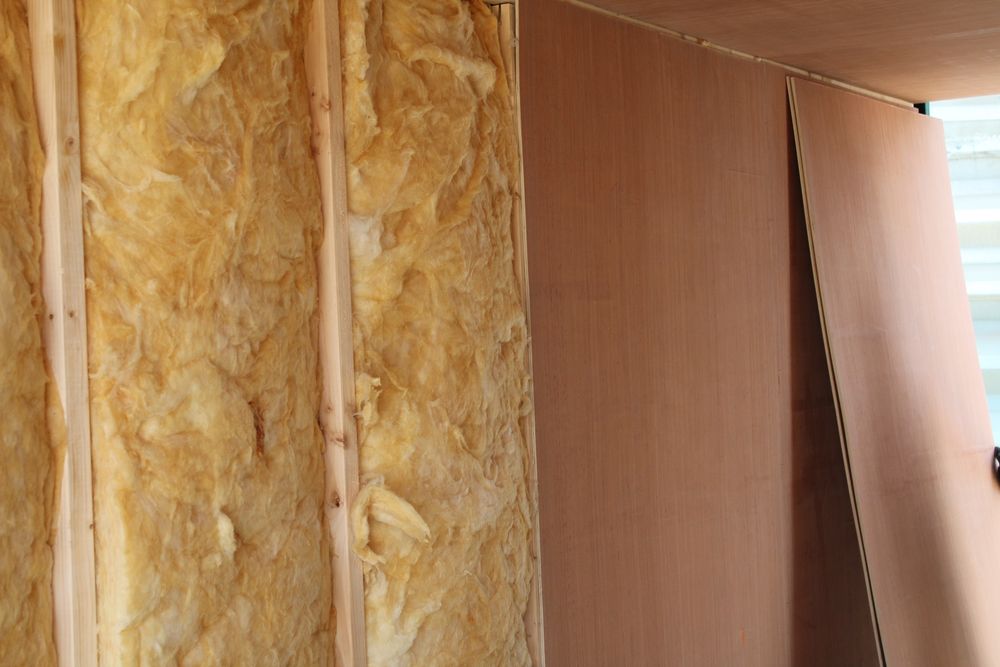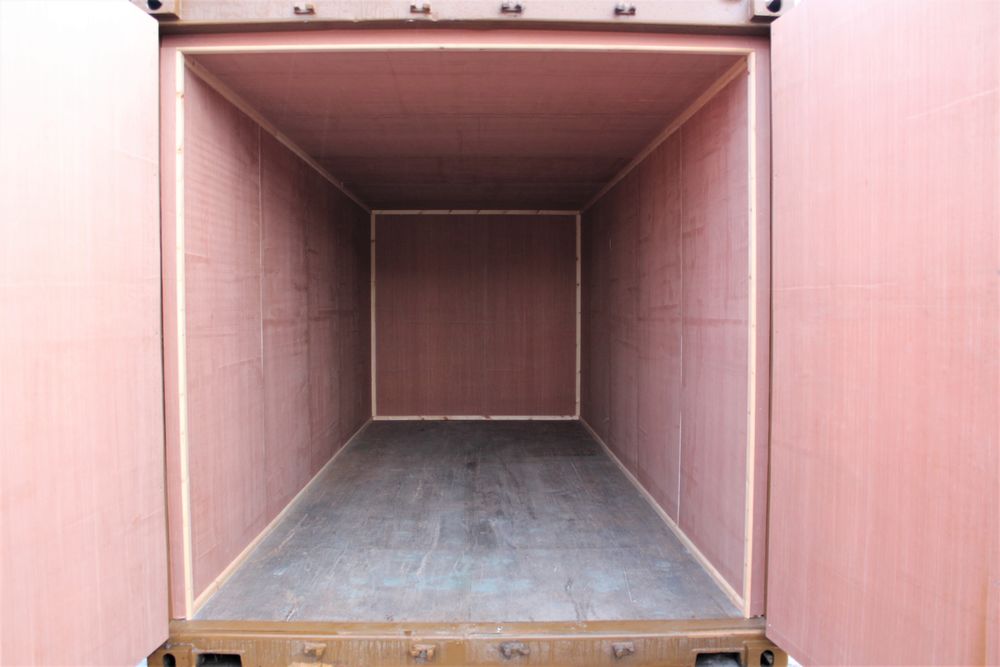 Hardy enough even for the Highland mountains!
The doors on shipping containers can also be ply lined, if required (however they cannot be insulated due to the structure of the doors). This gives added protection if the container is to be kept in extreme weather conditions. For instance we ply lined a 6ft container for the Highland Rescue team, to be located in the Scottish mountains! It was an absolute necessity for the container to stay dry and frost free in order to preserve the vital medical supplies inside.
Choosing your ply lined container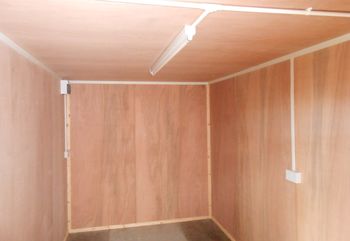 Ply lining containers is second nature to us, and one of the most popular modifications we do. We are able to ply line any size container, and provide a variety of finishes depending upon your requirements. For example take a look at this
10ft
ply lined container.
Types of ply lining
Choose from two standard options of ply:


9mm Redwood finish - for an attractive finish


12mm Redwood finish - extra thickness with an aesthetically pleasing look
Please enquire for any other grade of thickness. All ply surfaces can be painted over, or varnished, upon request. For lining including doors, there will be a supplementary charge. Surcharge also applies to lining around apertures (e.g. for additional doors, windows, vents etc.), and for extra wide containers.
As a cheaper and greener alternative to ply wood, we can use OSB board to line out containers - these are in our
DryBox Eco range
Alternatives to ply lining - Wipe Clean Melamine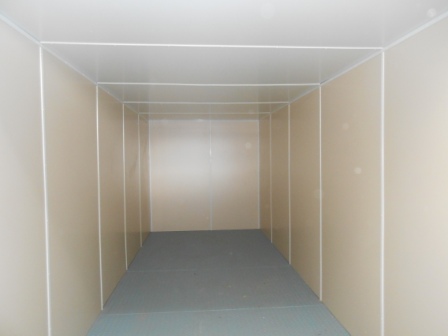 For containers used as kitchens, canteens or for food preparation, walls and ceilings can be lined with
wipe clean melamine
. This is 8mm thick, with edges in plastic trim, and available in a white or beige finish. Many container conversions completed in our workshops are used in the catering industry where hygienic, wipe clean surfaces are essential for health and safety requirements. For more information on melamine lining, see our article on
Containers for Catering
.
We can also fit with Stainless Steel lining over ply lining, which provides a hygienic, fire, heat and corrosion resistant finish. See our
workshop conversion
as an example.
Fire protection
We offer a fire retardant spray coating, which works by creating an invisible layer that, when exposed to heat, creates a carbonized shield to deflect it.

For catering conversions we can offer fire retardant plasterboard upon request (POA).

Testimonials
Still unsure if ply lining is worth it? See what our customer Nigel Storr, from Fodens of Streethay Farmers and Growers, told us about his decision to have his container ply lined:
"Just a big thank you for Container delivered yesterday, well worth the extra to have it ply-lined out. You have all been thoroughly professional from start to finish."
John Daines, Director of Tarvin Community Woodland Trust Ltd, had a 20ft once used container ply lined:
"This is just to thank you very much for the container. Opening the doors gave a bit of a wow! factor; it looks great. The lining and insulation will reduce damp and condensation but also we have a facility to store stuff on the walls."
SmartWater Technology Ltd chose to have their 30ft container ply lined. Impressed with both our standard of work and customer service we received this testimonial:
"Extremely helpful and professional, There may be a need in the future for another container, if so, I'll be contacting you and you only"
R Harris
"The quality of the interior ply is brilliant, everyone has admired it!"
Mrs Francis des Rosiers, Cambs
Read all testimonials here!