Portable Site Office Containers
The ModiBox® Range
Containers Direct have long been market leaders in shipping container office and canteen conversions, supplying both trade and customers with
bespoke conversions
from our specialist workshops. Although shipping container portable offices have always represented good value compared to a traditional build, and have the advantage of being portable too, the costs can still be too high for projects with more limited budgets. To bring down the costs and reduce the selling price, in 2016 we launched the
ModiBox®
range of steel container portable offices. This concept allows us to retain all the benefits of the standard portable office, in terms of strength, portability and security but at a heavily discounted price. With prices starting at just £4885 for a used 10ft portable office, this offers unbeatable value. The ModiBox® also allows for flexibility in design, in terms of the positioning of anti-vandal doors and windows, choice of exterior colours and interior finishes, giving you the opportunity to create your own bespoke container office within a low price bracket. Why not start to explore the prices and specification of some standard lengths in the range?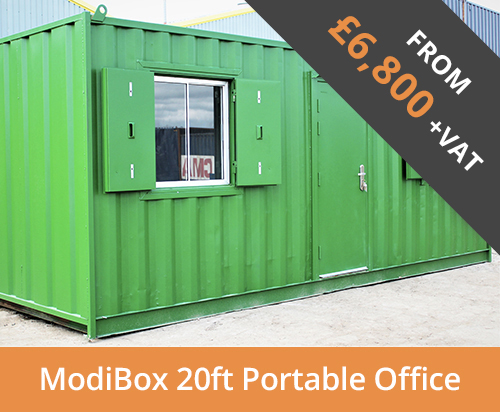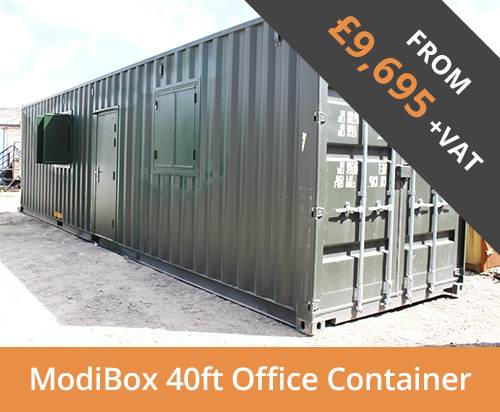 Below you'll see the standard features included free in of all portable container offices within the range. Depending on the size you require we begin the conversion with a
used 20ft shipping container
, or a
used 40ft shipping container
. For other sized offices we cut these down to the size required, with our smallest office manufactured from a
10ft container
. If preferred we can also make the ModiBox® from
new 20ft
and
new 40ft shipping containers
. We also offer the
new build portable office
, manufactured from scratch in our fabrication department. The strength and security inherent in using a
shipping container
as a structure from which to modify is enhanced by the type of heavy duty steel pedestrian doors and vandal proof steel shuttered windows that we manufacture and fit. The external appearance is improved with the application of a marine grade rubberised solvent-free paint and colour choices that cover the whole spectrum. The interior finish is achieved using wipe clean melamine over 100mm rockwool wall insulation with heavy duty PVC trim to finish around the windows, doors, skirting board and coving. A heavy duty, anti-slip vinyl flooring is fitted and the office is finished with a standard single phase electrical installation, providing interior sockets, lights, heaters and an external hook up point. The unit is delivered to you on a plug in and go basis. If you're in a hurry we always hold in stock standard sizes from the ModiBox® range with standard lay-outs, ready for quick dispatch.
Standard Features of the ModiBox®
Add a canteen package
Everyone's favourite time of day at work is lunchtime! Our optional canteen package, which includes a work-top counter, double sink unit and water heater, fitted with inlet and waste pipes, is perfect as a kitchenette.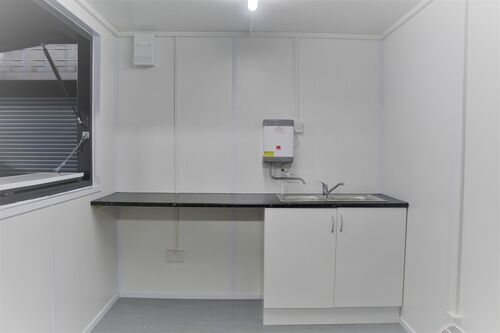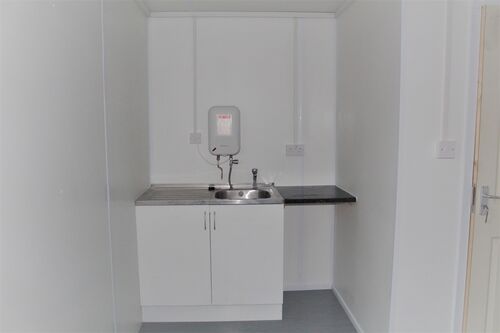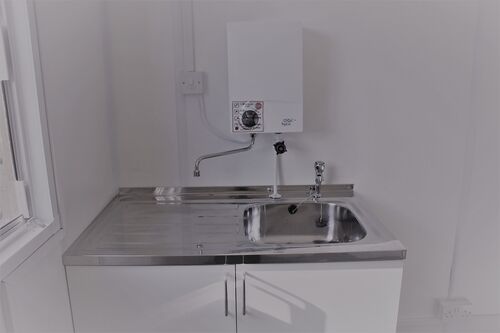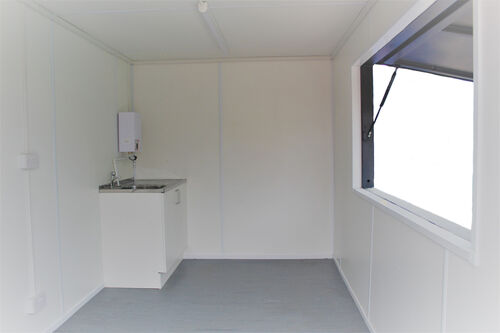 Request a Quick Quote!
Contact our sales team for your no obligation quote, including delivery!
The Perfect Base for Conversions
The ModiBox range also provides a fantastic building block for further modifications and can be converted in many imaginative and useful ways:



Extra Wide Portable Site Offices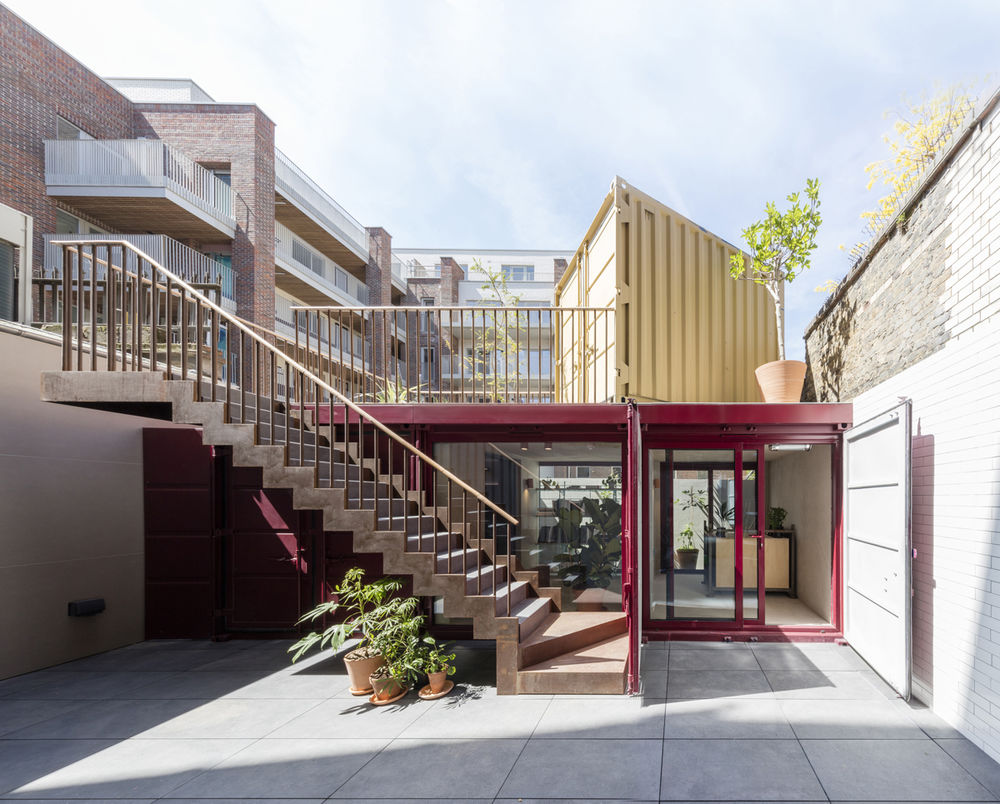 We understand that one of the main reasons people can't use a regular shipping container office conversion is due to the uniform width of containers (8ft), which can often be too narrow for an office space. Containers Direct have two solutions to this potential problem:
Using our in-house fabricators, we can build containers from scratch to a variety of widths, most commonly to 10ft wide. Although more expensive, these containers are made using 1.6mm corrugated panels as standard, and are completely customisable to suit your needs. We once built the shell of a new build 35ft x 10ft office conversion for our client at Parkstone Bay Marina, complete with ply lining and insulation, who then completed the office interior on site.



Another way of extending the width of your portable site office container is to join two or more of them together. Our bespoke method of joining containers allows for two or more containers to be joined side by side to provide a greater width for your portable office conversion. This option is great as it allows for much larger spaces to be created, whilst still being portable. The largest joining project completed so far was created by joining four 20ft containers side by side to create a school changing rooms, fitted with toilets, showers and two separate changing rooms!
Flat pack containers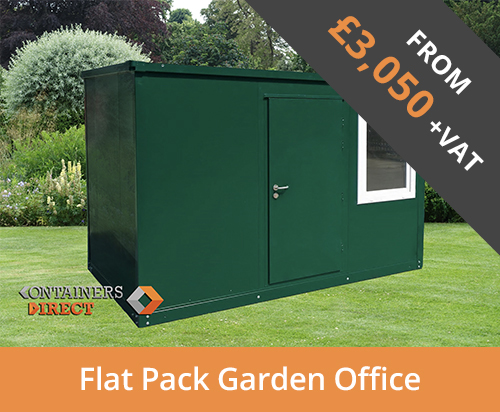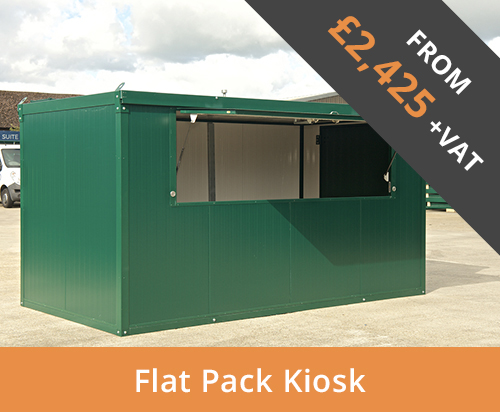 Take a look at our
flat pack container offices
if you are working to a tight budget, or don't have the space or access to deliver a shipping container. These offices are fully man portable, easy to assemble on site and are modular, so you can join them up together to make whatever size office space you require. Our
portable steel booth
offers a smaller space for use as a controlled site entry point.
For larger self assembly offices see our
CXO range
, which includes new CXO Plus Line. These provide excellent options for larger areas of modular office space with a range of options for external panels and interior fittings.
Testimonials
"Easy to deal with, good quality product."
From LRM Services, who bought a 15ft ModiBox office.
"Thank you so much for your service in providing such a positive experience, you did a fantastic job. I enjoyed the whole process."
From Howard Whitby at Naylor Chemicals who ordered a used 15ft ModiBox office.
"Thanks again for your help, best service I've had in a long time."
From Monza Car Care who ordered a 30ft office conversion.
"A great service and product that fitted my needs perfectly."
From Tack Room Distillery, who bought a 4m flat pack Kabin office, with insulation.
Read all testimonials here!