PORTABLE TOILETS FOR SALE
Health, Safety and Welfare regulations state that a minimum number of toilet/wash basin facilities must be provided according to the number of employees in the workplace. More information on these requirements can be found at
http://www.hse.gov.uk/contact/faqs/toilets.htm
portable toilets are ideal for on site provision where toilet facilities are otherwise lacking. They're also great as a mobile solution for toilet facilities at large public outdoor events.
Single, double, or the full works
Containers Direct have a selection of portable toilets for sale, ranging from a
single toilet cubicle
to a fully equipped
20ft toilet and shower block
. All options are portable, although many are also suitable as a long term outdoor fixture, for instance on camp sites and at visitor attractions.
Choose from three main categories of toilet:


Chemical - does not require a water supply, as waste is hygienically dealt with by using re-circulating chemicals, delivered by means of a hand or foot pump.


Mains drainage connected - water flushable and connected to main waste disposal drain


Ecological, dry composting toilet - requires no chemicals or water, but uses dry composting, aerobic techniques to breakdown waste


Chemical toilets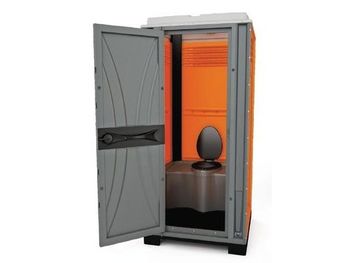 The only option for sites without mains services. They are light and practical for frequent relocation and therefore ideal for construction sites and outdoor events. Hygienic and practical, the cubicle walls are overlapping, smooth surfaced, for easy cleaning. A hand pump for chemical flushing is standard, but a foot pump can be fitted as an optional extra. Hand sanitiser ensures hands are germ free after use. See
PC15
, for an example of our basic chemical toilet, or
PC17
for our chemical toilet that complies with Health and Safety regulations required on all fixed construction, with the inclusion of a mains connected hot water sink.
Mains drainage connected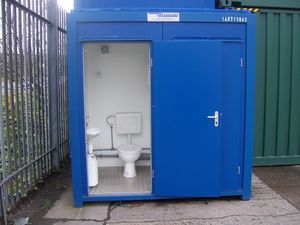 Using fresh water instead of chemicals, these portable toilets are manufactured from steel sheets, have walls insulated with PU foam (for heat retention and sound insulation), and an aluminium checker plate floor. Quick to assemble on site and easy to relocate, these units come fully equipped and ready to use, with standard features such as electrics, hand wash basin and boiler.
Starting with a
single 5ft unit
, a range of sizes up to 20ft are available, which can be fitted out to order in various combinations of male and female cubicles, disability toilets, urinals and shower rooms.