Used & Second Hand Shipping Containers For Sale
Good quality second hand shipping containers are financially and environmentally prudent. The disposal of a large amount of steel is not eco friendly, and the savings you can make reusing one are substantial. As
shipping containers
are built to be durable, withstanding numerous journeys across seas, often stacked up to eight high, they have a useful lifespan of around twenty years, so buying second hand is still a worthwhile economic investment. Many used shipping containers will go on to be used as dry land
storage containers
, but there is a fast growing trend to us them as the building blocks for
shipping container conversion
projects.
Second hand shipping containers make excellent storage units as they are portable, secure and watertight. If you are planning to get years of use out of a storage container, it is important to check the container is structurally sound with no holes or large areas of rusting. Containers Direct have good quality second hand shipping containers for sale, and recondition them with a choice of
four door types
as standard, including flat panel doors which make opening and closing them a lot less hassle. Depending upon your requirements, secondhand shipping containers can either be purchased in their standard form,
20ft containers
or
40ft containers
long unmodified container, or bought as a modified unit, often
cut down
to more convenient sizes. Check out our range of second hand shipping containers from just 5ft long to
45ft long
. Repainting second hand shipping containers dramatically improves the appearance of the container and extends its lifespan by giving an extra layer of protection. The good news is that we now give a FREE repaint to all used shipping containers under 20ft!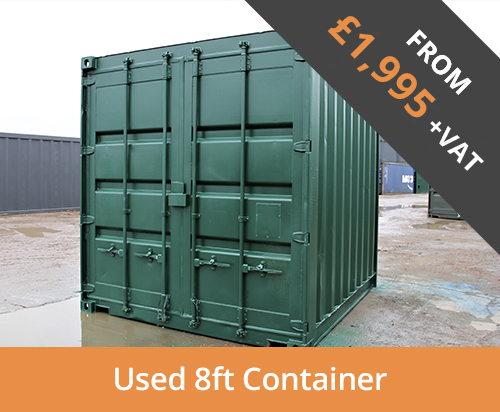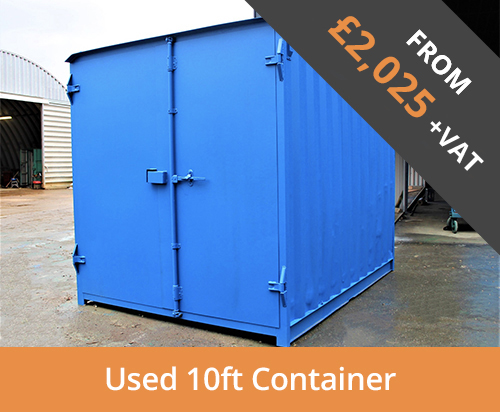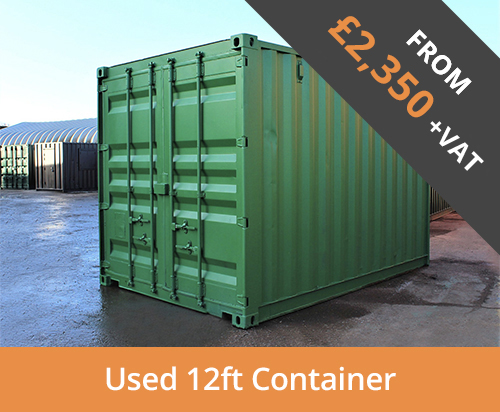 S1 and S2 doors, repainted - £1895
S1 and S2 doors, repainted - £1995
S1 and S2 doors, repainted - £2025
S1 and S2 doors, repainted - £2350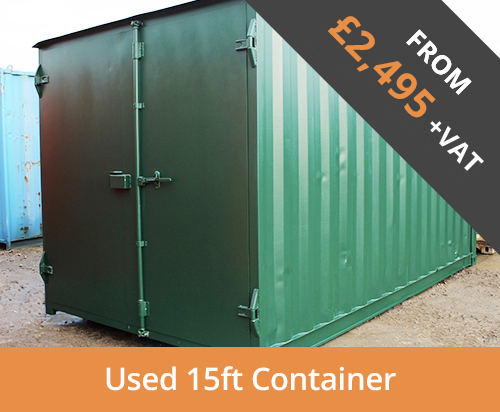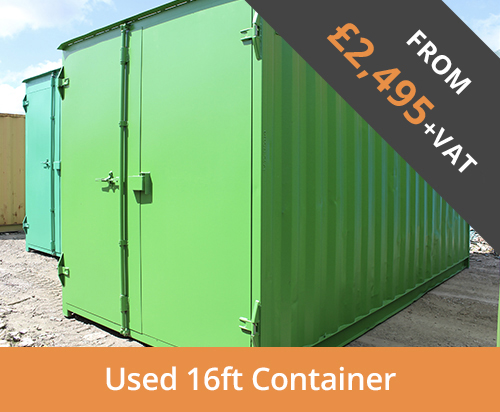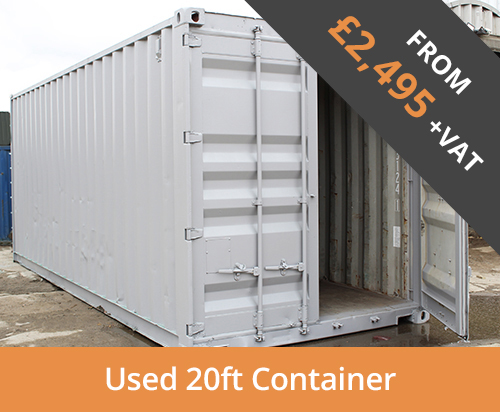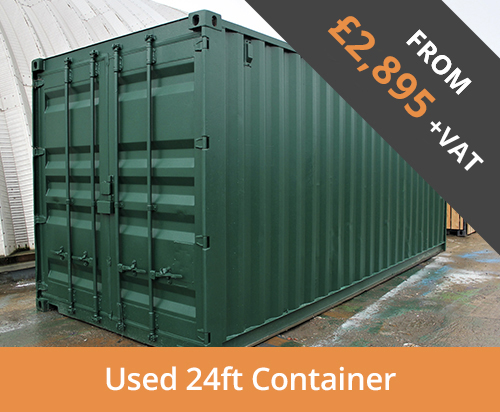 S1 and S2 doors, repainted - £2495
S1 and S2 doors, repainted - £2495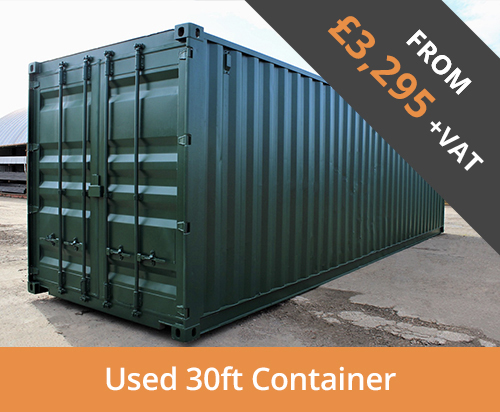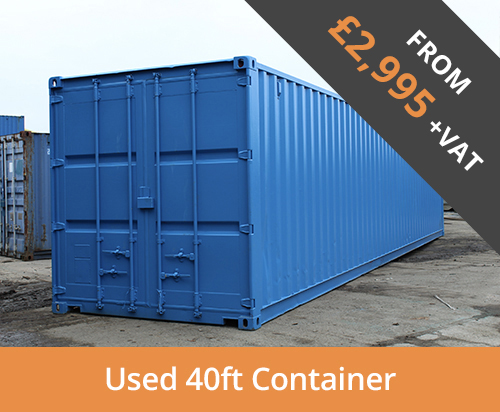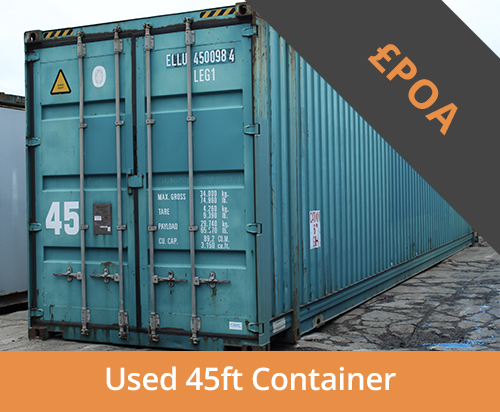 An industry leading choice of optional extras
Our choice of upgrades can be used to adapt your container to make it fit for your particular purpose. For instance, wood cladding can help with planning permission requirements. Whether it's a steel ramp,
ply lining
or doors in the side, our range of modifications to second hand containers are carried out by our own skilled, in-house workforce and are offered at prices that reflect our commitment to giving our clients the best deals. When you buy a refurbished steel container from Containers Direct, you can be assured of quality and value by our 12 month guarantee.
Second hand shipping containers for conversion
Second hand shipping containers are an ideal base for shipping container conversions. At Containers Direct our dedicated conversion service has worked on everything from
chemical stores
to offices and classrooms, and everything in between. For example popular pop up shops and cafes can be created with the addition of a serving hatch (we offer three designs), melamine lining inside and vinyl flooring. We can even fit worktops and cabinets. Pop up shops can be fitted with patio style doors to entice customers inside. For conversions requiring larger areas of space widthwise we can join shipping containers together. This type of conversion is especially popular with containers converted into garages. Explore some of our conversion work below.
Certified second hand ISO containers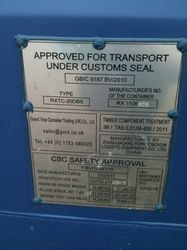 Containers Direct also stock second hand shipping containers which have been passed as fit for shipping. You will find these containers described as
ISO containers
, or as having a CSC plate. Without one of these your container won't be accepted as cargo by shipping lines, so we recommend you check this carefully before purchase. The sales team at Containers Direct are able to assist you in making a suitable choice.
Flat pack containers for value
Want a new shipping container but not the price tag that comes with it?
Flat pack containers
offer excellent value for money, and you save on delivery costs. They are strong, secure and completely man portable in flat pack form. They come sizes of 3m, 3m and 4m, and can be joined together with a linking kit to create larger areas of storage space.
Shipping container delivery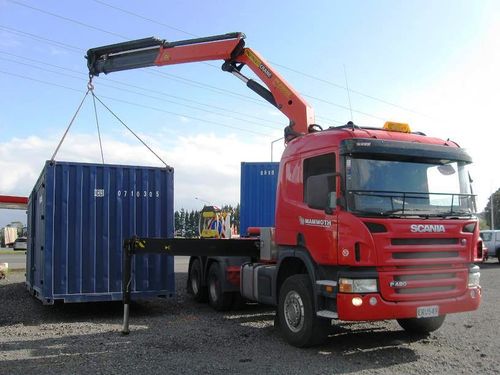 Containers Direct have a number of regional depots and hauliers across the UK, as we strive to give you the best delivery rates available. We have container depots with stock ready to be delivered all over the UK, including
London
, Leeds, Liverpool,
Manchester,
Glasgow, Southampton, Felixstowe and Cardiff. Our contracted drivers are experts at all types of delivery, and are able to delivery to the even the most challenging of locations. Choose from shared deliveries, to save on costs, or a dedicated delivery if you have any special requirements. You are of course welcome to come and collect your container. For more details on delivery see our page
Delivery of Your Shipping Container
.
Testimonials
"Don't fix what isn't broken: very good service received, Cory is our Account Manager and went to great lengths for us. Excellent customer service management skills, goes over and above for the customer. He is a great asset to the company."

From CH Power Tools; who ordered two 20ft used containers

"You've got it right! Would definitely recommend to others, from the initial enquiry through to delivery you provided excellent customer service. The container itself met our requirements perfectly. Many thanks."

From Steph Bowler - Plymouth Community Homes