Shipping Containers in Sheffield
Containers Direct supply shipping containers in Sheffield to our customers based in the region at unbeatable delivery charges
. We pride ourselves in being able to offer all customers the best value containers sourced from their nearest supplier depot, and dispatching the container directly from there to keep transport costs down for our customers. We hold generous levels of stock of our most popular containers in the North of England, and Sheffield, including
used 20ft shipping containers
,
new 20ft shipping containers
, large shipping containers (24ft - 40ft),
cut down containers
and
flat pack containers
. Our competitive prices reflect quality and value.
Strong, secure and long lasting!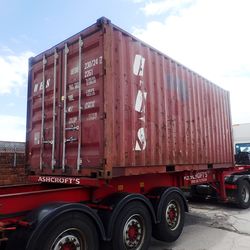 As a starting point, most
shipping containers
and storage containers come from the same background. Manufactured from heavy duty steel they are designed to last for many years, without falling victim to damaging corrosion that causes holes and leaks that render a container useless. In addition they are almost impossible to break into, so you can be reassured the contents will be secure. Whether you buy a container for shipping or storage, you are guaranteed of a very strong, long lasting unit.
Multi purpose
Shipping containers in Sheffield are suitable for a variety of uses. We sell shipping containers for sending goods abroad, overseas relocation of either home or business, and containers for storage. So whether you need a shipping container or a storage container, Containers Direct have the right product. Read on to find out which is the best type of container for you
Standard 20ft and 40ft shipping containers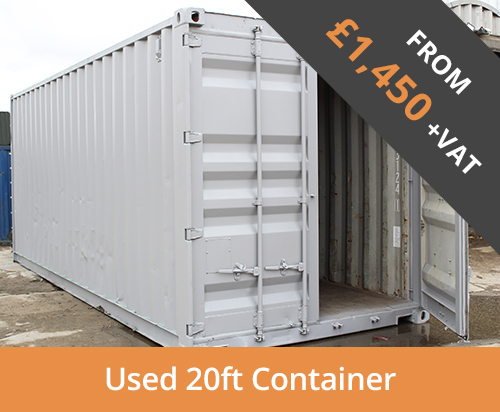 If you are searching for shipping containers in Sheffield for overseas transportation you will need an ISO container that is certified (known in the trade as a CSC Plate) as up to standard for safe handling and transportation by road, rail and sea. Containers Direct sell these in 20ft and 40ft lengths, and we always make it clear to customers whether the container being sold is suitable for shipping. Standard sized shipping containers are also the best value for money when buying them for storage. They wil give you long lasting, secure storage space.
Choosing a shipping container for storage
For shipping containers in Sheffield exclusively for storage use, we have a variety of new and used shipping containers to suit all budgets. As these containers are not going to be used for shipping they no longer require a CSC plating, and therefore many of these have been modified with storage used in mind. A wide range of sizes are available, from 8ft to 40ft and everything in between. Odd sizes, like this
16ft shipping container
, are made by taking larger containers and cutting them up to make new units of varying dimensions. New doors are often added to complete these units, which many customers find more convenient to use on storage containers. For more information on cut up containers and door types read our article on
15ft used shipping containers
.
Request a Quick Quote!
Contact our sales team for your no obligation quote, including delivery!
TESTIMONIALS
" Everything ran smoothly, Very professional from ordering to delivery, would definitely recommend.".

From John Lawton, London Road Bowling club

Read all testimonials here!