SHUTTERS AND HATCHES IN CONTAINERS
Following the recent trend of repurposing shipping containers and turning them into
pop up catering units
, we began to develop new ideas and designs for the best ways to create a serving hatch and shutters for our clients.
A pop up unit, especially one where food and drink is purchased, requires an opening for serving. These are our three most popular options, although we will always work to a bespoke design if you have other ideas!
Types of shutters and hatches for containers
Option 1 - Flat panel shutters
These shutter style hatches open outwards and rest flat against the container. When open they make great menu boards! Built out of 3mm thick steel, they offer both security and durability. The shutters are locked on the inside with shoot bolts when the hatches are closed.
Option 2 - The lifting hatch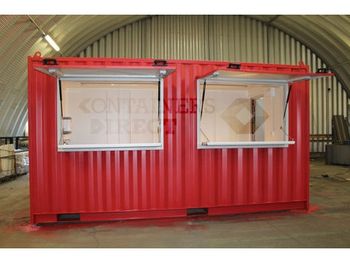 This is a steel hatch that opens upwards on gas struts. They work both as a serving hatch and as a canopy to give some protection to your workers, customers and food if the British weather doesn't hold up! Lockable inside with shoot bolts when the hatches are closed, they provide excellent security once you close up shop for the day.
Option 3 - Roller shutter hatch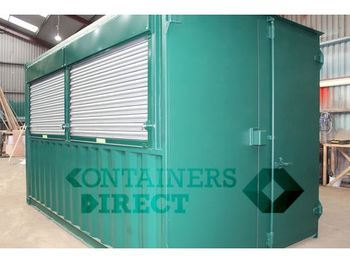 Roller shutter doors are a popular option in replacement to an ordinary container door, and they also make great shutters for the pop up shop world. Made out of steel and lockable from the inside, these shutters come in either manual or electric (fob operated or key operated). The shutter box can be housed either internally or externally depending on where you need the most space. We can also add serving rails or a drop down serving counter with all of our shutter options giving an authentic feel to any counter.
Option 4 - flat pack pop-up container
The
ExpandaKiosk
is a complete self-assembly unit featuring a large upward tilting hatch, making it ideal for use for catering or retail businesses.
Case studies with shutters and hatches
We have been working on perfecting our shutters and hatches for a while. Take a look at our Case Studies below and give us a call to discuss your ideas.
Completing your pop up catering unit
We can either do just the external work to the container, or we can do the internal fit out depending on budget and requirements. We offer a wide range of options to help fit out your new catering unit:
Personnel door: an essential for any shop so your employees can easily get in and out.


Melamine lining and insulation: our wipe clean melamine option is the preferred choice for caterers for an easy to clean lining. We also offer stainless steel lining if needed, and can install fire resistant boards. Call us to discuss your requirements!


Non-slip vinyl flooring: as standard, shipping containers come with a marine ply floor. A non-slip vinyl floor is easy to clean and helps to prevent any accidents from water or oil spillage.


Electrics: we are able to fit basic electrics or bespoke depending on your needs.


Counters and sinks: offering a "black slate" counter top and stainless steel sinks, you'll just need to plug into the mains on site to get going.
Need something bigger?
As well as repurposing a
used
or
one-trip
shipping container, we can also build from scratch. Some of our customers find the standard 8ft width of the usual shipping container too narrow to fit all of their equipment in, and so we are able create new build containers, most commonly to 10ft wide, to give our customers more choices of what they can fit inside. Our
Hangar Bar
conversion project was a new build container, 40ft x 10ft wide, with two larger hatches to serve drinks from, proudly situated at Manchester Airport.