SIDE DOOR CONTAINERS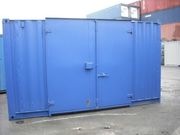 To comply with ISO shipping regulations, usually shipping containers are manufactured with the door at the front end of the container. Although this suits the shipping process, once the container goes on to be used for dry land storage, the door in the narrow front end is not always the most convenient position. It makes entry to the container a little more restricted, and limits the position on site in which you have to situate your container - with the narrow end front facing, instead of the long side.
Modifying shipping containers for side doors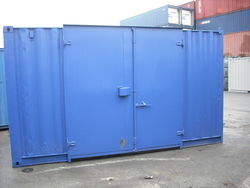 This is why Containers Direct stock
side door containers
in addition to the traditional front door shipping containers. Side door containers are still shipping containers, but once they become storage units and no longer need to conform to shipping standards, they can be modified in a number of ways to make them more suited to storage. Therefore we take a number of retired shipping containers, and reposition the doors on the long side of the container.
Add more doors into the mix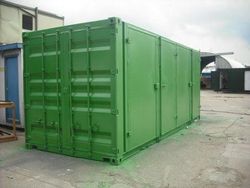 For larger containers additional doors can be added, and the original door at the front end can even be kept in place at the same time. For example this
20ft side opening container
has three sets of doors altogether - two in the side and one at the front. Side door containers make loading and unloading an easy job, with enough room to get a loading pallet in and out.
Storage doors for easy opening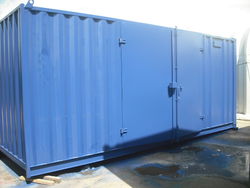 You may notice from these examples of our side door containers that the doors are a different style to front end shipping container doors. This is because as well as repositioning the doors on storage containers, we can also fabricate new ones that are easier to handle than shipping doors. Made from flat instead of corrugated steel panels they are much lighter and therefore better for frequent use - you don't have to wrestle with them every time you need access to your storage! We call these S1 type doors, and shipping container doors S2.
S3 doors for easy opening and added protection
We often get asked if the new doors we fabricate for side door containers can match original shipping container doors in terms of security. Well the answer is yes! A lock box can be added to guard the door lock from tampering. And for extra protection against water entering the container we can add a rubber seal around any new door, as is standard on shipping container doors. We call these S3 doors.
Testimonial
Phil Creed from Forest Lodge Primary School ordered a 25ft container with S1 side doors (in addition to the S1 end doors), and had the entire container ply lined and insulated to prevent condensation:
"Good quality, extremely helpful...the communication and customer service was excellent."