12FT NEW SHIPPING CONTAINERS FOR SALE
One of our most popular sizes is the 12ft. Just slightly longer than our top seller, the
10ft
, our 12ft new shipping containers for sale are built 12ft long, 8ft wide and either 8ft6 or 9ft6 high depending on availability. As we have our own in-house fabrication yard, we are able to produce
cut down
shipping containers for storage at competitive prices compared to the standard 20ft and 40ft units.
Producing a 12ft new shipping container for sale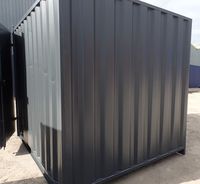 Standard size units come in either 20ft or 40ft in length. Our smaller shipping containers for sale are made by taking one of these units and cutting down to size, adding a new back wall and sometimes a new set of doors depending on where we make the cut from. We make these units from both
used
or
once-used
units depending on the condition and aesthetic required.
A wide range of modification options
You have the choice of four door types:
S1 doors
: Our flat panel doors are made with 3mm thick steel and are typically easier to open and close. We would suggest adding compressed door seals to your S1 container for only £65.00 plus VAT
S2 doors
: Original container doors are popular on building sites and have the advantage of rubber door seals to seal the unit.
S3 doors
: Our unique S3 door was designed to be both easy to use and to incorporate rubber door seals.
S4 doors
: We are also able to install either manual or electric 8ft wide roller shutter doors. Made from galvanised steel, they are frequently used as an additional or replacement door.
We also offer personnel doors with deadlocks for pedestrian use and side doors options if your container would be better suited with doors in the long side opposed to doors in the end.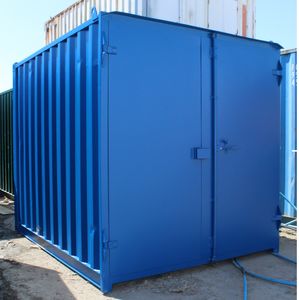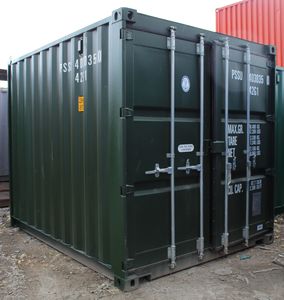 Other Container Options


Padlock
Perfectly suited to fit under your lockbox, our padlocks are a discounted price of £35 plus VAT


Ply Lining
Our preferred method of insulating a container if you're storing items which can be damaged by damp, plywood lining with insulating material will protect these items from moisture damage. For more details, read our page on ply lined containers


Cladding
The perfect way to hide your container in plain sight. It looks good, protects the outside steel of the container, and can even help with planning permission. Choose from three different types of wood. For more details read our page Cladded Shipping Containers


Shelving Racks
Our shelving racks are the ideal solution to create organised storage within your container. Available either pre-fitted in our depot or in flat pack form for you to fit onsite.


Electrics
If you require electrics in your container, we offer two standard options of electrical installations to suit your needs.


Grafotherm
A more cost effective solution to reducing condensation in your container. Grafotherm is a spray on substance which keeps condensation within containers at bay.


Ramps
We fabricate and build a number of ramps to assist with loading your container. Built from Durbar, we can achieve different weight tolerances depending on requirement.