32FT X 10FT ANTI VANDAL OFFICES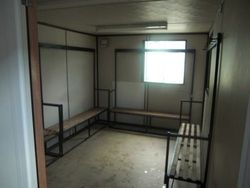 Containers Direct have a good selection of 32ft x 10ft anti vandal offices for sale, which offer the best in terms of security, and flexibility to fit our customers' individual requirements. Our anti vandal offices provide a multi purpose working environment split into separate areas for comfort and convenience. They can incorporate kitchens and toilets alongside essential working space. Or they can be used to provide premises for sports and leisure clubs, by incorporating changing rooms.
Plan out your office space with our Container Conversions Department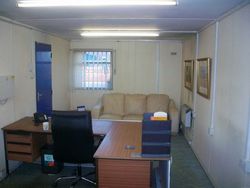 If you take a look at our 32ft x 10ft anti vandal offices ready to buy now, as displayed on our
Offices and Canteens
products pages, you may find the ideal set up to fit what you are looking for. But don't worry if you can't as Containers Direct have a specialist conversion department that can work to your own specific plans in modifying any existing office. We can create internal partitioning, (or even take away existing partitioning if you prefer an open plan structure) and fit a range of facilities to customise your office.
All the mod cons
Typical examples of our conversion work include split offices with kitchen and toilet, or three room units to give you two separate offices and a kitchen. All our 32ft x 10ft anti vandal offices are fully insulted for comfort in the winter and are fitted with wall mounted electrics to power heating, lighting and hot water, so they are just as comfortable as any other office space.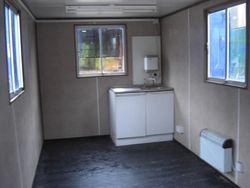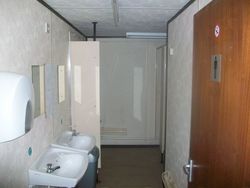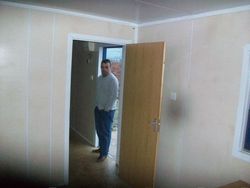 Unbeatable security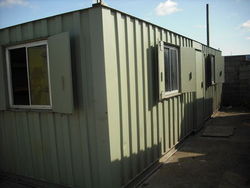 In addition to being well equipped and comfortable, 32ft x 10ft anti vandal offices are highly secure units. They are known as anti vandal offices as their exterior structure is made entirely of steel, including the doors. This makes them almost impossible to penetrate. Further security measures are added in the form of lockable steel shutters over the windows and a double lock up system, whereby the door lock is covered by a metal padlocked box.
Low cost delivery
Containers Direct can arrange delivery and positioning on your site of all 32ft x 10ft anti vandal offices We pride ourselves as a company that always does our best to give you the lowest transport rates possible, and we make use of regional depots wherever possible.