Flat Pack Shipping Containers
Containers Direct are the largest retailer of genuine ExpandaStore® flat pack shipping containers, the best-selling and best quality demountable container available in the UK.
These units are from the ExpandaRange®, and are ideal where robust anti-vandal storage is required but space is limited or access restricted. Flat pack shipping containers can be delivered to even the most awkward of locations, without the expense of a heavy lifting vehicle. All components are fully man portable, which means that if necessary they can be carried by hand to the precise spot where they are required. If your site is not suitable for access by a large lorry then choose flat pack storage containers. While being lightweight and compact when down, the ExpandaStore® is very strong when erected. With two euro deadlocks on the door as standard, our units offer very high levels of security, which can be further maximised by a locking bar and padlock. They are perfect to use as mobile storage container units too, as the time taken to put them up and down can be as little as an hour. The only tools required are a screwdriver, socket set and a cup of tea!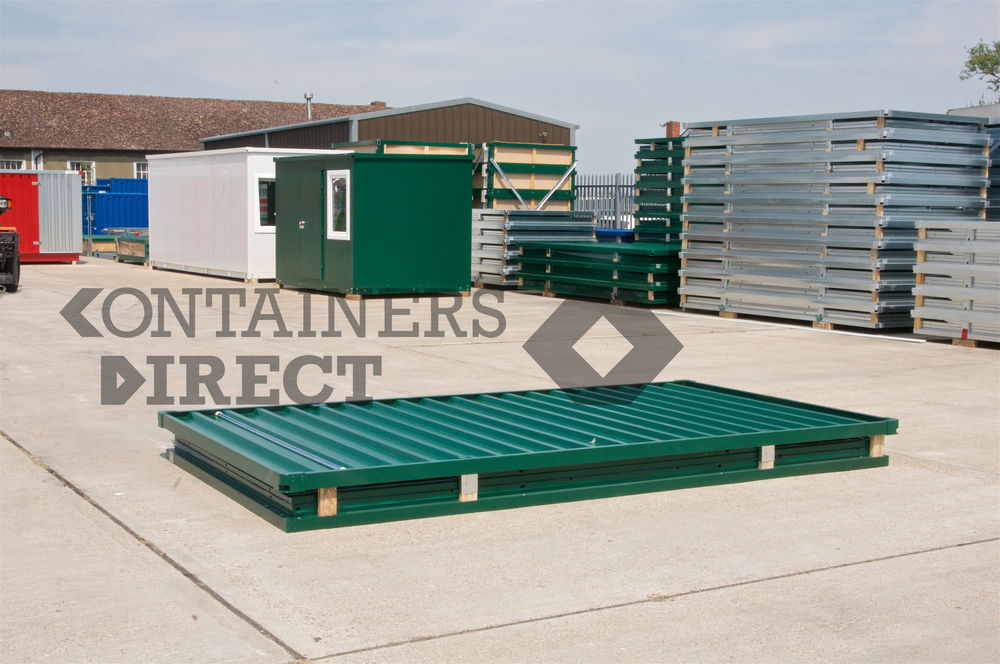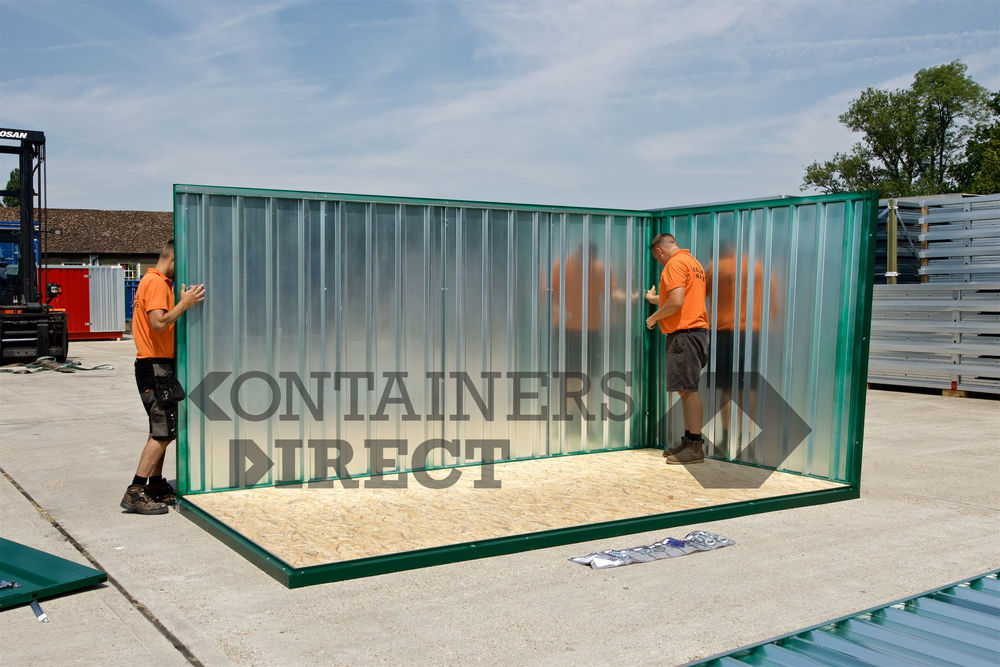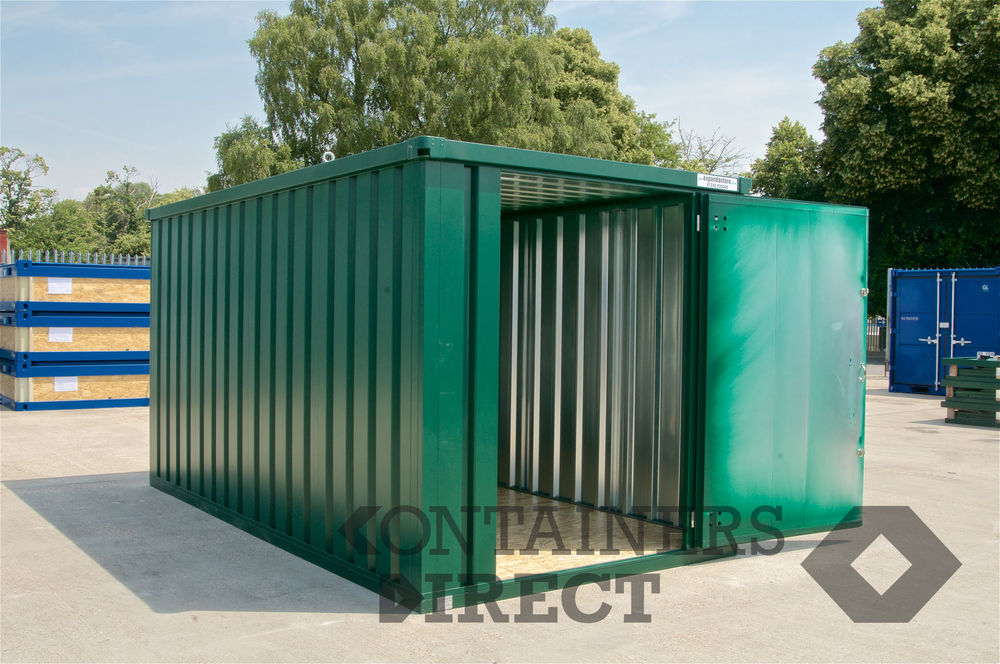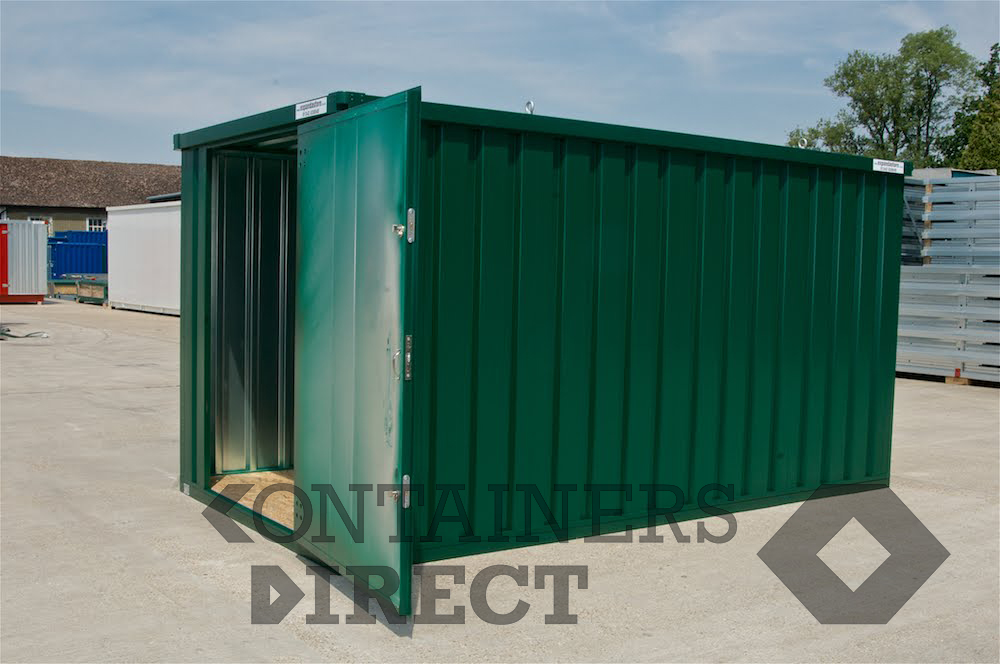 Why choose flat pack containers?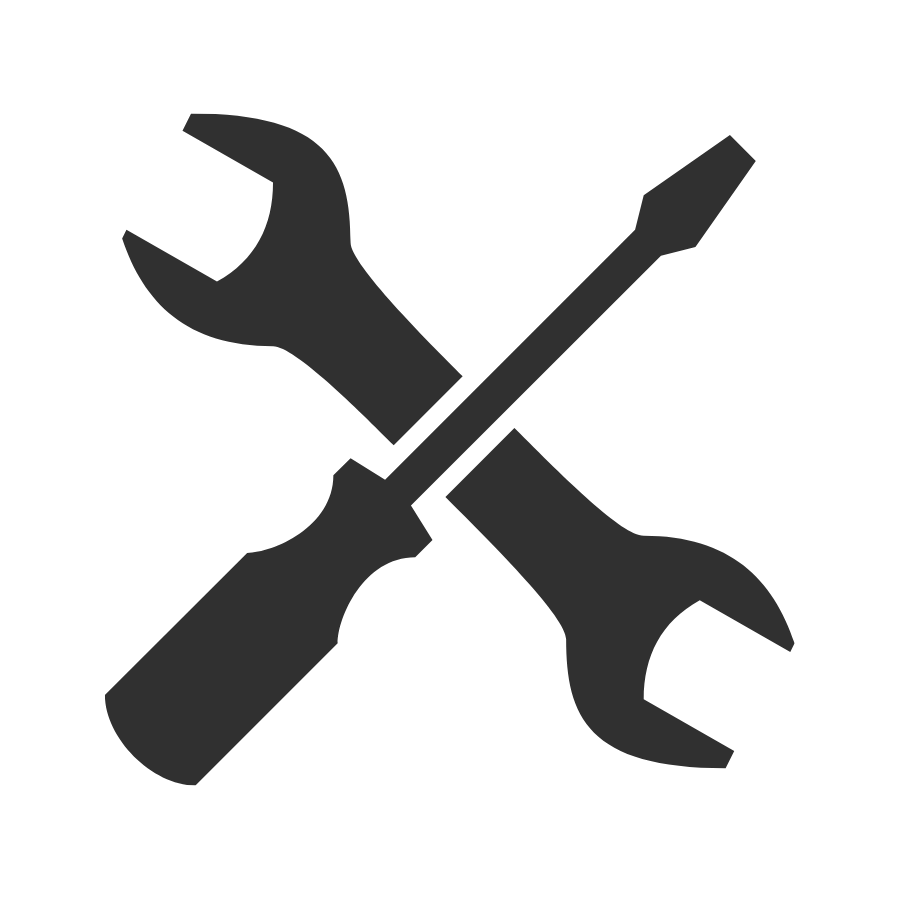 Quick and easy assembly
Our flat pack range is quick and easy to assemble with no specialist tools required.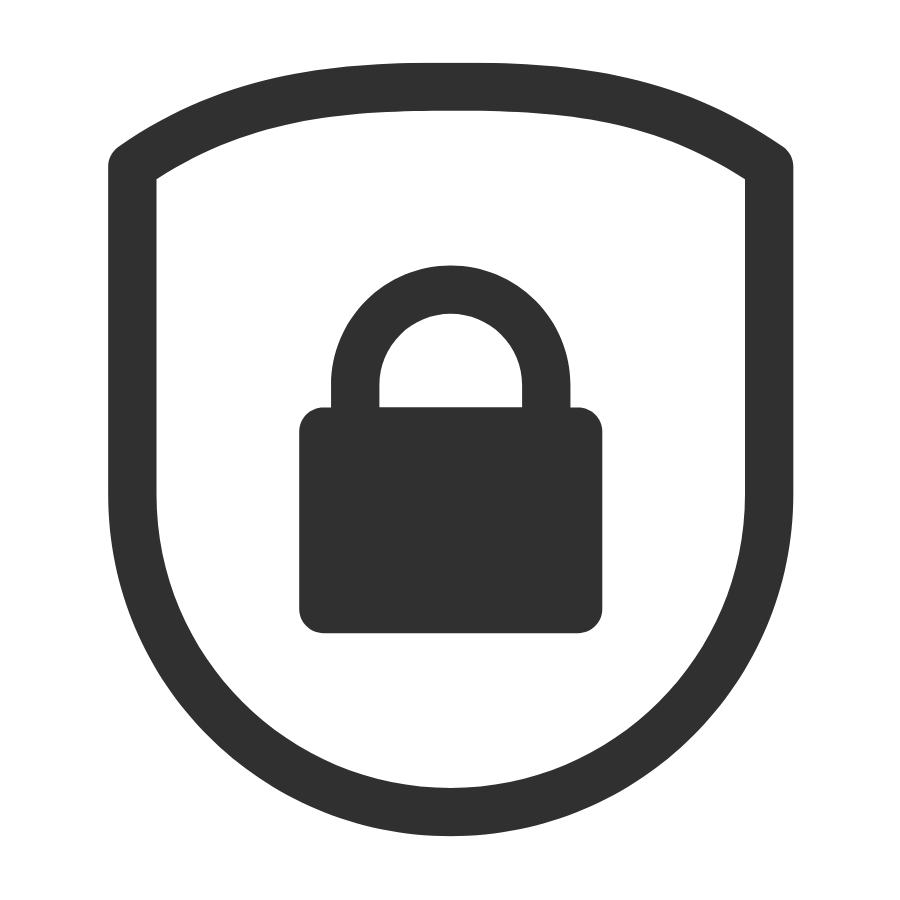 Secure and
anti-vandal
Made from galvanised steel with inbuilt double locking system, flat pack containers offer great security.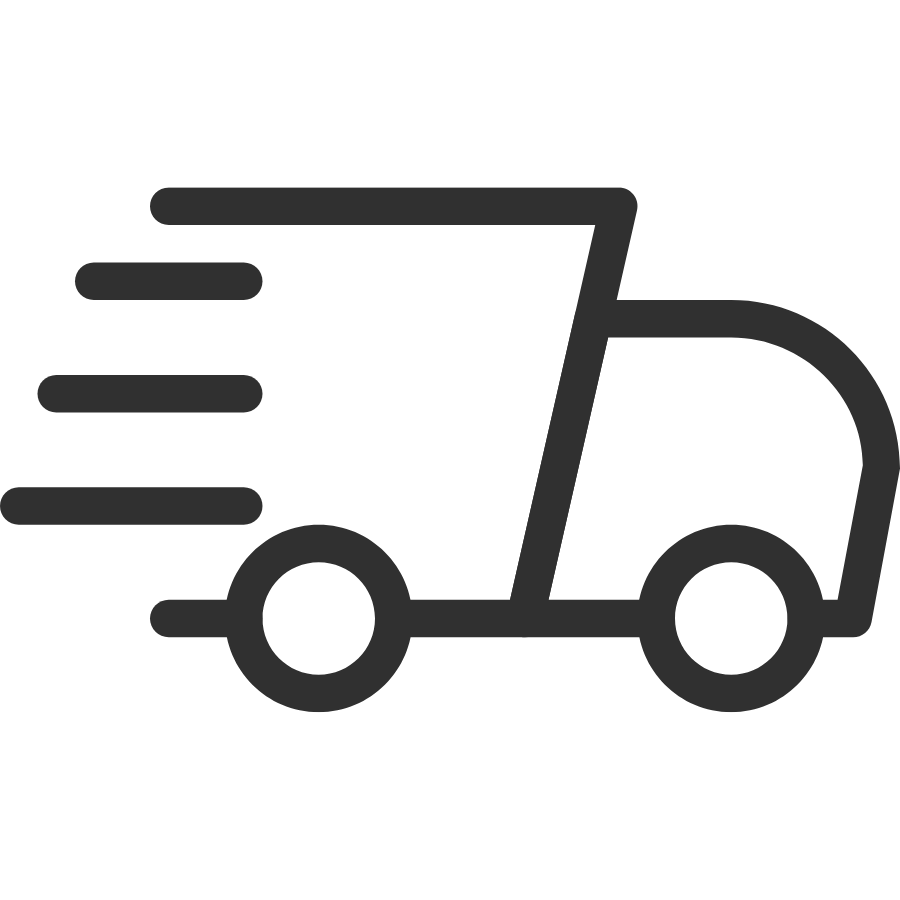 Delivered
flat packed
These units are delivered in flat pack form and are completely man portable making them a perfect option for difficult to reach areas.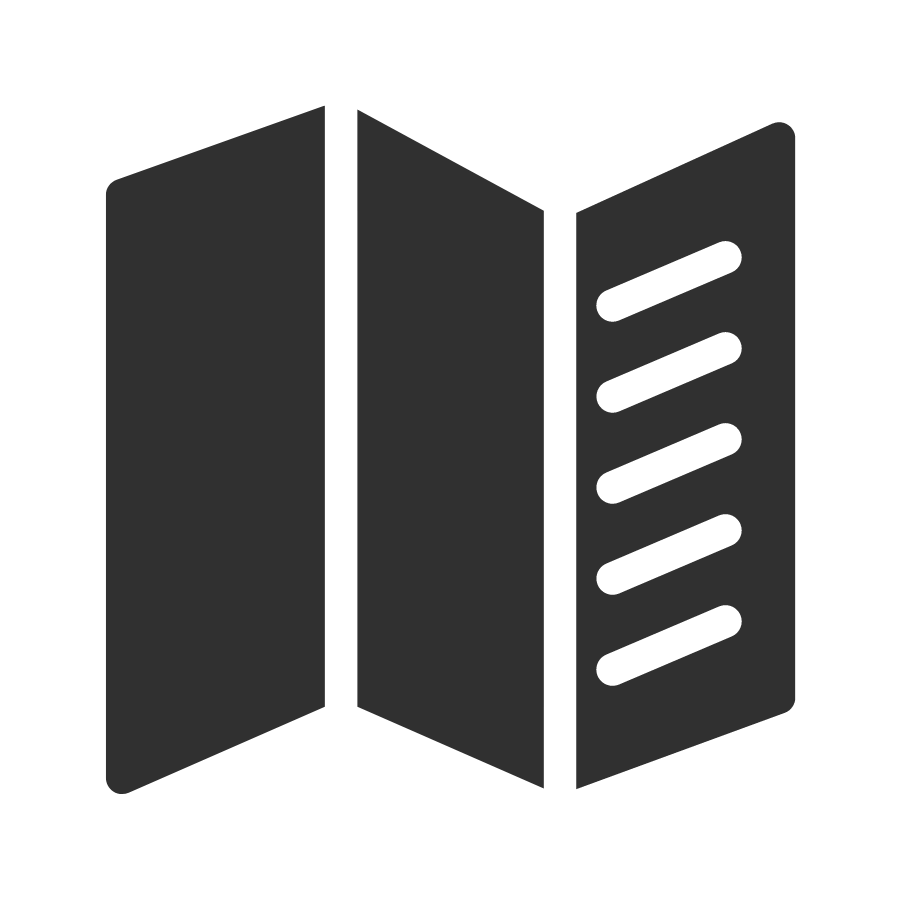 Demountable and portable
Flat pack containers are demountable meaning they can be relocated and re-assembled multiple times.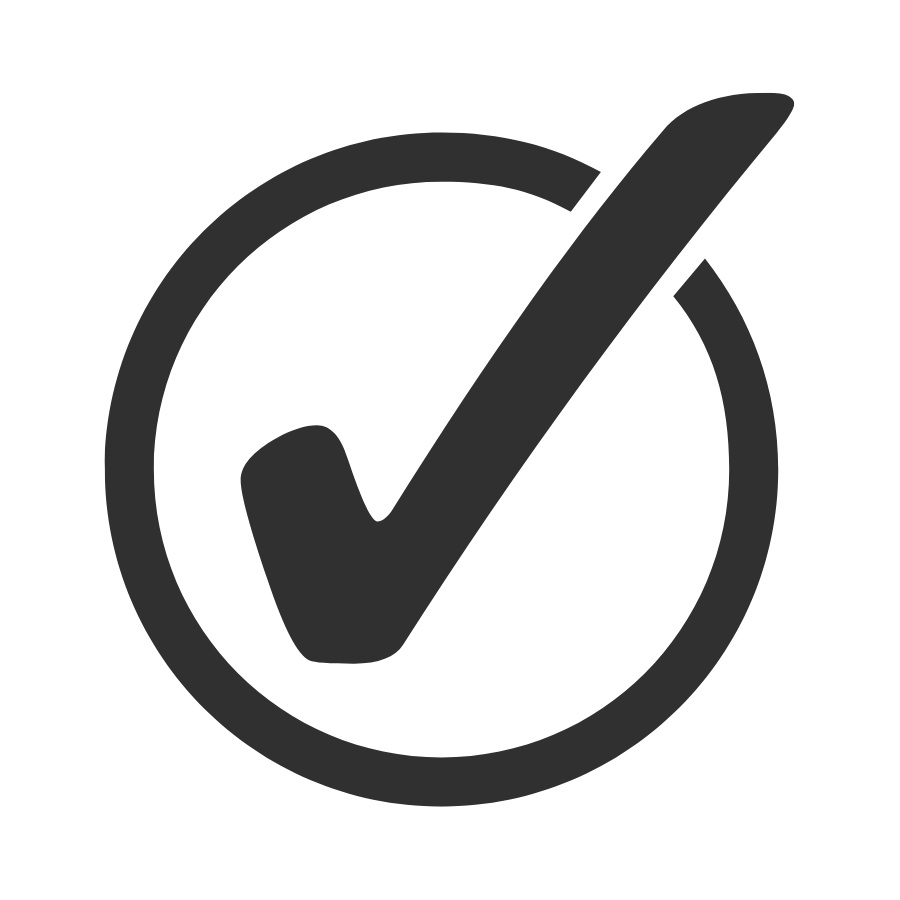 12 Month
Guarantee
We offer all of our flat pack units with a 12 month fair wear and tear guarantee for additional peace of mind.
Quick and easy assembly
Take a look at our
guide
to erecting flat pack containers in eight simple steps. It's not as tricky as you may think, and the smallest size can be put together by two people in less than 60 minutes. The reverse process will bring your container back down to flat pack form for easy removal to a new location, or to be neatly stored away.
Flat Pack Container Dimensions
We supply these flat pack containers in three sizes
2 metre
,
3 metre
&
4 metre
. All the units are 2.1 metres high and 2.1 metres wide. As these units are from the 'Expanda' range they are all completely modular, so additional units can be joined together at any stage, by linking them either side by side or end to end with a simple
linking kit
. For instance, joining up a 4m and a 2m flat pack container will give you near enough the equivalent of a
20ft shipping container
, while three 4m units give you a
40ft shipping container
. For reference, a 3m flat pack container is around the same size as our standard
10ft shipping containers
.
Flat Pack Sizes
| ContainerType | Length | Width | Height |
| --- | --- | --- | --- |
| 2m | 2081mm | 2149mm | 2093mm |
| 3m | 3064mm | 2149mm | 2093mm |
| 4m | 4064mm | 2149mm | 2093mm |
Standard features of flat pack shipping containers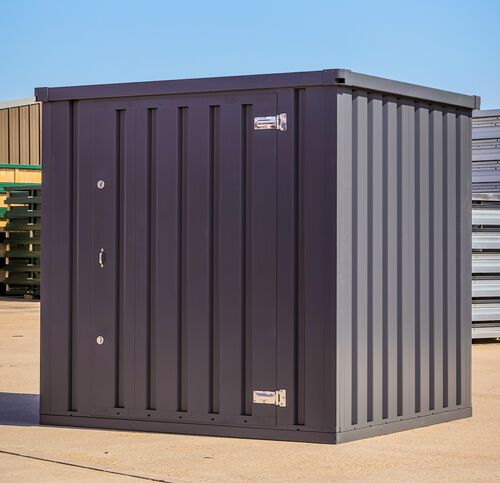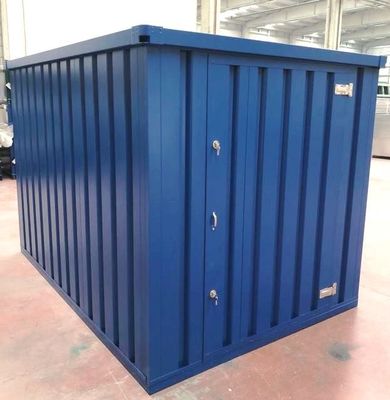 Galvanised body


Double locking system for additional security


Modular system allows you to join units together side by side, or end to end, with a simple linking kit


Low cost


Stainless steel hinges


Rounded roof corners
Flat Pack Stores: Product Quick Links
Click below to see more detail on our flat pack stores:



Optional Extras


Door fitted into the long side


Double side doors (for 3m and 4m containers)
For our full range of additions, prices and details please see our
Expandastore optional extras
page. Unpainted and blue and green containers are the standard options subject to stock availability. Bespoke colour options from the
RAL chart
may be available from the manufacturer on a special order (approx. 12 week lead time) subject to confirmation.
NB: The adjustable levelling feet do not go on the corners, but approximately 400mm in. We would suggest fitting the levelling feet before assembling the rest of the unit.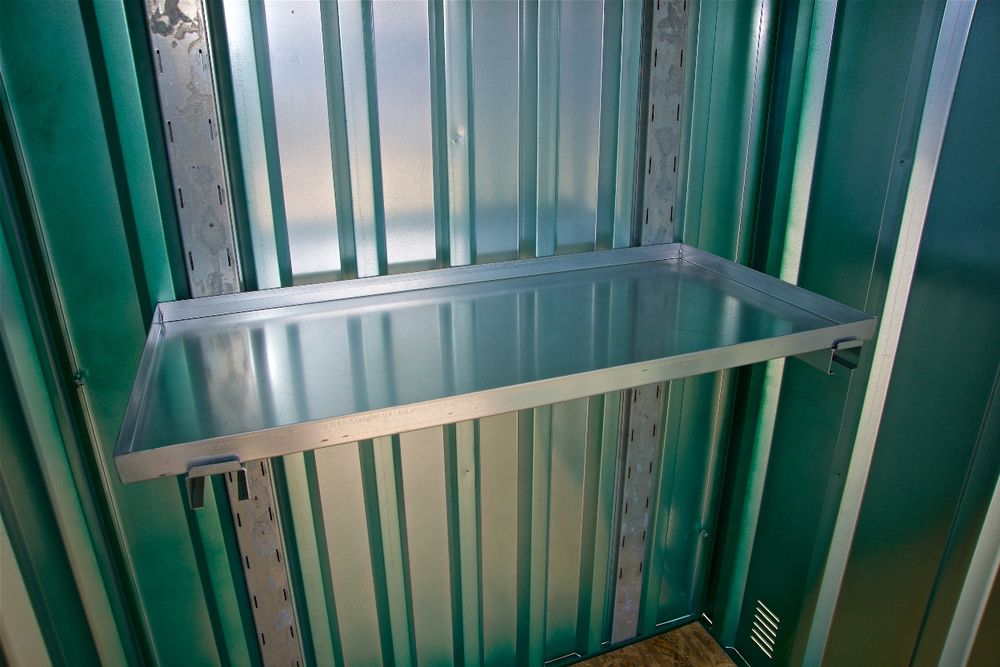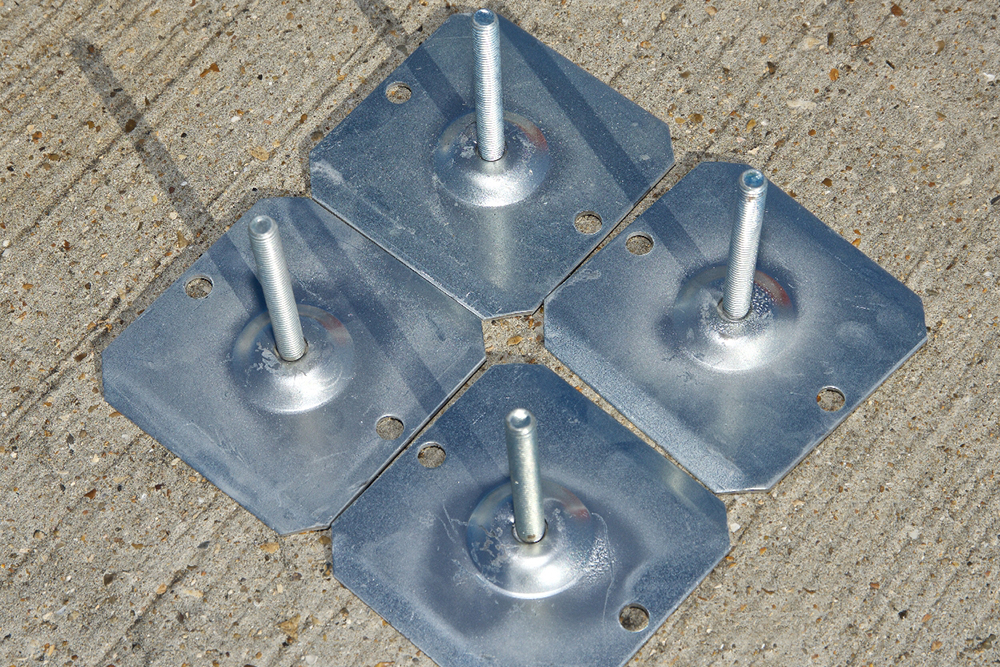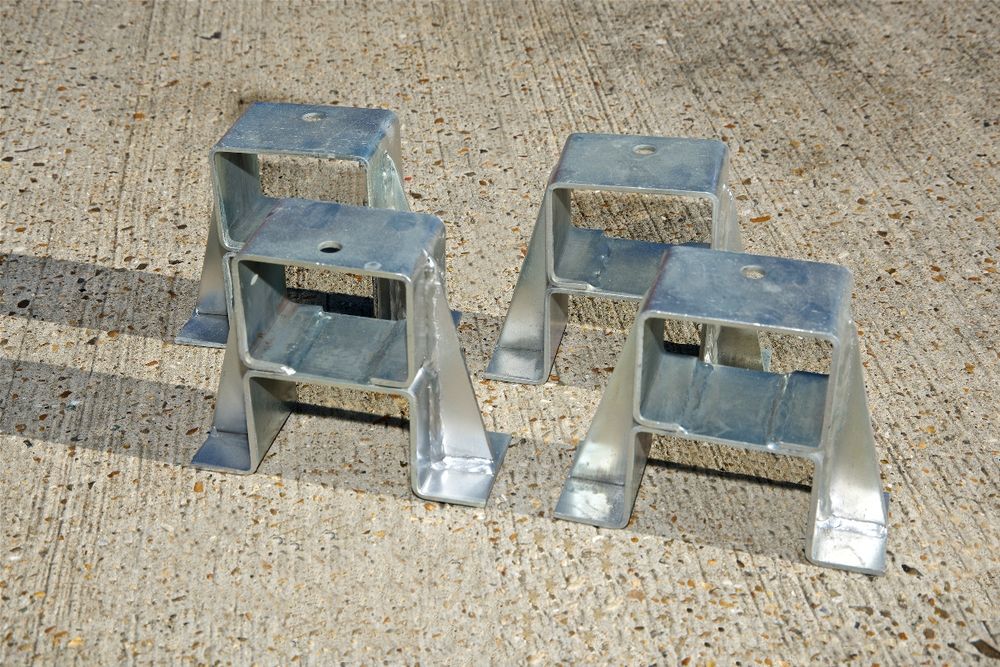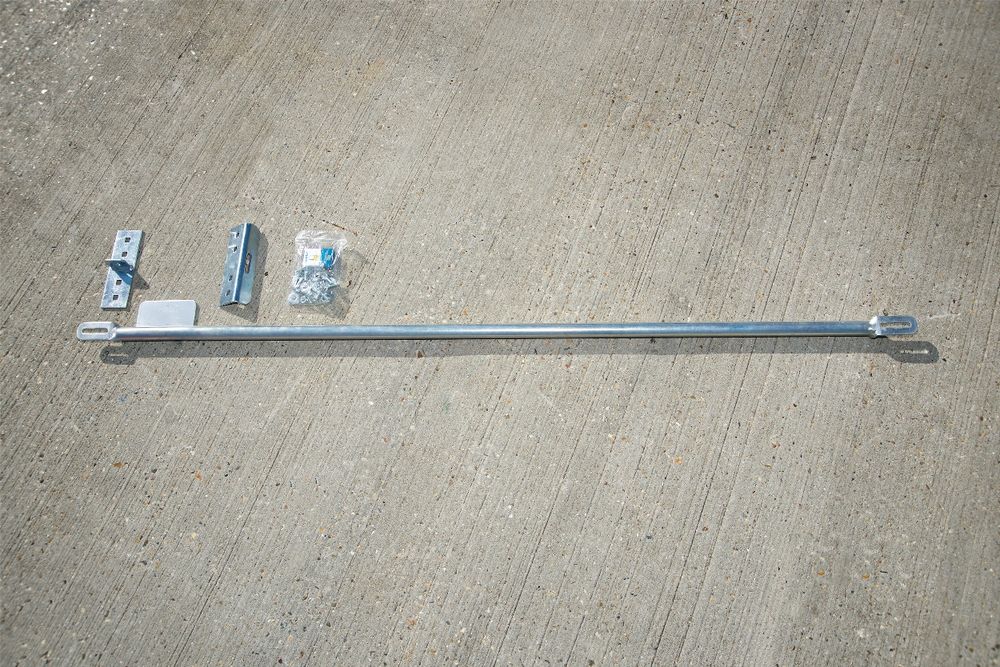 Cheap delivery nationwide
We are able to offer low price delivery rates on flat pack products, as they are transported in bulk in a compact form.
Flat pack containers are typically delivered on a 26 tonne rigid lorry with a hiab crane to offload, and all deliveries are made curb-side. Although flat pack containers are designed to fit into difficult spaces, the vehicle will still need to have good access and sufficient room for the crane to setup and offload. If the delivery vehicle can't get quite where you need it, all components of the container can be carried separately. These units are completely man-portable!
To keep delivery rates competitive and cost effective, flat pack containers are quoted based on a shared delivery rate. This means we are unable to guarantee a specific time. If you need a dedicated delivery, our sales team can advise on the best option for you.
Request a Quick Quote!
Contact our sales team for your no obligation quote, including delivery!
Insulated flat pack stores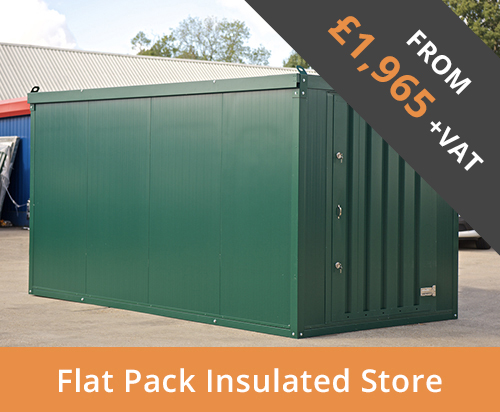 Buy
insulated flat pack stores
when you need to store items susceptible to damage from cold and condensation. Insulated stores offer all the features of our other flat pack containers, with the addition of in-built insulation. Insulation consists of an inner and outer skin with 40mm Polyurethane insulation in between and glass wool inside the door panel to keep your store condensation free.
Flat pack shops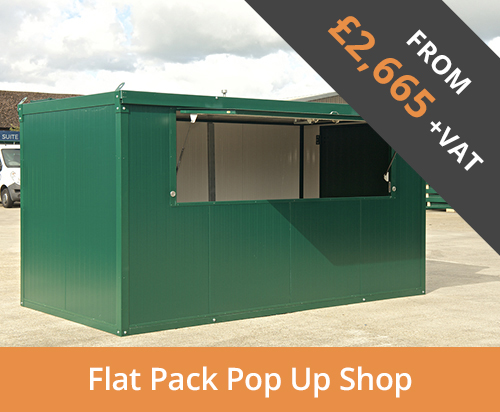 The
ExpandaKiosk
is the perfect flat pack pop-up shop. With a large upward tilting hatch, this flat pack container is ideal for retail, catering, event information points, ticketing and security, Flat pack shops are popular in the "pop up" sector, where use at events, markets and festivals requires quick and easy mobility to cover frequently changing venues. The flat pack shop can be linked to the insulated store for extra storage space making this a versatile set up for any on-the-go retailer.
Other Flat Pack Container Products
Our
container offices
range includes
flat pack offices
. Known as the ExpandaKabin®, they start from 2.3m and go up to 6m (20ft) and beyond. They are ideal for
gardens
or for large scale commercial projects where access is difficult. Our flat pack offices are fully insulated and can be supplied with a wall mounted electrical pack. We also offer the ExpandaChem®; a bespoke self-assembly
flat pack chemical store
. With a sumped floor and suspended steel grate, these units are the perfect low cost COSHH compliant chemical store.
Contact Us!
If you would see some of our flat pack containers, please
ring us free today
on 0800 061 2575 to arrange a visit to our depot - you can be sure of a friendly and helpful response from any of the team!
Testimonials
"Easy to order, delivery process simple and customer service super."
From Malcolm Godwin, Kernow Learning Multi Academy Trust who purchased a 4m Flat Pack Container in Blue.
"Brilliant service, really easy purchase, fantastic people and we've already recommended to others. The container is up and exactly what we needed. The delivery driver was brilliant - nothing was too much trouble, polite and friendly, can't thank him enough. Everything was perfect, we're thrilled. Can't thank you all enough, you couldn't do anything any better than you already do (delivery driver included), wonderful altogether!"
From Helena Rees who purchased a 4m Galvanised Flat Pack Container.
"From start to finish the process has been smooth and painless."
From Keith Avenell who purchased a 4m Insulated Flat Pack Container in Green.
"I was very pleasantly suprised by the high level of customer service I recieved. Lots of emails and documentation meant that I was fully informed every step of the ordering process and my queries around delivery to a potentially tricky site were answered quickly and precisely."
From Tudor Grange Samworth Academy who purchased a 3m Flat Pack Container in Green with a ramp, locking bar and padlock.
"Excellent service and delivery service was spot on time"
From Northampton Beekeeping Association who purchased a 4m Flat Pack Container in Green.
"Good communication and excellent product."
From Kenny Pennington who purchased a 4m Flat Pack Container in Green.
"Excellent standard and portable"
From Kernow Learning Multi Academy Trust who purchased a 2m Flat Pack Container in Blue.
"Great service from team especially Neil."
From Greenwich Leisure Limited (GLL) who purchased a 4m Galvanised Flat Pack Container.
"Excellent service and product, I have bought two of the flat pack containers and would order more if I need them."
From Sarah Williams at Christ College who purchased a 4m Flat Pack Container in Green.
---
Read all testimonials here!