STEEL SHEDS
Self-assembly steel sheds are becoming an increasingly popular choice with small organisations, schools and homeowners, as a handy and inexpensive solution to outdoor storage space. They are lightweight, durable and easy to transport from one location another. Because they come
flat-packed
and are man portable, they can be delivered to almost any location and put together with ease - no need for any specialist tools or lifting equipment. Delivery costs are far lower than a pre-assembled structure.
Reasons to choose a steel shed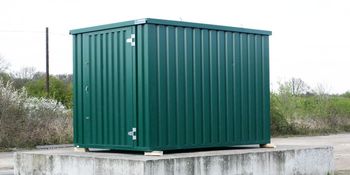 Let's look in more detail at the key features of steel sheds which make them the perfect alternative to the traditional garden shed.
LOW COST
- flat packed means costs can be kept to a minimum. They can be delivered in bulk, and then put together by the customer at the other end. And there's no need to be daunted by the prospect of having to deal with complicated instructions and too many fiddly bits and pieces that have given flat packed products a bad name in the past.
Assembling
steel sheds is anything but rocket science - it is a simple case of screwing together the panels with the fixings provided. Everything you need for the job is in kit.
ADAPTABILITY
- dismantling and returning steel sheds to their flat pack form is easy if you need to relocate to another site, for example if you are moving house. Or they can stored away neatly until needed again.
SECURITY
- the steel panels are an excellent deterrent to thieves and vandals, and the standard double locking system provides additional security.
DURABILITY
- the galvanised steel body ensures against rusting, and the roof panel has integral guttering to prevent leaks.
To complete your steel shed snap-in shelving is available as an extra, along with a range of
paint colours
for an attractive and durable finish.