TOILET CABINS

Containers Direct can now supply a brand new range of steel toilet cabins, in range of sizes and layouts - from a 5ft single toilet to a 20ft cabin with multiple toilet facilities, including a shower. These cabins are of a robust, anti vandal construction, and are built to last. While fully portable, they are ideal for temporary sites and public events, but also make an excellent permanent fixture at campsites, visitor attractions and industrial sites.
Features of toilet cabins
SINGLE AND DOUBLE TOILET CABINS
These
5ft single
and
8ft double
cabins include 1-2 flushable WCs with a handwash basin.


White steel internal walls



45mm PU foam wall panels



Aluminium checker plate floor



Electrics



Extractor fan



Frost heater



5 litre boiler



Accessories including toilet roll holders, hooks, mirrors, pull cord light



Painted blue or green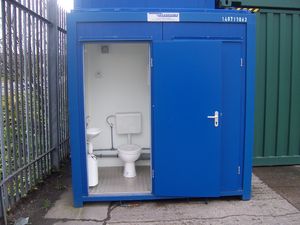 -----------------------------------------------------------------
This model has three WC cubicles inside, plus one WC with separate external entry, two urinals and two gullies.


2 external doors



2 windows



3 handwash basins with 5 litre boiler



white steel cladded walls and ceiling



insulated with mineral wool



2 electric heaters



2 electric vents



accessories include 2 neon lights, mirrors, toilet roll holders, soap tray



20ft toilet cabins - choose from two layouts
Our 20ft toilet cabins offer more space and the addition of other facilities.
All the features of our 16ft cabin, with extra urinals and handwash basins.
The separate WC cubicle is replaced with a shower cubicle, which includes all fitting and a shower curtain.
And on the inside......