30FT CONTAINERS SECOND HAND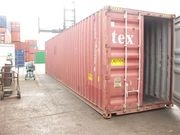 Shipping containers are not commonly made from new in 30ft length. They come in lengths of 20ft and 40ft, as uniform sizes enable them to be stacked and transported safely together on board for shipping. However, if you are looking for a used shipping container for storage, you may well not want to be restricted to these sizes! Many customers find 20ft a little too small and 40ft too large, so to fill this gap Containers Direct are specialising in making up
30ft containers
for storage.
How we create a 30ft container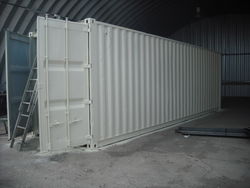 We do this by taking second hand 40ft shipping containers and cutting them into two new containers - one 30ft and one 10ft, as
10ft containers
are in high demand too. Not only do cut down containers produce a wider choice of sizes, but also allow us to offer our customers a choice of door types. Picture a whole container cut up into two pieces - only one will have the door remaining intact, so we have to fabricate a new door to complete the other newly created container. To take maximum advantage of this situation, Containers Direct have specialised in creating three different door types on our cut down containers to suit individual customer needs.
Choosing the door type which works best for you - select from S1, S2, S3 or S4
Containers Direct can advise you on which door type will suit your individual circumstances, but as a general guide, see the descriptions and corresponding products below.
S1 Containers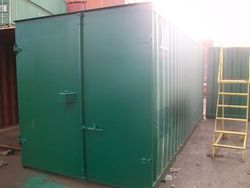 S1 containers
have doors designed with frequent use in mind. Being a single flat panel it is much lighter than a shipping container door, therefore much easier to use, which makes the S1 the preferred choice with schools, clubs and personal storage customers. A single locking arm provides the security you would expect from a storage container.
We can add a
compressed door seal
to S1 containers for a cost of
£65 plus VAT
Cost of 30ft S1 container - £1450 plus VAT
S2 Containers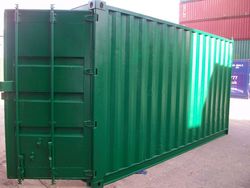 S2 containers
keep the original shipping container door in place, and are most commonly used on construction sites. These doors have a rubber seal around them for maximum protection against water entering the container.
Cost of 30ft S2 container - £1450 plus VAT
S3 Containers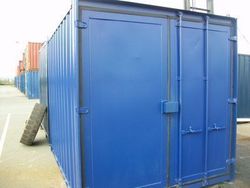 S3 doors
are a style unique to Containers Direct. We have designed these doors to combine the best features of the other two doors - lightweight and easy to use, but with the added protection of a rubber seal. We recommend this as any easy access option for furniture storage and other delicate items - all the protection but without the heave ho!
There is a supplimentary charge of £175 plus vat for this door type
S4 containers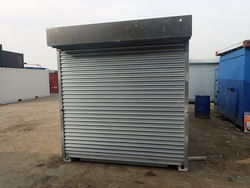 Galvanised steel, padlockable on both ends, 8ft wide
roller shutter doors
make a great alternative, or addition, to standard storage doors. They come in either manual or electrical options.
Cost of 30ft S4 container with manually operated doors - £1950 plus VAT

(Please enquire for cost of electric option)
Add side doors for convenience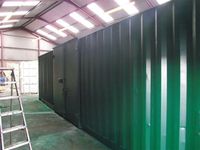 With all three of these container door types we offer the option of locating the door along the side of the container, as in many circumstances this proves more convenient than traditional end doors. An example of an S1 side door can be seen on this
side door container
. Additional doors can be fitted into any 30ft container. For example, leaving the original S2 door in place in addition to fitting new side doors is a common request from our customers. Find out more on our
Side Door Containers
page.
Optional Extras
Repainting
To improve the container both cosmetically and in terms of its quality life span, we can respray the exterior of any container with a protective coating of rubbersised container paint at a supplementary cost of
£280
plus VAT. A wide range of
colours
are available.
Please note for very light or bright paint options (ie white, yellow, red, orange) there is a supplementary charge of 75% over standard repainting rates
Padlock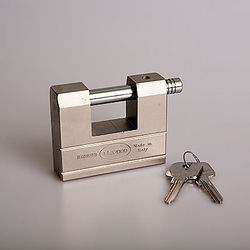 As an extra security feature all 30ft containers come with a protective lock box to guard the container lock. A
padlock
can be attached to this, at the discounted price of
£35
plus VAT.
Choose Grafotherm for a condensation free container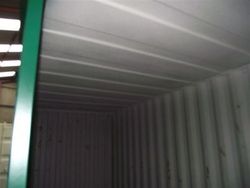 This treatment is highly recommended for the storage of items susceptible to moisture damage such as furniture and paperwork. See our
news article
on grafotherm for more on how this innovative product works to keep your container drier.
The cost of this treatment for a 30ft container is
£280
plus VAT.
Personnel door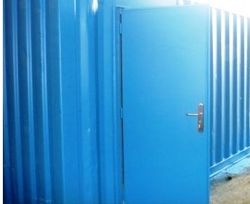 Steel
security door
for pedestrian use, incorporating multi deadlocks and offering high levels of security.
Cost per door
£565
Shelving Racks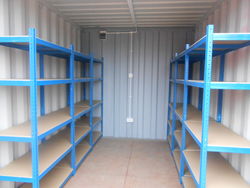 Our shelving racks are designed for heavy weight bearing, and are purchased per bay, and linked together
shelving
.
Cost per bay (1m/3ft wide) - £60 plus VAT fitted, OR £45 plus VAT self fitted
Electrics
Choose from two
electrical package
options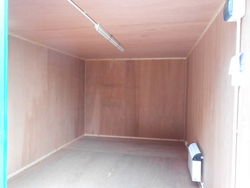 :
Option 1:
One external hook up, a consumer unit, light switch, three 5ft strip lights with diffuser, a double socket -
£400 plus VAT
Option 2:
One external hook up, a consumer unit, light switch, three 5ft strip lights with diffuser, two double sockets and wall heater -
£525 plus VAT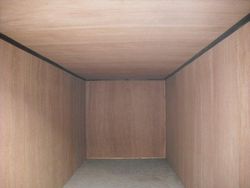 Having your container insulated and lined with ply wood will combat condensation, and provide warmth for units used for accommodation.
Cost to line 30ft container - from £1450
Wipe Clean Melamine Lining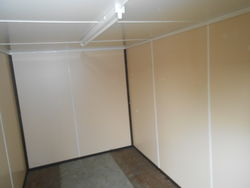 Wipe clean,
melamine
walls, sealed with plastic trim give a low maintenance, neat and hygenic finish. Especially recommended for the catering containers
Cost - £1906.25 plus VAT
Ramps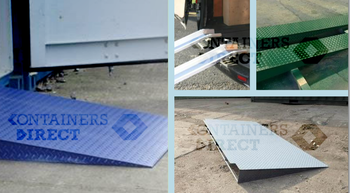 We offer a variety of
ramps for containers
- car ramps. heavy duty ramps, lightweight ramps, hinged ramps and bespoke builds. A range of sizes are also available.
Cost from £205 plus VAT

30ft New Shipping Containers from £3200
Testimonial
"Your personnel were very helpful, knowledgeable and quick to respond and polite. Prices are fair. And the delivery occurred on time and very efficient."

From Johnson Bros Ltd, Oldham
Gilmerton Primary School in Edinburgh required a 30ft container for bike storage. We treated the container with Grafotherm and fitted 20 bike hooks across the walls.
"We were satisfied with every aspect of the service. Friendly, knowledgeable and efficient service - everyone from the advisory staff at the office to the lorry
driver!"